White chocolate and raspberries go together in the dessert world like chocolate and hazelnut. They are the perfect match. The white chocolate is rich and sweet and creamy and the raspberries have a very shy kind of sweetness overpowered by their more pronounced tartness. They cut through the richness of the white chocolate and wake up your taste buds with fruitiness. The base of both the vegan and non vegan tarts is wonderful. Buttery tasting and the perfect sweet, crispy, crumbly crust for these decadent tarts.
Why the vegan option? Two reasons really. A lot of you guys ask me for vegan options and I love to experiment with certain recipes that I think I can convert. It's like a little challenge and sometimes I like a good challenge. Secondly my mother in law is vegan, and although I have yet to share anything vegan that I have made with her – when I'm making something vegan I always ask myself If my mother in law would like it and eat it. So there, now you know.
It would really be hard to choose which one I prefer best. They both have unique and delicious things about them. My mother and father (both not vegan) both preferred the vegan one as they found the non vegan was a little rich for them. They loved it but found the vegan one a little lighter. If you twisted my arm and made me choose I would say the non vegan one because I love how the white chocolate ganache gets a little oozey when it comes to room temperature. I loved the vegan one too because it has a lighter filling and I love the very subtle hint of coconut oil from the crust and the cocoa butter is just divine. Let's put it this way – I could have a full slice of the vegan one easily but only half of the non vegan as it's also too rich and decadent for me. My brother and husband on the other hand could eat two of those non vegan ones and still have a hankering for more. They definitely love their rich, decadent and sweet things.
Both are perfect for making ahead and would be great for a dinner party! The non vegan one has a wonderful crust but requires that the crust be rolled out for each individual tart. The vegan one just needs to be mixed and the pressed into the mold which makes it slightly easier and quicker to make. Both are delightful and both can be made with any berry as a substitute for raspberries if you would prefer something different or you just don't have them available. We all truly loved them both and I think it's great to always have a vegan tart up your sleeve for those occasions where you might be entertained by or entertaining someone who is vegan.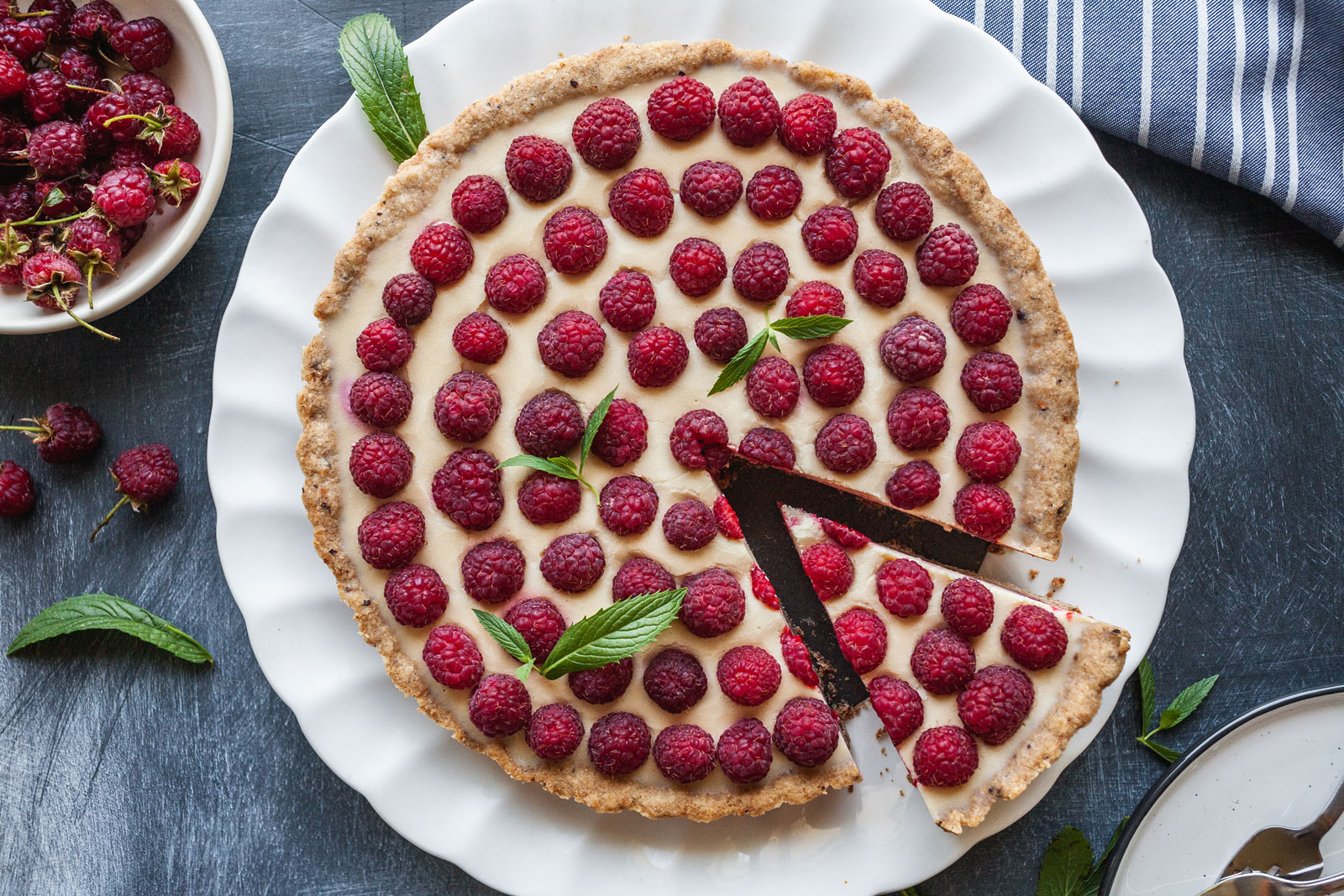 INGREDIENTS
Crust:
1/4 cup sugar
1 Tbsp whipping cream
2 Tbsp ice water
1 egg yolk
1/2 cup unsalted butter chilled and cut into pieces
1 1/2 cups flour
Filling:
2 cups fresh raspberries
1/4 cup unsalted butter room temperature
1/2 cup hot whipping cream but do not boil, or it will curdle
10 ounces white chocolate
INSTRUCTIONS
For crust:
Mix flour and sugar. Cut in the butter until mixture resembles coarse meal.
Beat together the egg yolk and whipping cream and pour over flour mixture. Stir dough, adding just enough of the water to make a dough.
Form a ball and flatten into a disk. Wrap in plastic and refrigerate 30 minutes. On a lightly floured surface, roll out dough into a 1/8 inch thick round.
Transfer to a 9 inch tart pan with removable bottom. Fit dough into bottom and up sides of pan.
Prick crust all over and cover edges with foil (remove during last 5 minutes of baking). Bake crust in oven preheated to 350 degrees for 30 minutes, or until golden brown.
Cool completely on wire rack.
For filling:
Melt chocolate in the top of a double boiler over simmering water, stirring until smooth.
Mix in cream and butter. Remove from water. Sprinkle raspberries over bottom of prepared crust, saving a few berries for garnish.
Pour filling over berries and refrigerate until firm, about 1 hour. (This can be prepared 1 day ahead and refrigerated, but allow tart to stand at room temperature one hour before serving).