These vegan chocolate cupcakes are ultimately moist, fluffy, spongey and topped with the most deliciously rich smooth and silky vegan chocolate buttercream you've ever tasted.
I decided to call this a 'classic' vegan chocolate cupcakes recipe because this is really a classic recipe you'll come back to again and again.
They are super simple to make, using very simple ingredients but the results will shock and astound you because no one in the world will be able to tell these are vegan cupcakes by the taste.
I hope this doesn't come off as braggy, but the reason I'm so confident about this is because I bake A LOT, and I really know a great cupcake from one that is just adequate these days and these are definitely in the category of great.
This vegan chocolate cupcakes recipe is based on our recipes for vegan chocolate cupcakes with mint buttercream frosting and our gluten-free chocolate cupcakes.
But I wanted to make these even easier (if possible) and just go for the really classic version which is chocolate buttercream frosting on a classic chocolate cupcake.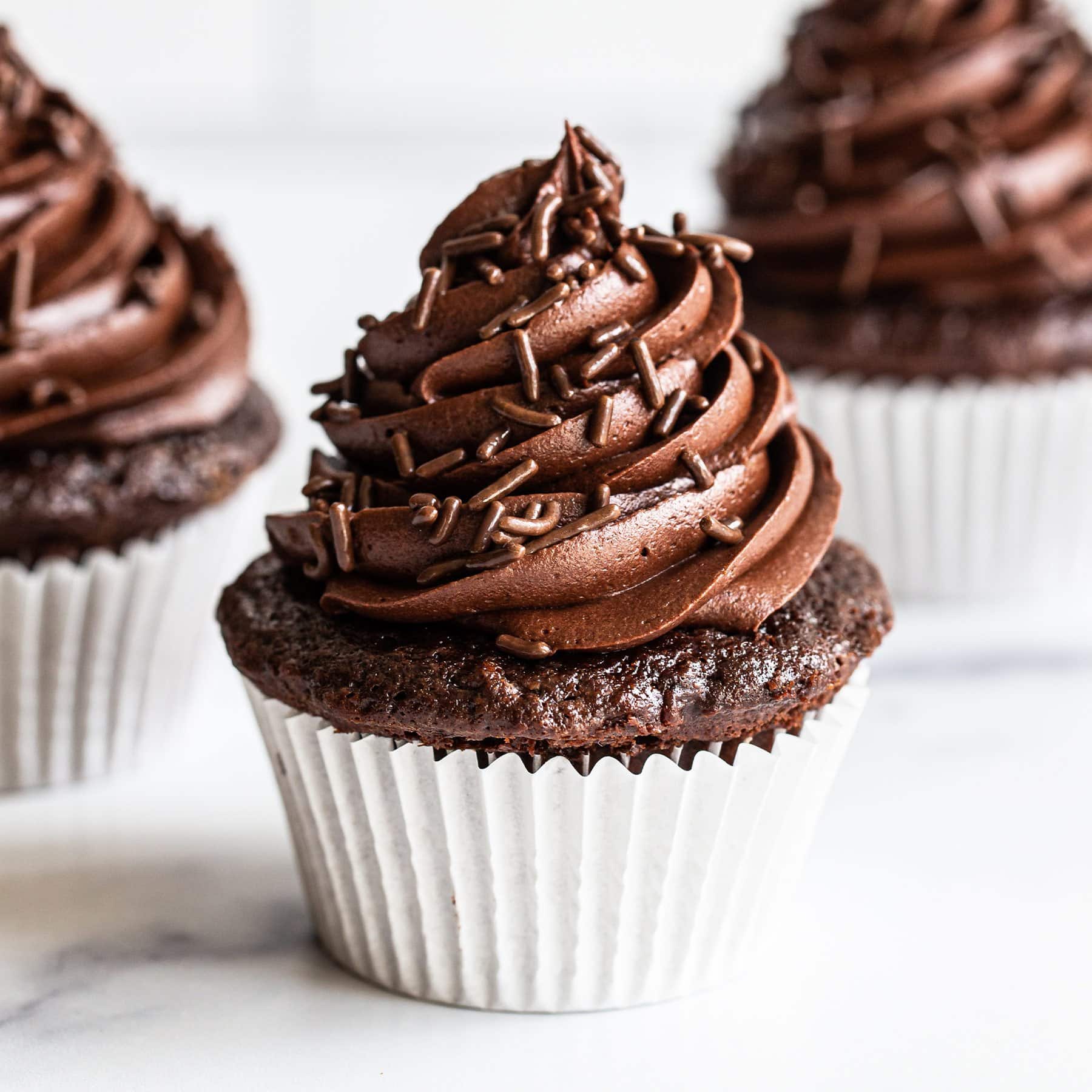 TIPS
Don't overmix. You just need to give it a quick whisk with your hand whisk until well combined. I don't mean you can't mix it properly, I just mean you don't want to keep whisking way past the point when everything is properly combined.
Weigh your flour. If you weigh your flour you will have the best chance of a fail proof recipe.
Flour measures are very easy to go wrong, through no fault of yours, flour is just tricky!
I have been baking for a long time and I still test myself sometimes doing the spoon and level method which is the most accurate way to measure without weighing. You spoon the flour into the cup and then level off with a knife.
And then I weigh it and see how close I got. And it's usually close but not exact. Baking is very precise so weighing your flour is your best bet for a perfect result.
I usually weigh other ingredients like sugar and cocoa as well, but these are less crucial. If you use a tiny bit more sugar than needed it's unlikely to mess up your recipe.
Ingredients
Cupcakes
1 1/2 cups caster sugar
2/3 cup cocoa powder
1 1/2 tsp bicarb soda
125 ml canola oil
1 tsp baking powder
2 cups all-purpose flour
1 tbsp apple cider vinegar
500 ml canned coconut milk
1/2 tsp salt
Frosting
1 batch chocolate-flavoured vegan buttercream frosting
Instructions
Cupcakes
Preheat a fan-forced oven to 140°C /280°F or 160°C / 320°F for a conventional oven.
Line a cupcake tin with brown cupcake liners. Set aside.
Add the flour, sugar, cocoa powder, bicarb soda, baking powder and salt to a large mixing bowl.
And then mix on low speed using an electric hand mixer to combine.
Next, add coconut milk, canola oil and apple cider vinegar to the dry ingredients.
Mix on low speed until no dry ingredients are showing.
Scrape down the bowl and mix for a final 20 seconds.
Fill each liner three quarters of the way.
Using an ice cream scoop to transfer the batter into the cupcake liners makes this a quick and easy process and ensures everything is filled the same amount and bakes at the same.
Bake for 40-50 min or until a toothpick inserted comes out clean.
Allow the cupcakes to cool completely on a wire cooling rack before frosting.
These cupcakes are perfectly paired with my vanilla or chocolate flavoured vegan buttercream frosting.
Frosting
Fit the end of a piping bag with whichever piping tip you like and frost a swirl on top.
Sprinkle with vegan chocolate sprinkles!
Notes
Cupcakes can be stored in an airtight container for up to three days.