This Peanut Butter Chocolate Layer Cake recipe is made with layers of moist chocolate cake, peanut butter frosting and chopped Reese's peanut butter cups! It's rich, delicious and so fun!
The cake starts with moist, delicious layers of chocolate cake. I used my Easy Moist Chocolate Cake from a couple weeks ago in layered cake form. It truly is such a moist cake and so easy! You basically mix the dry ingredients, then wet ingredients, add them together, then add the hot water at the end. One of the quickest cake batters to make and hard to mess up.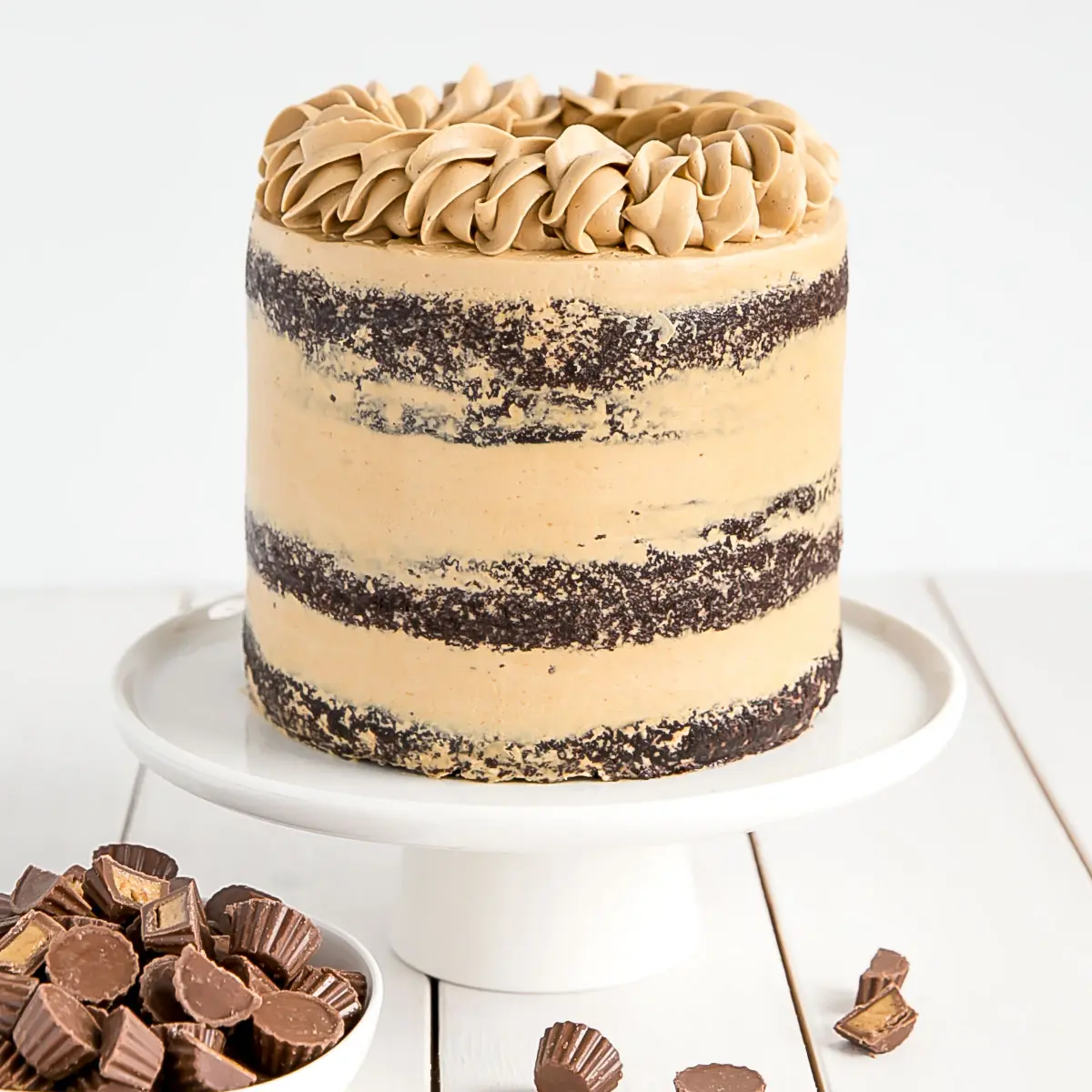 INGREDIENTS
THE CHOCOLATE CAKE
1 cup boiling water, or hot coffee
2 teaspoons vanilla extract
1/2 cup oil (vegetable or canola oil)
1 cup buttermilk
2 large eggs
1 teaspoon salt
1 1/2 teaspoons baking soda
1 1/2 teaspoons baking powder
3/4 cup unsweetened cocoa powder
1 3/4 cups + 2 Tablespoons all-purpose flour
2 cups granulated sugar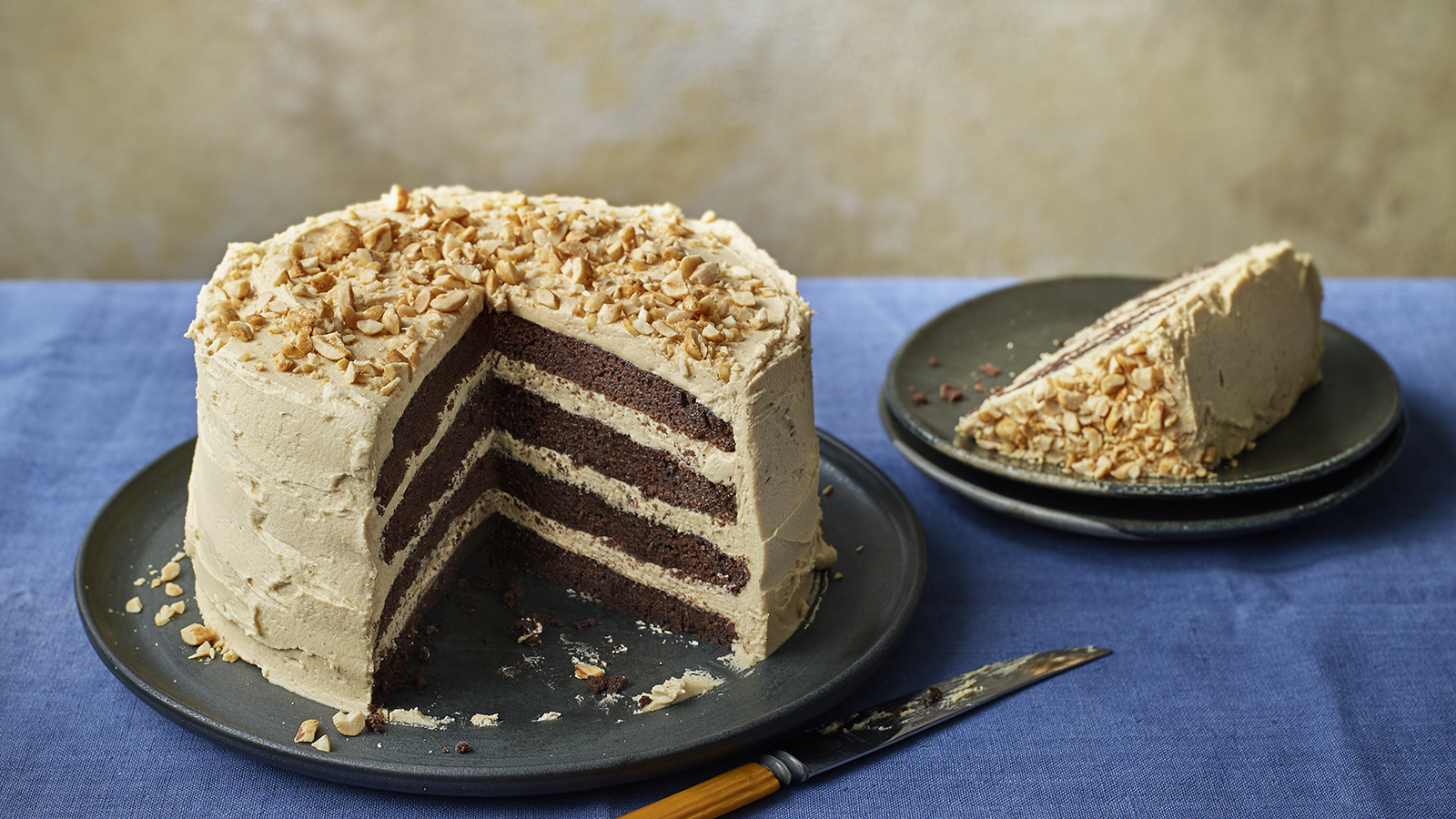 THE CHOCOLATE FROSTING
12 mini Reese's Peanut Butter Cups for topping on cake, optional
1 teaspoon vanilla extract
1/3 cup milk
3 cups powdered sugar
2/3 cup unsweetened cocoa powder
1/2 cup butter (1 stick), melted
THE PEANUT BUTTER FROSTING
1 batch Peanut Butter Frosting
INSTRUCTIONS
MIX THE CAKE BATTER
Heat oven to 350°F.
Grease two 8-inch round baking pans and line the bottoms with parchment paper.
Stir together sugar, flour, cocoa, baking powder, baking soda and salt in large bowl.
Add eggs, milk, oil and vanilla and beat on medium speed for about 2 minutes.
Stir in the boiling water (your batter will be very thin–that's OK!).
BAKE THE CAKE
Pour batter into prepared cake pans.
Bake for about 30 to 35 minutes or until a toothpick inserted in the center comes out clean.
Allow to cool in the pan for 10 minutes; remove from pans to wire racks.
Cool completely.
Once cakes have cooled, use a sharp serrated knife to cut each cake horizontally in half, so that you end up with four, thin cake rounds.
MAKE THE CHOCOLATE FROSTING
Add melted butter to a large mixing bowl.
Stir in cocoa powder.
Add powdered sugar, milk and vanilla and beat with electric mixers until smooth.
Add additional powdered sugar to thicken frosting or milk to thin it, as needed.
ASSEMBLE THE CAKE AND DECORATE
Place one cake layer on serving plate.
Smooth ⅓ of the peanut butter frosting on top of that cake layer.
Repeat with the remaining cake layers, adding a layer of peanut butter frosting between each layer of cake.
Use an offset spatula or butter knife to spread the frosting evenly over the outside of the cake. I piped swirls of extra chocolate and peanut butter frosting on top and topped with a mini Reese's peanut butter cup.
Cover and refrigerate until ready to serve.