One thing that we should talk about but that we won't dwell on too much is the use of uncooked eggs in the recipe. We won't dwell on it too much as so many other desserts and dressings contain uncooked eggs in them like mousses, tiramisu, caesar dressing etc. The key to 'safely' using uncooked eggs is using the freshest possible pasteurized eggs with intact shells. I have made this and many many other uncooked egg recipes in my life and have served them without incidence so here's hoping to that streak continuing. Hee hee! All jokes aside I have no problem with it and feel totally comfortable with the recipe and others that use uncooked eggs – if you are not than maybe this recipe isn't for you.
Moving on now. One of the best things about this recipe other than how fabulously silky smooth and melt in your mouth it is, is that the filling doesn't need to be baked. The only baking required is for the crust which takes just minutes. Then you just whip up the filing while the crust cools and refrigerate and done.
I wanted to all mention that the compote goes wonderfully with the blackberries and the currants, adding a nice tart balance to the rich and sweet pie. I do understand though that you may not have these berries all year round and available to you. That is no problem. Use any frozen berry you have available and it will be a very delicious pairing with this silk pie. Feel free to decorate with whip cream as an alternative to the fresh berries, especially if you don't have any fresh ones around anymore. I used the last of the gardens blackberries in this dessert but using frozen berries is perfect in the compote.
This has very quickly become one of those desserts that is a go to for dinner parties cause it's nice and easy to make. I can totally make it ahead, (like the night before) and everyone loves it. Can't beat that when it comes to a dessert that tastes and looks this good! Hope you love it! Do tag me or let me know if you give it a try.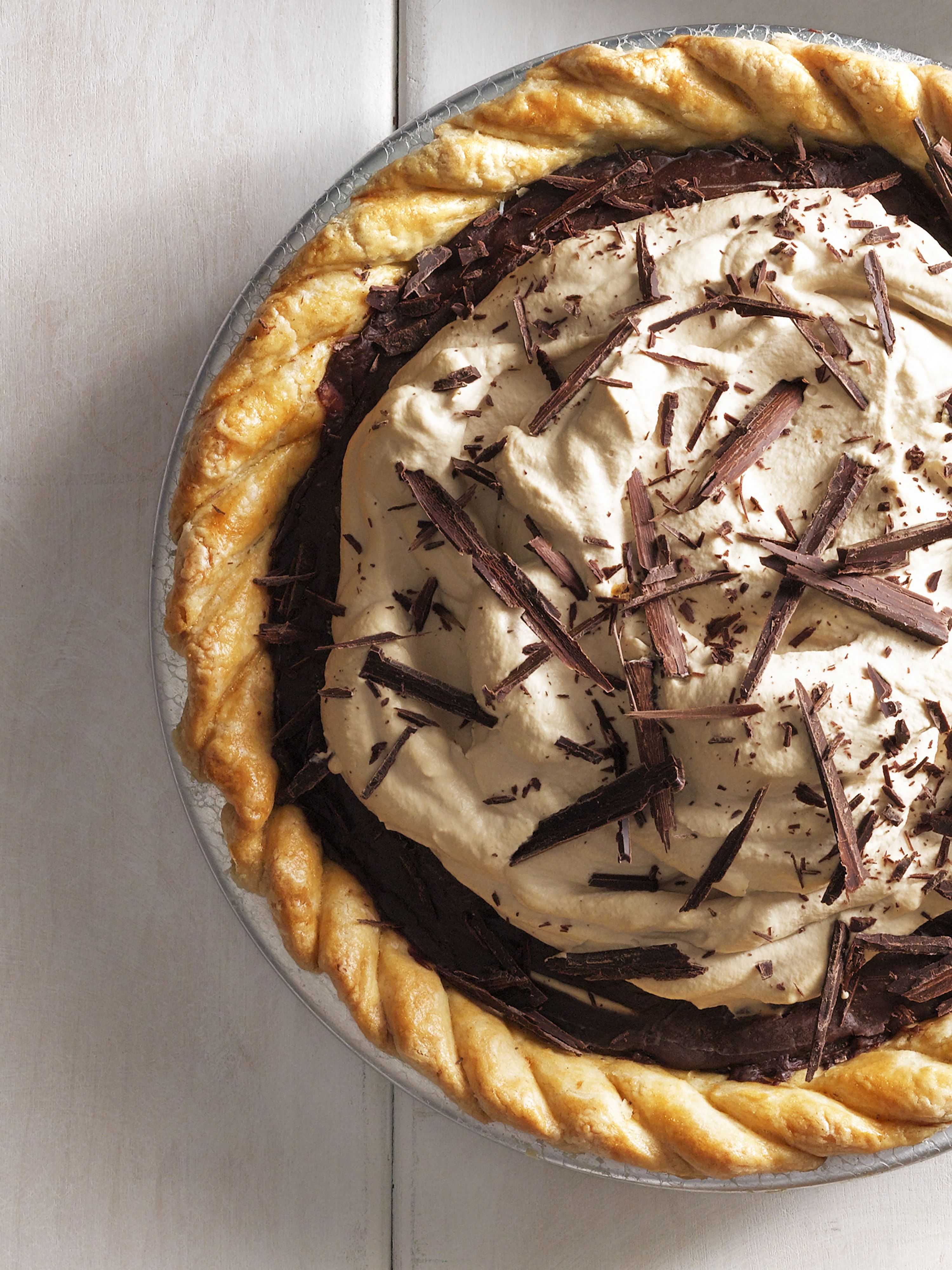 INGREDIENTS
1 fully baked and cooled Butter Piecrust
For the ganache layer
1/2 cup heavy cream
3 oz. bittersweet chocolate, chopped
2 Tbs. golden cane syrup or light corn syrup
For the filling
1/3 cup (1 oz.) unsweetened natural or Dutch-process cocoa powder, sifted if lumpy
1 tsp. pure vanilla extract
1/4 cup (1 1/8 oz.) cornstarch, sifted
4 Tbs. (2 oz.) unsalted butter, cut into 8 pieces
1/4 tsp. table salt
2-2/3 cups whole milk
3 large egg yolks
3/4 cup (51/4 oz.) granulated sugar
1-1/4 tsp. instant espresso powder
For the topping
2/3 cup (5-3/8 oz.) mascarpone
1 cup heavy cream
Sifted unsweetened cocoa powder, chocolate curls, or chocolate shards (optional)
1-3/4 tsp. instant espresso powder
1-1/2 tsp. pure vanilla extract
3 Tbs. granulated sugar
Pinch table salt
INSTRUCTIONS
FOR THE GANACHE: Put the chocolate in a small bowl.
Put the cream and cane syrup in a small saucepan over medium heat, and bring to aboil.
Pour over the chocolate, let sit for 1 minute, and then gently stir with a whisk to blend.
Scrape into the cooled pie crust and spread evenly.
Freeze the ganache and crust while making the filling.
FOR THE FILLING: Put the sugar, cocoa, cornstarch, espresso powder, and salt in a medium saucepan and whisk until well blended.
Pour in 2/3 cup of the milk, and whisk until the mixture is smooth.
Whisk in the yolks, and then the remaining milk.
Set the pan over medium-high heat and cook, stirring with a whisk, until the mixture comes to a full boil.
Cook, whisking constantly, for 1 minute, and then slide the pan off the heat.
Add the butter and vanilla, and stir until the butter is melted and the pudding is smooth.
Pour the filling over the chilled ganache layer, spread evenly.
And press a piece of plastic wrap directly on the surface to prevent a skin from forming, if you like.
Refrigerate until chilled and firm, about 5 hours.
FOR THE TOPPING: Put the heavy cream, mascarpone, sugar, espresso powder, vanilla, and salt in the bowl of a stand mixer fitted with the whisk attachment.
Beat on low speed until smooth. Increase the speed to medium.
And beat until the cream is thick and holds relaxed peaks.
Peel off the plastic from the filling.
Spread the topping over the filling, or drop in large dollops.
If you like, sprinkle with cocoa powder, chocolate curls, or chocolate shards.
Serve immediately, or cover loosely and refrigerate for up to 8 hours.