Plums are a very underrated fruit. Many will immediately associate plums with prune and dried prunes, but plums are way better. They have a sweet and not mushy flesh and a slightly sour but not unpleasantly sour skin. As always with all my recipes, I love pairing one delicious produce with another, and guess what is beautifully paired with plums? Dark chocolate and roasted hazelnuts (which you probably could guess from the title of this recipe)!
Firstly, chocolate and hazelnut together is a winning combination, but with the addition of plums to the equation you, my friend, have an award-worthy cake. If you're not completely convinced then think about how delicious dark chocolate and cherries are together. Secondly, this cake does the impossible.
So when we've got that covered, let me just say that this cake really is a must to make. You may think the flavour combo is a bit over the top fancy, but you couldn't be more incorrect. Also, I know that there are a lot of people out there like me who have a plum or prune tree (you could also use prunes even though plums are superior) and every year don't know what to do with all of the fruit. However, this year I can provide you with the answer to your problem which is to simply make this cake. Okay, it's time for me to stop rambling. Enjoy!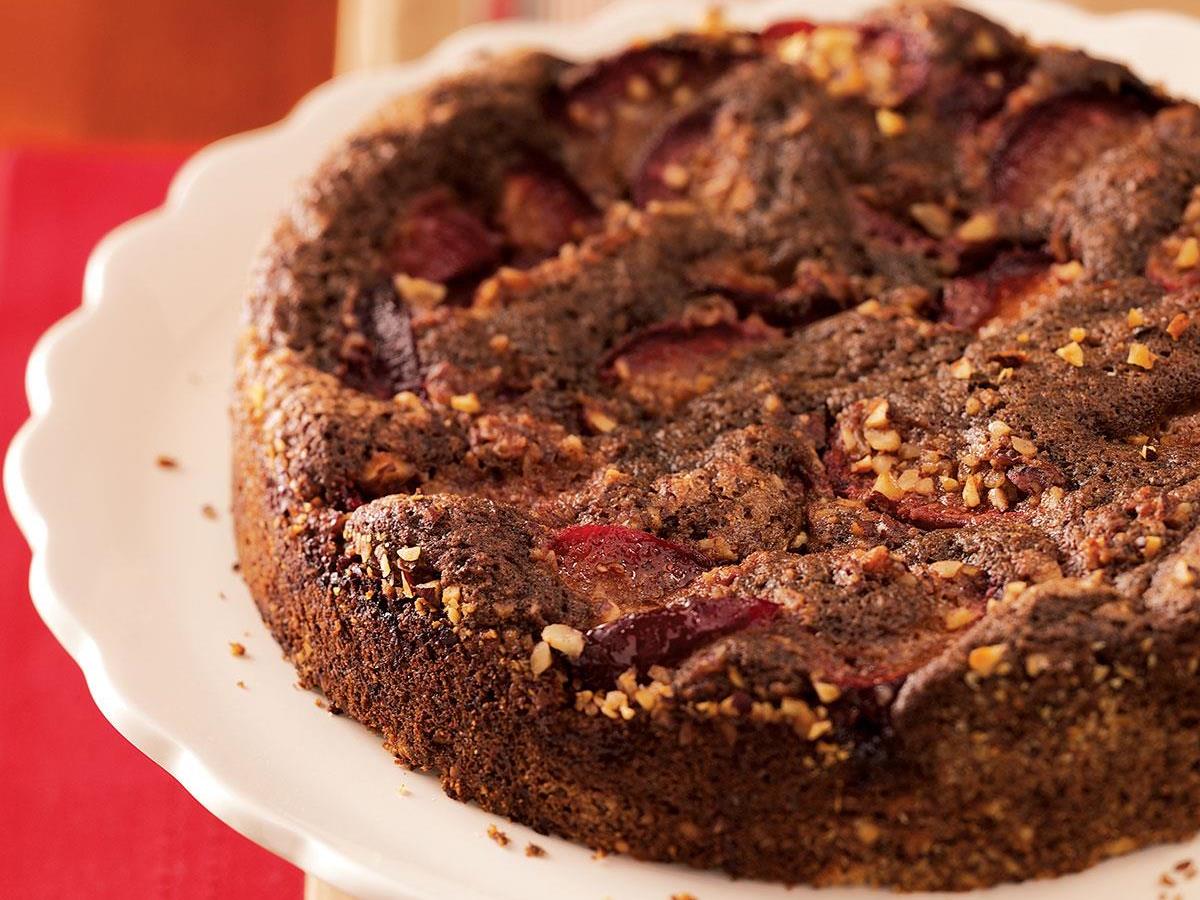 INGREDIENTS
3 eggs
500g plums
1 tsp baking powder
2 tbsp hazelnuts
50g dark chocolate (70 per cent cocoa), chopped
175g ground hazelnuts
175g butter , plus extra for greasing
2 tbsp redcurrant, damson or plum jelly
175g self-raising flour
175g light muscovado sugar
INSTRUCTIONS
PART 1
Heat oven to 180C/fan 160C/gas 4. Butter and line the base of a round 20cm cake tin.
Halve and stone 4 plums, set aside for later, then roughly chop the remaining plums.
PART 2
Put the sugar, butter, flour, ground hazelnuts, eggs and baking powder into a large bowl
And beat with a wooden spoon or electric hand mixer for 1-2 mins, until smooth and light.
Stir in the chopped plums and chocolate, then tip into the prepared cake tin and smooth the top.
PART 3
Arrange the halved plums over the top of the mixture, pressing them down lightly, then scatter over hazelnuts.
Bake for 40-50 mins until the top is golden and the cake feels firm to the touch.
Cool in the tin for 10 mins, then turn out, remove the paper and cool on a wire rack.
Heat the jelly, then brush over the top of the cake before serving.