This is my idea of a perfect cake: simple, beautiful, fragrant and beguiling. This is invitingly easy to make, and while I love the poetry of its ingredients, the cake doesn't overwhelm with its Thousand-and-One-Nights scent. Rosewater can be a tricky ingredient: a little, and it's all exotic promise; a fraction too much and we're in bubblebath territory.
One of the things that makes this so easy, is that you can throw all the ingredients into a food processor. But if you don't have one, simply chop the prepared dried apricots and cardamom seeds very finely and then beat together with the remaining cake ingredients.
INGREDIENTS
6 tablespoons unsalted butter, very soft
2 teaspoons almond extract
2/3 cup + 2 tablespoons Dixie Crystals Extra Fine Granulated Sugar
1 1/2 cups almond flour* (many grocery stores sell in bulk)
2 teaspoons vanilla extract
2 large eggs, room temperature
1/3 cup all-purpose flour* or gluten free mix
2 cans apricots (15 oz each)
INSTRUCTIONS
PREPARING FOR THE CAKE
Preheat oven to 350°F. Drain apricots on paper towels and set aside.
Spread soft butter on sides of an 8- or 9-inch round baking pan.
Sprinkle with flour and tap out excess.
To ensure easy removal from pan, place a round piece of parchment paper on bottom of pan. Set aside.
Cream butter until light and fluffy.
Add sugar and continue creaming to obtain a light batter.
Add eggs one at a time waiting for previously added egg to be fully incorporated.
Add vanilla and almond extract and mix until light and fluffy.
Add almond flour and sift all purpose flour into bowl.
Stir until just combined.
Spread mixture evenly into prepared pan.
Place apricots very close together onto cake batter (apricots will shrink while baking). In every can, there will be some mushy apricots. Do not use them. Instead you can blend them and use them as sauce or to flavor sparkling water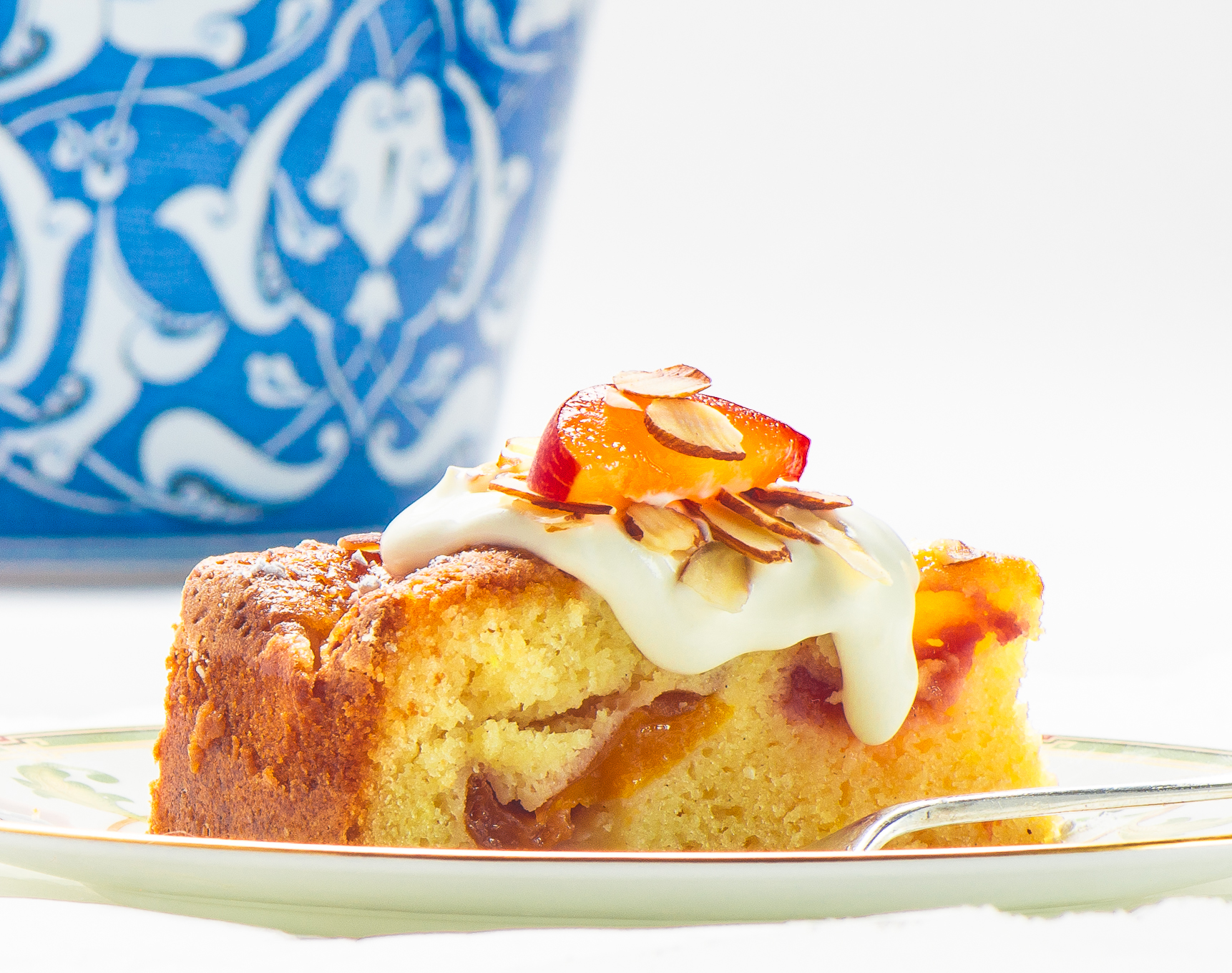 BAKING AND SERVING
Place cake in oven and bake approximately 40-45 minutes. If a 9-inch pan was used, baking time will be shorter.
Let cake sit for 10 minutes.
Place plastic food wrap on surface followed by a cutting board.
Flip pan upside down and cake will fall out of pan. R
emove parchment paper and place a serving tray on cake.
Flip it upside down again.
Sprinkle with powdered sugar if desired.