These S'mores Cupcakes with Graham Cracker Frosting, Toasted Marshmallows, and Hershey's Chocolate are the best ever! Topped with a uniquely wonderful graham cracker cream cheese frosting, toasted marshmallows, extra Hershey's chocolate bar and pieces of graham cracker, these S'mores Cupcakes with Graham Cracker Frosting bring back memories of summertime, camping, and campfires in all of us!
I'm a huge s'mores fan (gooey marshmallows, melty chocolate, sweet & crunchy graham crackers? what's not to love?!). But I really wanted a recipe for the perfect S'mores cupcakes. Pinterest has a billion variations for s'mores cupcakes and while they are all delicious (okay, maybe I haven't tried ALL of them, but I've given it my best shot), I felt like I hadn't yet found one that satisfied my ever-lovin' s'mores-obsessing heart. I went through at least 10-12 versions and batches of s'mores cupcakes before I settled on this approach as my favorite.
INGREDIENTS
FOR THE CRUST
2 tablespoons sugar
1/4 cup butter, melted
1 1/4 cups graham cracker crumbs
FOR THE CUPCAKES
3 large eggs
1 1/2 cups buttermilk
1 ounce bittersweet baking chocolate, melted
1/2 cup butter, melted
2 tablespoons unsweetened cocoa
1 (15.25- to 16.5-ounce) package chocolate cake mix
FOR THE FROSTING
2 teaspoons vanilla extract
1 1/2 cups butter, softened
2 (7-ounce) jars marshmallow crème
2 cups powdered sugar
FOR THE DECORATIONS
Mini marshmallows, if desired
Chocolate bars, if desired
Graham crackers, if desired
INSTRUCTIONS
PREPARING THE BATTER
Heat oven to 350°F.
Place paper baking cups into 24 muffin pan cups; set aside.
Combine all crust ingredients in bowl.
Divide mixture among baking cups, about 1 tablespoon for each baking cup.
Press down using back of spoon. Set aside.
Combine all cake ingredients in bowl.
Beat at medium speed 2 minutes or until well mixed.
Divide evenly among baking cups, filling to about 3/4 full.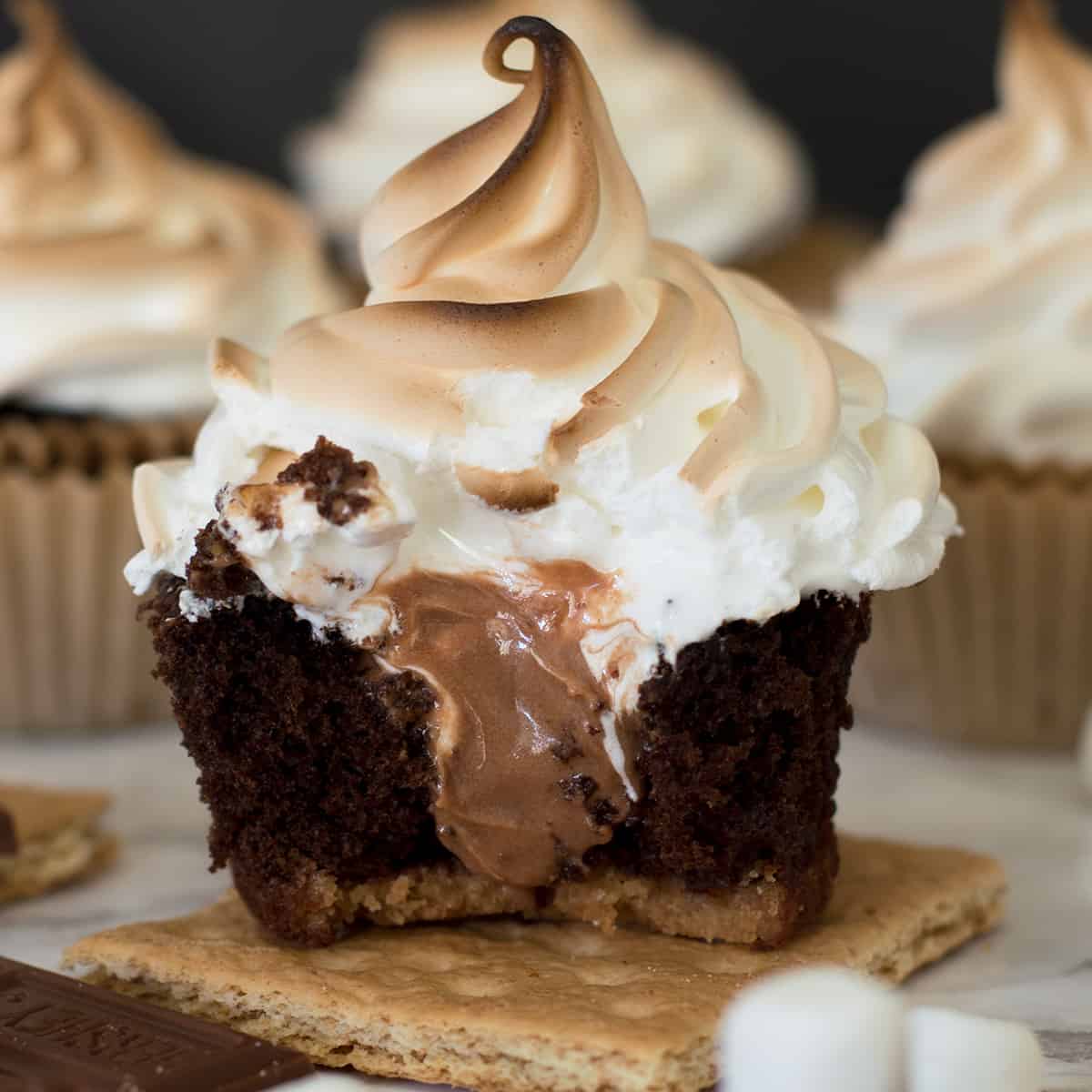 BAKE AND DECORATE
Bake 16-18 minutes or until toothpick inserted in center comes out clean.
Remove from muffin pans to cooling rack; cool completely.
Combine 1 1/2 cups butter, powdered sugar and vanilla in bowl.
Beat on medium speed until creamy.
Add marshmallow crème; continue beating until well mixed.
Frost cupcakes; decorate as desired.