This French Fruit tart is everything delicious, all wrapped into one light and crispy tart. A rainbow of fresh fruit sitting on top of silky-smooth vanilla bean French pastry cream.
My favourite thing about the French Fruit Tart is how simple but tasty it is. The fruit on top is a delicious addition and I love ho colourful it is! But you know what my favourite thing is? The little black vanilla bean specs. I love seeing that in desserts!
The tart itself is not actually very sweet. The crust is delicate but not too crumbly. The pastry cream filling is soft and silky but holds its shape well and the fruit on top helps add colour and flavour. It's a simple idea but when it all comes together a magnificent treat!
Tips for making the French Fruit Tart!
Make sure you decorate it with fruit only an hour before you serve it. The fruit can sometimes cause the pastry cream to look split.
If you want to prepare as much as possible in advance, the fruits can be sliced and prepped a day in advance, simply store in separate airtight containers, in the fridge before adding to the tart.
INGREDIENTS
1 recipe pâte sucrée (sweet tart dough)
3 tablespoons unsalted butter, cut into pieces
1/2 cup sugar
3 tablespoons cornstarch
1/4 cup apricot jam
2 teaspoons vanilla extract
1 large egg
2 cups whole milk (do not substitute low-fat or skim milk)
About 4 cups fresh mixed berries of choice, plus other fruits, such as sliced kiwi or mango (see note)
2 large egg yolks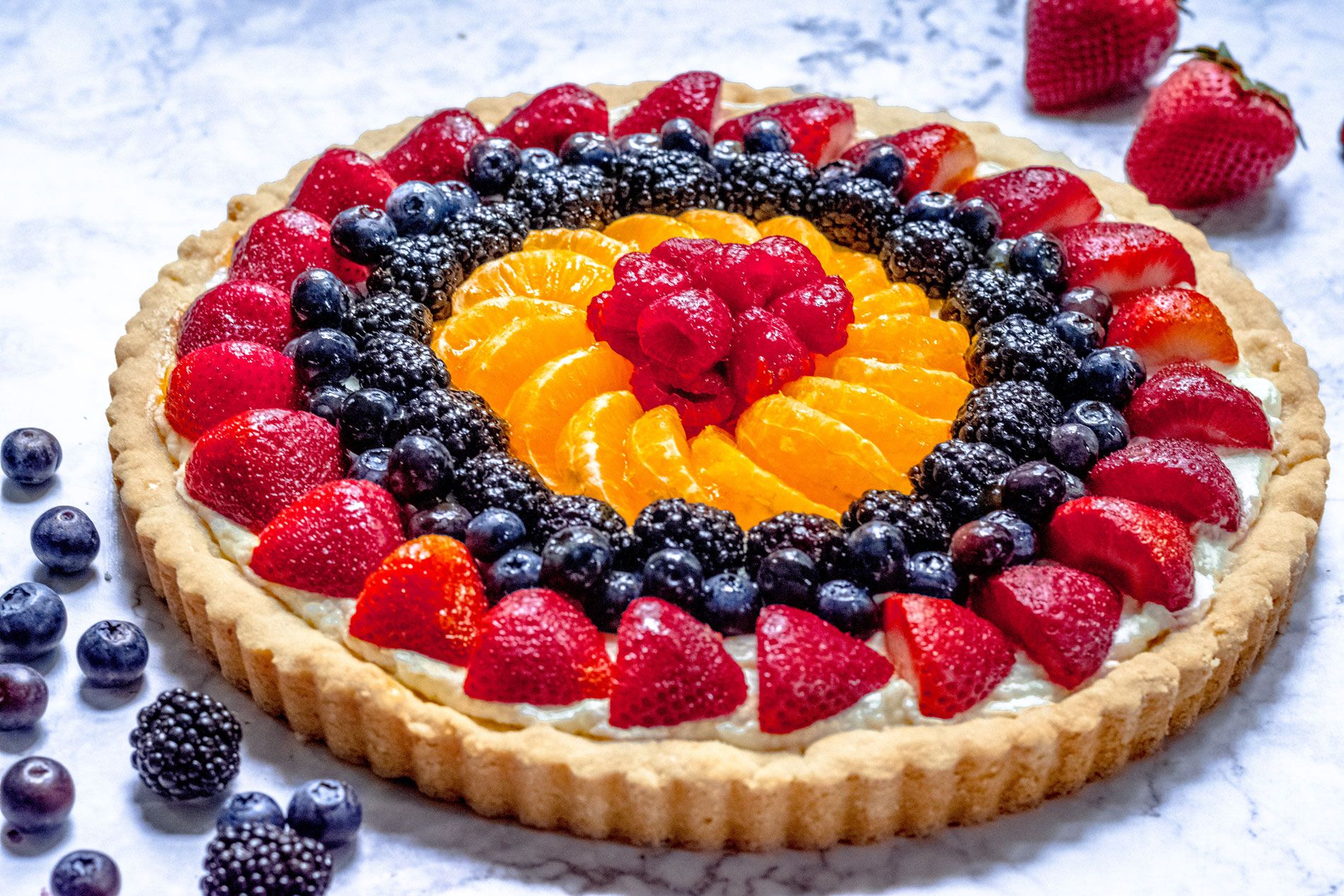 INSTRUCTIONS
FOR THE CRUST
Complete the pâte sucrée through baking and cooling.
FOR THE PASTRY CREAM
In a medium pot, heat the milk until just boiling. Remove the pot from heat.
While the milk is warming, in a heat-proof mixing bowl, whisk together the egg yolks, egg, sugar, and cornstarch. Whisk until the mixture is smooth and has lightened in color, about 2 minutes.
Whisking constantly, add about a quarter of the hot milk into the egg mixture.
Pour the milk-tempered egg mixture into the pot of the remaining milk. Whisk to combine.
Return the pot to the heat and cook over medium heat, whisking constantly to prevent "scrambled eggs," especially on the sides and bottom, until the magic happens and the pastry cream thickens, about 2 minutes.
Stir in the butter and vanilla and cook one minute more, whisking constantly. The pastry cream should make thick, lazy bubbles.
Pour the thickened pastry cream into a clean, shallow bowl. Cover it with plastic wrap and push it down in the bowl so it sits directly on the surface of the pastry cream.
This prevents a skin from forming on top. Chill until cold, a few hours (or up to 2 days before serving).
ASSEMBLY
Remove the tart ring and transfer the tart shell to a serving platter.
Whisk the chilled pastry cream until smooth, then spread it evenly into the tart shell using an offset spatula.
Arrange a generous amount of fruit over the pastry cream in your desired design.
In a small saucepan, heat the apricot jam with 1 tablespoon of water over medium heat, whisking, until thin. (Alternatively, heat it in a heat-proof bowl in the microwave for about 30 seconds.)
If the jam is especially chunky, strain it through a sieve.
Use a pastry brush to gently dab the fruit with a thin layer of apricot glaze. Chill until ready to serve.
NOTE!
If you see any coagulated egg bits in your finished custard, strain the hot pastry cream through a fine mesh strainer.
Avoid oxidizing fruit like apples and bananas; these fruits will turn brown. Berries should be fully dried after rinsing (raspberries should not be washed) and strawberries should be sliced.
Also avoid melon and other fruit with high moisture content, like sliced citrus. These will wilt quickly and seep moisture into the pastry cream.
The pastry cream can be made up to 2 days before serving. The tart can be assembled and refrigerated up to one day before serving.