Calling all green tea lovers, have you had your green tea fixed today? If not, this no-bake matcha cheesecake is waiting for you. Matcha may be a new thing for the Western world, but it is in fact ancient. It has been the heart of the famous Japanese tea ceremony for over 900 years and is well-known for its unique flavour and remarkable health benefits. Matcha has just recently gained recognition world-wide and food enthusiasts are discovering new uses for it every day: matcha latte, matcha mousse, matcha cake, matcha ice cream, etc. you name it!
I myself am also a green tea lover. Sweet and grassy with an earthy and slightly bitter flavour, it is just so natural and refreshing. What makes it even a better? The combination of the earthy matcha and the light, cool and creamy cheesecake! Deadly, deadly combo! You will be enjoying this delicious twist on the classic no-bake cheesecake as much as I do. And for those who haven't heard of matcha? Come on, try it out, you are behind!
INGREDIENTS
Cheese cake filling
8 gelatine sheets *6
2 tbsp hot water
1 tsp matcha powder
2 tsp lemon juice
300 ml heavy cream *5
120 g powder sugar *4
500 g Philadelphia original cream cheese *3
Crust
30 g unsalted butter (melted) *2
137 g Oreo original cookies *1
INSTRUCTIONS
FOR THE CRUST
Prepare the spring form by lining the springform with parchment paper and set aside.
Place the all Oreo cookies in a ziplock bag. Crush them into crumbs with a rolling pin over the bag. Put the biscuit crumbs in a mixing bowl and add melted butter. Combine them all together with a wooden spatula evenly.
Press the crumb mixture onto the bottom of an 8 inch spring form and press them firmly with the bottom of a measuring cup. Place cling wrap over and set aside in a fridge.
FOR THE CHEESECAKE FILLING
Soak the gelatine sheets in a bowl of water.
Sift the matcha powder with a fine strainer into to a little bowl. Add hot water and stir to make matcha. Remove excess water off soaked gelatine and add them into the matcha.
Over a hot bath, dissolve the gelatine into matcha and set aside.
Place cream cheese in a large mixing bowl and microwave for 20 seconds on 500w. Alternatively, leave the cream cheese blocks at room temperature for a while beforehand. Stir the cheese with a rubber spatula to smooth until no lumps are seen.
Add powdered sugar in three times and mix them well each time. Pour the matcha gelatine mixture into the creamcheese bowl and combine them all together well. Whip up the heavy cream. Pour the heavy cream into a mixing bowl.
Add lemon juice and whip up till it form soft peak. Fold the whipped cream into the matcha cheesecake mixture carefully and gently. Transfer the matcha cheesecake filling into the prepared spring form with oreo crust. Flatten the top of the cheesecake with a spatula.
Wrap with cling wrap and chill in the fridge for about 4 hours.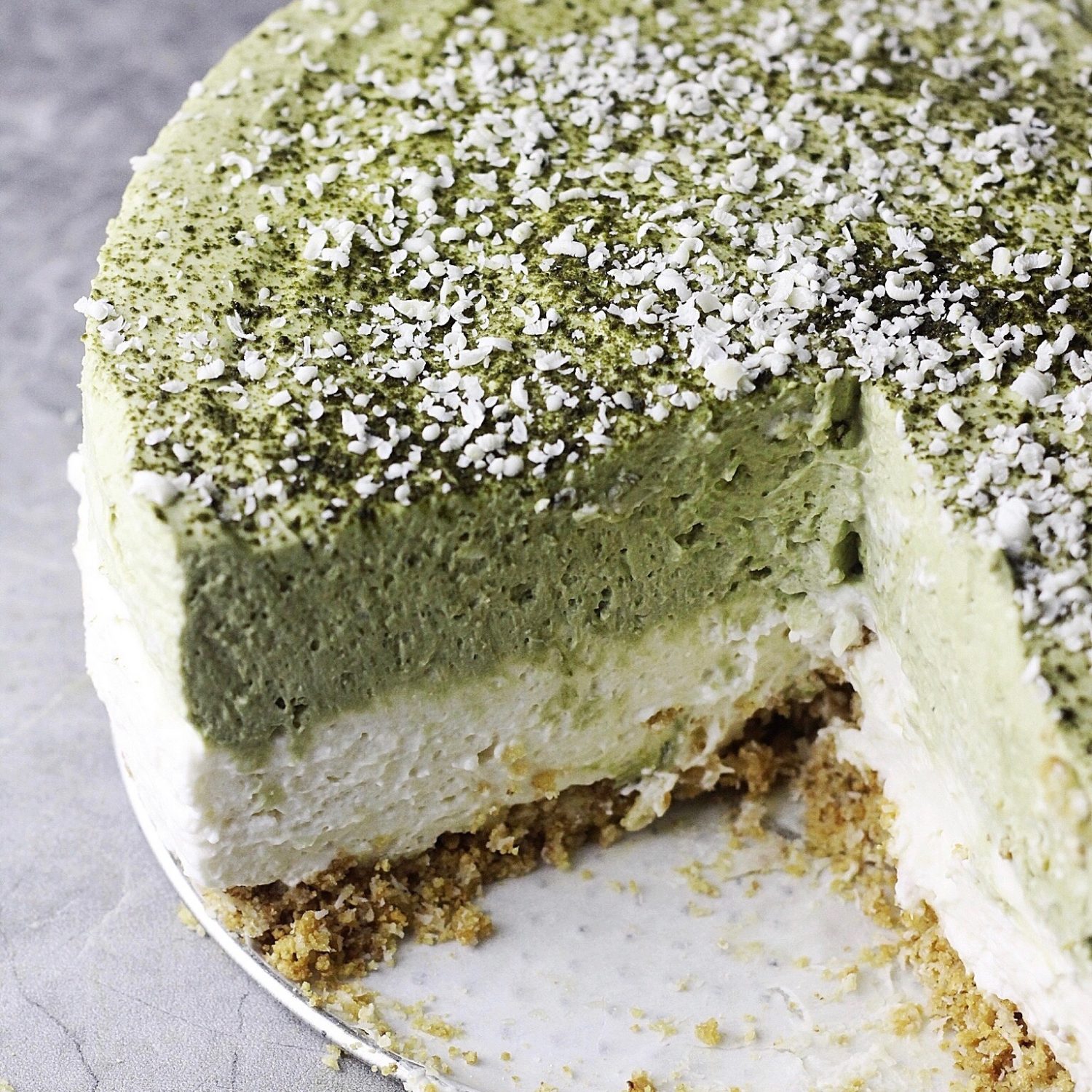 If you like this recipe, send it to your friends who are into matcha!