So here's something you might not know about me, I love a good boxed cake mix. Yes, of course I bake cakes from scratch but there are just times when you need the ease and efficiency of a good cake mix. Not to mention that they are fool-proof and can make anyone feel like a master baker.
Most of the time I jazz up boxed/pre-pack cake mixes with fresh fruit and my own buttercream but today is not that day. Today we are not even baking a cake with our cake mix. Today we are making waffles that are so good, I dare you to stop at only one.
When the team from Golden Cloud asked me to come up with a spectacular recipe using their cake or muffin mix range I accepted without hesitation. Because I knew exactly what I was going to make. I've been wanting to make cake mix waffles for the longest time and guys, it was worth the wait.
INGREDIENTS
Vanilla Cake Batter
1 cup milk
3 eggs
1/2 cup vegetable oil
1-15.25 oz vanilla cake mix
1 1/2 tsp vanilla extract
Whipped Cream
2 tsp vanilla extract
1/3 cup powdered sugar
2 cups heavy whipping cream
Fresh Berries for Garnish & Serving
INSTRUCTIONS
FOR THE WAFFLES
Turn you waffle iron onto a medium high setting.
In a medium bowl combine vanilla cake mix, milk, vegetable oil, eggs and vanilla extract.
Combine with a handheld mixer (or by hand) for 1-2 minutes or until you have a smooth batter.
When your waffle iron is to temperature, spray both the top and bottom liberally with nonstick cooking spray.
Measure out 1/2 cup (or however much your waffle iron will hold) of cake batter.
Pour it into the middle of the prepared waffle iron and spread out using a heat proof spatula.
Put top of waffle iron down and cook for 2 minutes or until the middle of the waffles are golden brown and the edges are light brown.
To remove the waffles use forks to loosen the edges and then slip a spatula under the waffle.
Move the cooked cake waffle to cooling rack to cool completely.
Continue to cook until you have used all of your batter, making sure to spray nonstick spray between each waffle.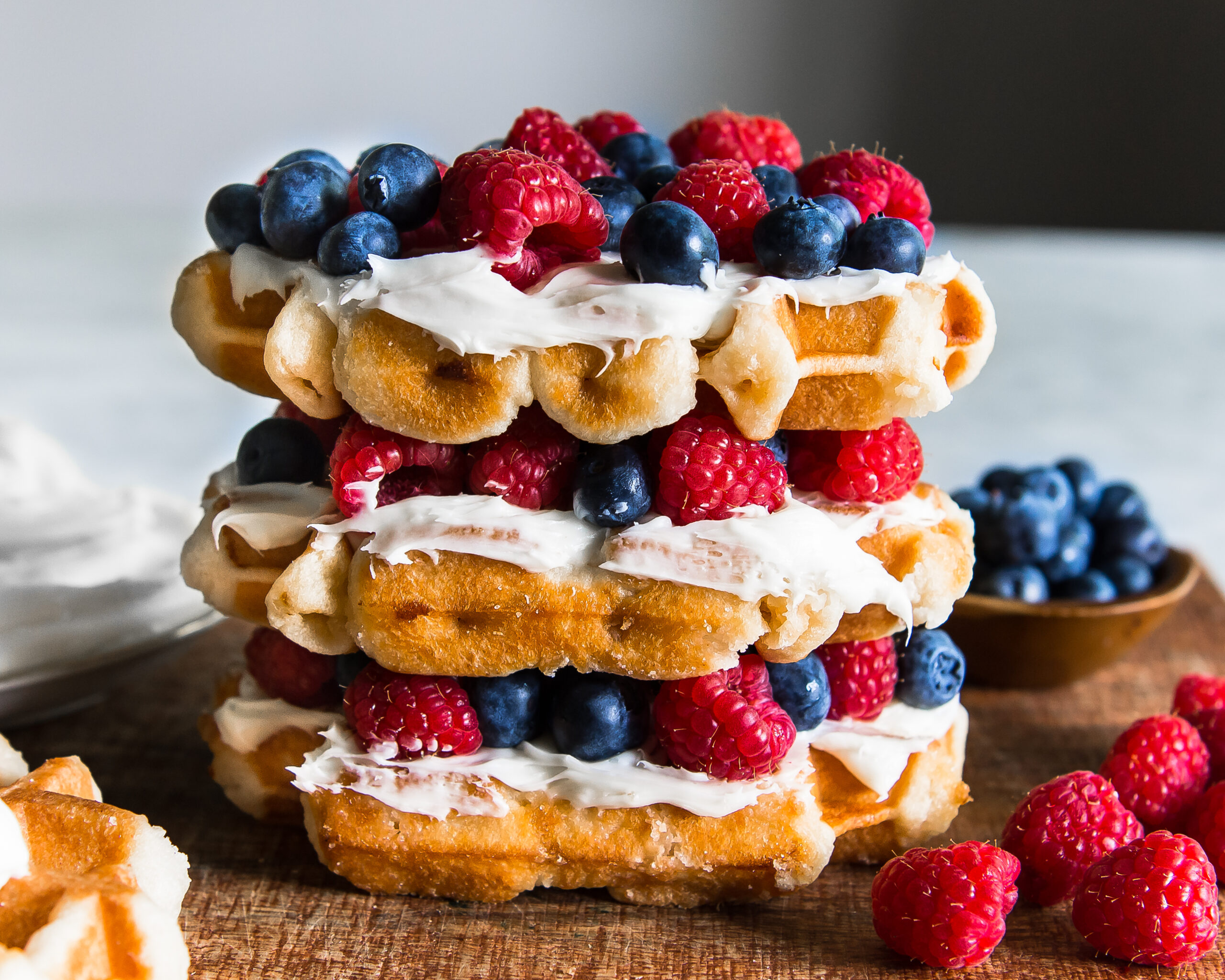 FOR THE CREAM AND DECORATIONS
While the waffles are cooling, combine the whipped cream ingredients in a large mixing bowl of a mixer that is fitted with a whisk attachment.
Begin whisking the ingredients together, making sure that the powdered sugar gets incorporated well.
Then turn the mixer onto a high speed and mix until you have stiff peaks (the whipped cream should stay on the whisk attachment when you pull it from the mixture).
To assemble your vanilla waffle cake, place one of the cooled cake waffles onto your serving plate and top with 1/6 of the whipped cream.
Spread whipped cream out over the top of the waffle. If a little bit goes over the edge of the waffle then that is fine.
Top with another waffle and repeat the process until you have stacked 5 waffles.
Take the remaining whipped cream and make a large mound of whipped cream in the middle of the top waffle.
Garnish your vanilla waffle cake with fresh berries and either refrigerate or serve with additional fresh berries.