I'm kicking off the first day of summer (aka my least favorite season of the year) in the best way possible with this Caramel Gingerbread Cake!
I am not a hot weather kinda girl unless I'm on a tropical beach somewhere with a (clean) source of water (and some shade) nearby. I get super cranky when I'm hot and it's been way too hot here already. Being uncomfortable is not my thing and neither is summer clothing. I'm a scarves and sweaters, blankets and tea kinda girl.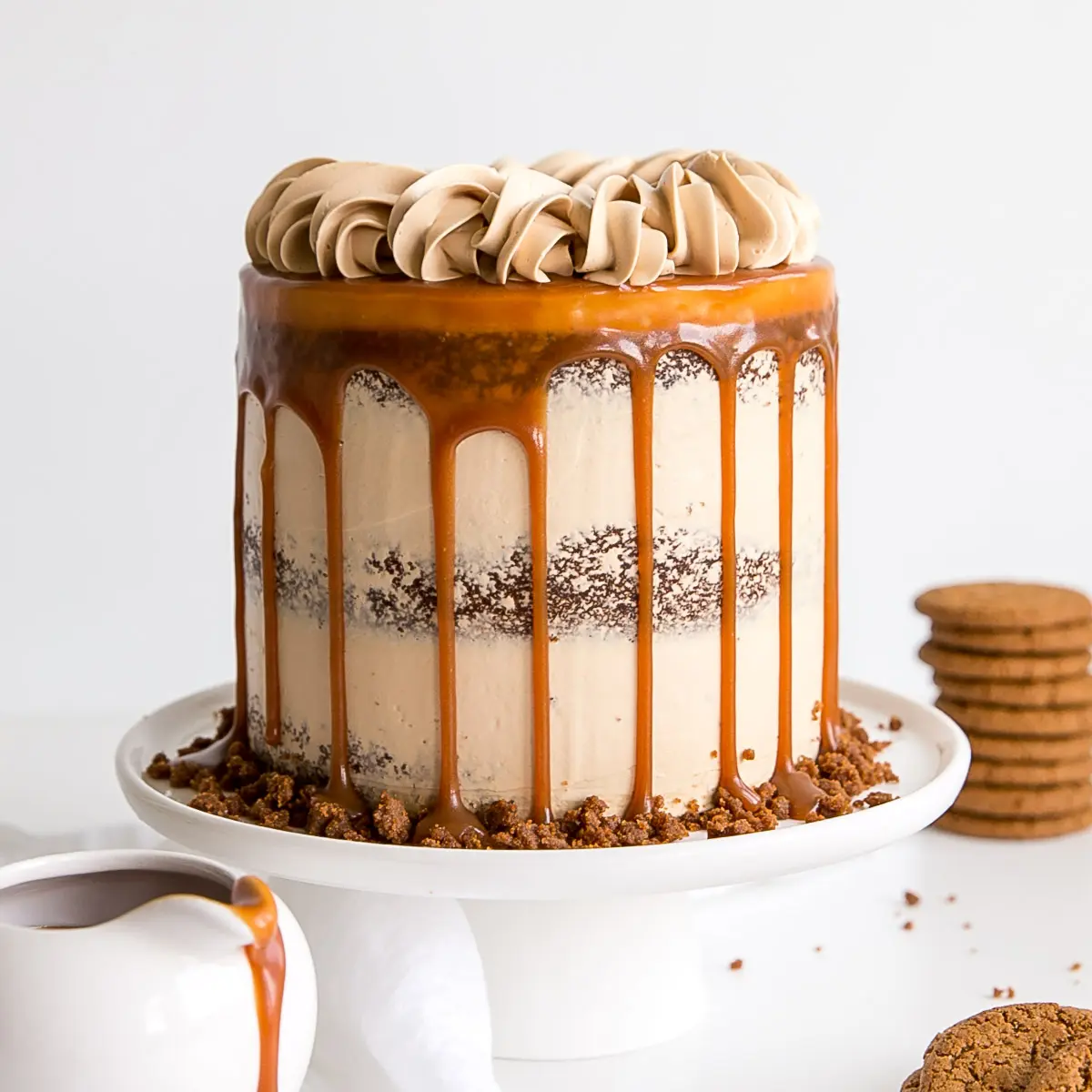 So, in protest, I'm throwing this Caramel Gingerbread Cake your way today which is my way of saying that Christmas is just over 6 months away and are you as excited as I am?! And really, who says gingerbread is a holiday-only dessert? It's the best thing ever and should be celebrated any time of year.
This gingerbread cake recipe is one of my absolute favorites. I've made a similar version of it before and used that recipe as a basis for the one I bring you today. I increased the amounts a bit to have taller layers, but otherwise the recipe is the same.
The most important thing to note about this gingerbread cake recipe is to not use blackstrap molasses. I used Fancy Molasses which is a lighter, sweeter type of molasses. Blackstrap is way too strong in flavor for the amount I've used in the recipe. This will result in a darker, more bitter-tasting cake. If you're all about that molasses flavor though, then by all means give blackstrap a try, but don't say I didn't warn you!
INGREDIENTS
Gingerbread Cake
1/2 cup White Sugar
3/4 cup Brown Sugar
1 cup Molasses
1 1/2 tsp Bicarb Soda
2 large Eggs
1 1/2 tsp All Spice
1 1/2 tsp Ground Ginger
3 cups Plain Flour sifted
1 1/4 cup Milk
1 1/2 tsp Baking Powder
225 g Butter softened
1 1/2 tsp Ground Cinnamon
Vanilla Cream Cheese Icing
1/4 cup Thickened Cream
4 cups Icing Sugar
2 tsp Vanilla Extract
500 g Cream Cheese softened
450 g Butter softened
Caramel Sauce
75 g Butter
1/4 cup water
1/2 cup Thickened Cream
1 cup White Sugar
INSTRUCTIONS
Gingerbread Cake
Pre-heat a fan forced oven to 180°C (350°F). Grease and line with baking paper two 20cm (8 inch) round springform baking pans.
In a large bowl add butter, brown sugar & white sugar and using an electric mixer, beat butter until light & fluffy. Add molasses & eggs and continue beating until fully combined and smooth.
In a separate bowl, add plain flour, baking powder, all spices & bicarb soda and mix together until combined. Add flour mixture and milk to the butter mixture. Combine with butter mixture in alternate additions and combine fully after each addition. Add the flour and milk in about 3 additions each. Pour mixture evenly into the two prepared pans, smooth the mixture in each pan and place into oven.
Bake for about 35 minutes or until a skewer inserted into the center of the cake comes out clean. Remove from oven and cool in baking pans for about 10 minutes before turning out onto wire racks to cool completely
Vanilla Cream Cheese Icing
In a large bowl add butter and using an electric mixer, beat until light and fluffy. Add cream cheese and continue beating until fully combined. Add icing sugar, one cup at a time and continue beating until fully combined.
Add vanilla extract and continue beating to mix through. Add thickened cream, a little at a time, and beat through until you achieve the required consistency to ice the cake.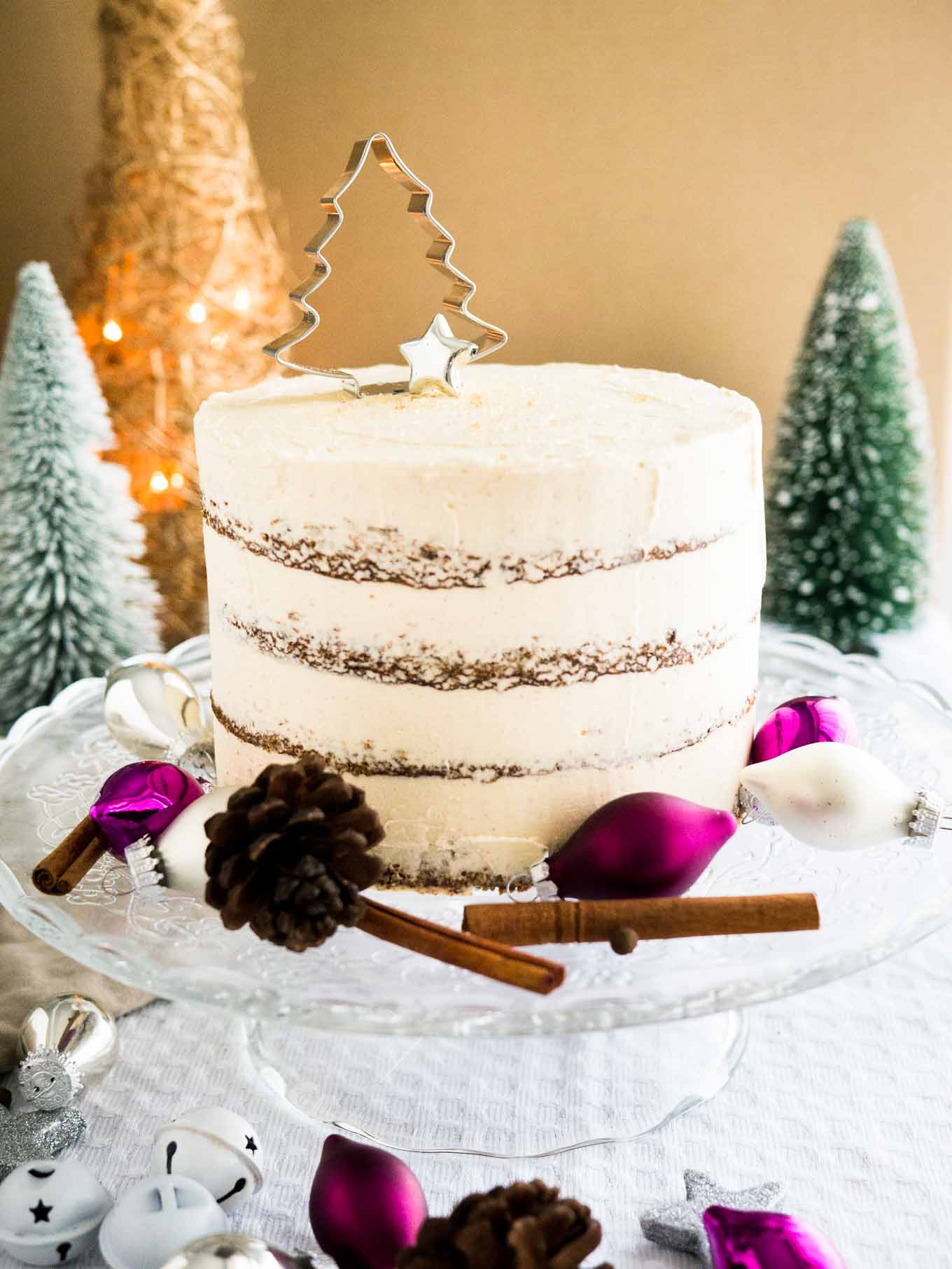 Caramel Sauce
Make caramel sauce per the caramel sauce recipe link below.
Allow caramel sauce to cool before coating and drizzling on cake.
Cake Assembly
Place one cake on a plate and layer with vanilla cream cheese icing.
Invert and place second cake on top and layer top and sides with cream cheese icing.
Note: you may find it easier to layer the cake by initially icing for a crumb layer, then refrigerating for 15-20 minutes to allow icing to firm.
Then remove from refrigerator and continue icing. Return to refrigerator for 15-20 minutes before adding the caramel sauce.
Remove from refrigerator and coat the top of the cake with caramel sauce and drizzle down the sides of the cake. Place in refrigerator to allow caramel sauce to set.
Remove from refrigerator and pipe icing decorations on top of the cake. Place and store in refrigerator to allow icing to firm and remove from refrigerator only when ready to eat.