Instead of refined sugar, this recipe uses apple sauce, spices, and lemon juice to give this apple tart a simple, sweet flavor. If you're feeling fancy, you can layer the apple slices in a beautiful pattern like a french tart.
Or if you're pressed for time, you can just toss the apple mixture into the pastry shell and call it dessert. I've made this apple tart recipe both ways and they are equally satisfying.
If you're looking for more sweetness, try adding sliced pears or raisins.
INGREDIENTS
2 teaspoons of ground cinnamon
¼ teaspoon fine ground sea salt
½ of a lemon
8 tablespoons ice water
5 Honey crisp apples
½ cup unrefined coconut oil
1 ½ cups whole wheat pastry flour
INSTRUCTIONS
Preheat oven to 425 degrees Fahrenheit.
Line a small bowl with plastic wrap leaving at least an inch of wrap hanging over the sides
Pour .5 cup liquid coconut oil into bowl and refrigerate until solid.
Place flour and salt in the bowl of a stand mixer with flat beater and mix briefly to combine.
Un-wrap coconut oil block and grate into flour mixture with a box grater.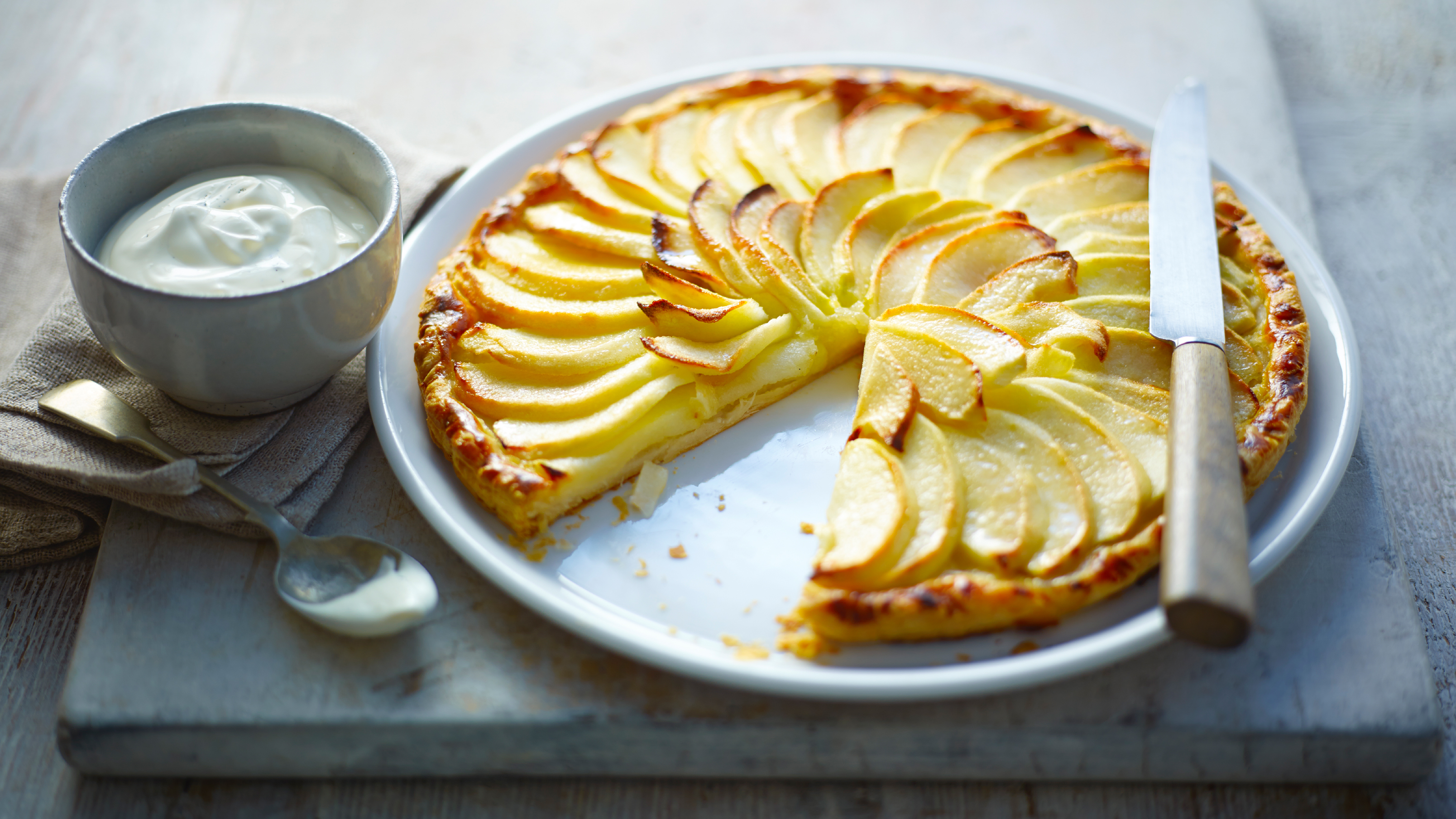 Mix until mixture resembles coarse meal, making sure there are no large pieces of coconut oil remaining.
Add ice water a couple of tablespoons at a time, and continue to mix slowly.
Remove dough ball from mixing bowl, place on a smooth surface and form into a flattened disc.
Wrap with plastic wrap and refrigerate at least an hour or overnight.
Thoroughly wash apple. Chop apples into quarters. Use a paring knife to remove the core from each apple quarter.
Again with your Bistro Knife cut the apples into thin even 1/8-inch slices. Mix apples together with 2 teaspoons of cinnamon and the juice from half of a lemon.
Remove dough from refrigerator at least 20 mines before use. Roll out dough on a lightly floured surface until 1/8 inch thick. Lay dough gently over a tart or pie dish, and gently shape your pie crust, trimming off excess.
Arrange apple slices into pie crust, keeping the skins facing up.
Bake pie at 425 degrees Fahrenheit for 30 to 35 minutes, crust should be toasted but not burnt. Let pie cool for 30 minutes, then enjoy!