How cute are animal crackers? vanilla cookies with lots of sprinkles? Yes please! My gorgeous strawberry vanilla cake is inspired by the cute little animal crackers. And those truffles on top? So easy to make and so delicious! Perfect fun baking project!
I absolutely adore how fun and cute this cake is. I happened to have discovered what animal crackers were, the cute little animal shaped crackers with pink icing and sprinkles and I thought that would be wonderful to base a cake on! Great for birthdays, great for baby showers, great for any occasion!
This cake is made up of my vanilla cake recipe, which is moist and really yummy. The frosting is strawberry flavored and made of my Smooth and silky Swiss meringue buttercream. The sprinkle covered cake balls on top and a visual treat and overall, this cake is a delicious celebration of vanilla cake.
INGREDIENTS
Almond Pink Swirl Cake
4 Egg Whites, room temperature
1 teaspoon almond extract
1 Cup Buttermilk, room temperature
2 teaspoons Clear Vanilla Extract
Pink food gel coloring
2/3 Cup Sour Cream, room temperature
1/3 Cup Vegetable Oil
1 Box White Cake Mix
White Chocolate Buttercream
Pink Gel Food Coloring
5-6 Cups Powdered Sugar
1/4 Cup Heavy Cream
1/2 teaspoon almond extract
1 teaspoon clear almond extract
1 teaspoon vanilla extract
3 Sticks (11/2 Cup) Unsalted Butter, kept at room temp for at least 10 minutes
Pinch of salt
1/2 Cup White Chocolate Chips
Decoration
Frosted Circus Animal Cookies
Rainbow Nonpareils
Wilton 6B Piping Tip
INSTRUCTIONS
FOR THE CAKE:
Preheat the oven to 325 degrees F. Prepare 2 8″ cake rounds or 3 6″ cake rounds with a swipe of shortening and dust of flour. Set aside.
In a large bowl, whisk together oil, egg whites, sour cream, buttermilk, and extracts.
Pour in the cake mix and stir until just combined. Be careful not to overmix!
Split the batter between two bowls and color one half of the batter in one bowl with "base pink" by Wilton.
Using a cookie scoop, scoop alternating colors into your prepared cake rounds until all the pink and white have been divided equally.
Bake for 25-27 minutes, until center is baked through. Remember not to overbake!
Remove rounds from the oven and allow the cake to cool in their pans for 1-2 minutes, then flip out onto a wire rack to cool to room temperature.
Wrap in plastic wrap, and freeze until ready to frost.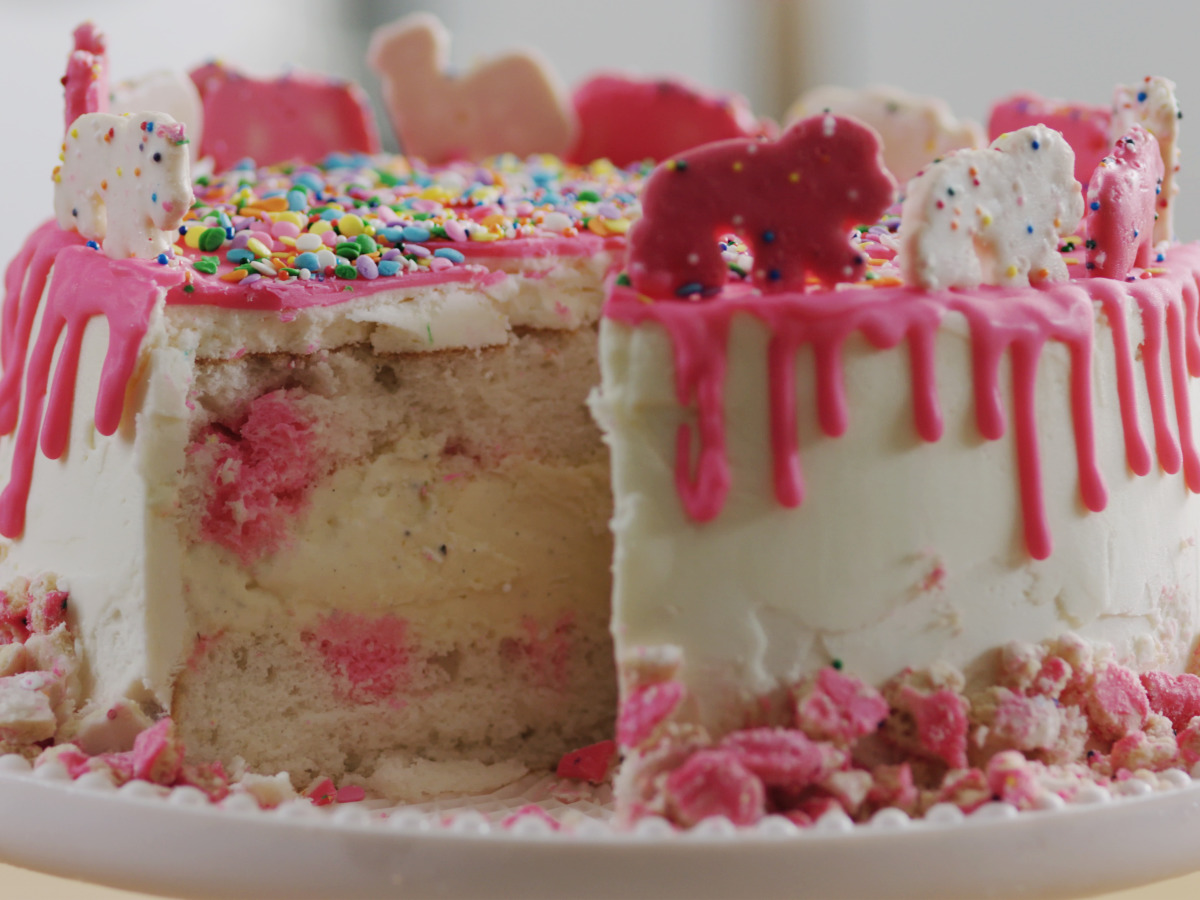 FOR BUTTERCREAM:
Pour heavy cream over white chocolate chips into a small glass bowl. Microwave for 30 seconds and stir until smooth. Allow it to cool slightly. Set aside.
Whip up butter in a stand mixer with a paddle attachment until it peaks light and fluffy.
Add in extracts, salt, and white chocolate ganache and whip up until combined.
Slowly add in powdered sugar. Whip on high speed for 2-3 minutes, then add in more heavy cream or powdered sugar if needed. Divide buttercream in half and tint one half pink.
ASSEMBLY:
Stack and frost cake (filling the inside with some of the pink buttercream), then add crumb coat. Place cake into the freezer.
Frost a thick layer of white buttercream on the entire cake.
Using a cake comb scrape the stripe shape into the side of the buttercream. Freeze for 10 minutes.
Pipe the pink stripes into the hollowed out area the cake comb left, then scrape the entire cake with a cake scraper to make even stripes.
Press cookies and nonpareils onto the side of the cake, and pipe a buttercream crown using the Wilton 6B or 8B piping tip.