Of all the cupcake recipes I've shared on here (and there have been quite a few now!) this one has probably taken the longest to perfect. I had a very similar problem with this coffee sponge to the one I experienced with my chocolate cake, in that actually when you eat a lot of coffee cakes (and chocolate cakes), pretty much all the coffee flavour is coming from the buttercream and there's very little coming through from the actual cake.
This was easily solved for the chocolate cake by simply mixing lots of grated chocolate into the cake batter which meant that you got a taste of chocolate in each bite, but you can't use coffee in the same way so it needed lots more trial and error to get the flavour really coming though.
In the end I discovered…
Switching out the caster sugar in favour of light brown sugar also helps to bring out the coffee flavour. Brown sugar has a hint of caramel and caramel and coffee are match made in heaven.
Use powdered coffee rather than freshly brewed (or grind up coffee granules using a pestle and mortar or spice grinder) to get a strong flavour whilst keeping the texture of the cake just right.
Adding a little salt allows you to up the amount of coffee included (so giving a stronger flavour) without the cake getting bitter.
It's really important not to over-bake these as that really kills the flavour.
INGREDIENTS
Coffee cupcakes
1/2 cup full fat sour cream
2 large eggs
1 teaspoon baking powder
1/2 cup unsalted butter at room temperature
1 cup granulated sugar
1/4 teaspoon salt
1 teaspoon vanilla extract
2 tablespoons whole milk
1 tablespoon + 1 teaspoon instant espresso powder
1 1/3 cups all-purpose flour
Espresso Buttercream
2 teaspoons vanilla extract
4 to 6 tablespoons milk or heavy cream
4 to 4 1/2 cups powdered sugar
1/2 teaspoon salt
12 tablespoons unsalted butter at room temperature
2 tablespoons instant espresso powder*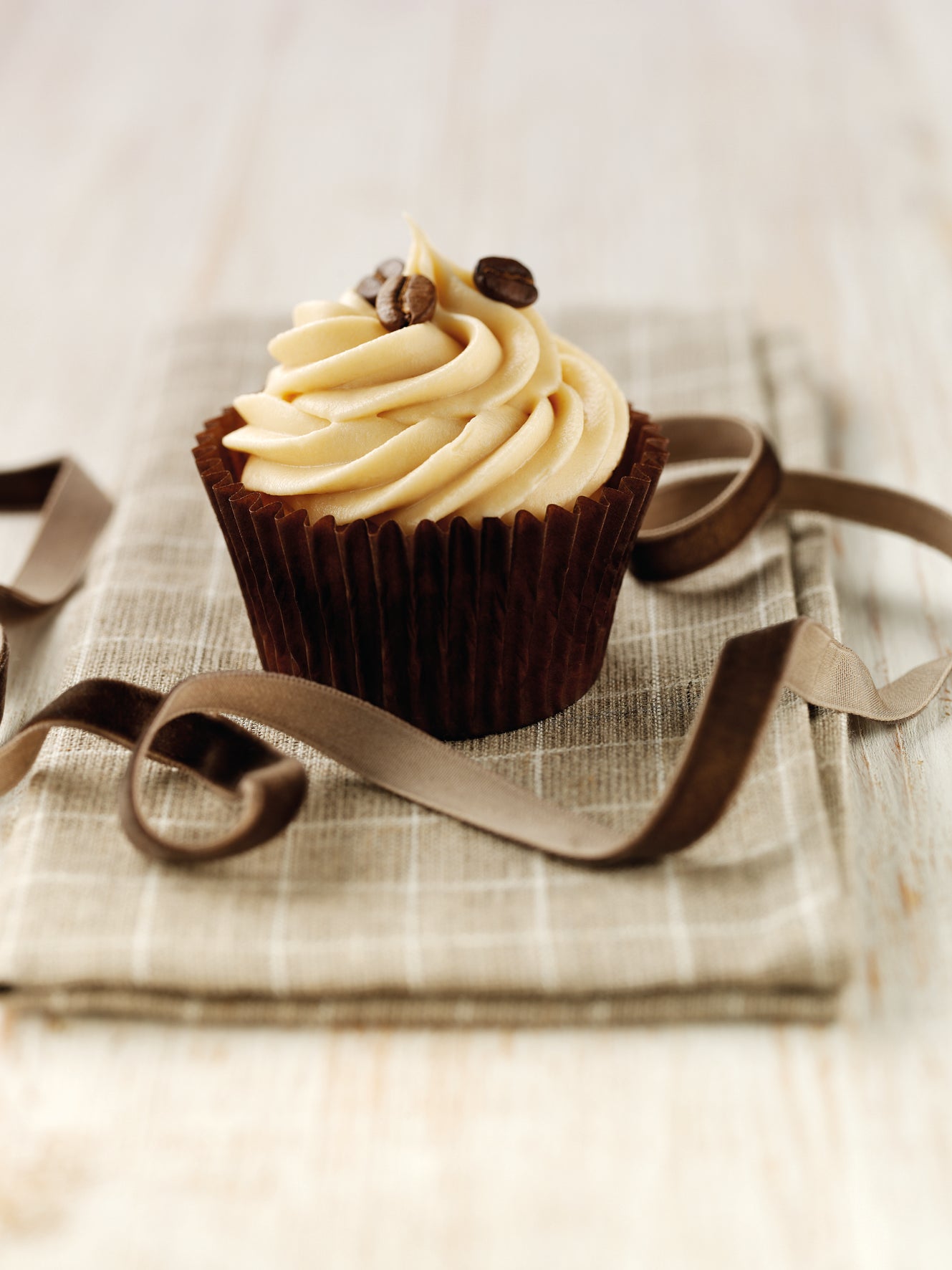 INSTRUCTIONS
MAKING THE COFFEE CUPCAKES
Preheat the oven to 350 degrees. Line 16 to 18 muffin cups with paper liners and set pans aside.
Whisk the flour, espresso powder, baking powder, and salt together in a medium bowl. Set aside.
Place the butter in a large bowl and beat with an electric mixer until creamy. With mixer on medium speed, gradually beat in the sugar. Once the sugar is all added, scrape down the sides and bottom of the bowl and beat for a couple of minutes, until very light.
Beat in the eggs and the vanilla. Turn mixer to low and beat in half of the dry ingredients until just combined, then beat in half of the sour cream and all of the milk. Beat in the remaining dry ingredients, again just until incorporated, then the remaining sour cream. The batter will be thick.
Divide the batter between the prepared muffin cups, filling each about 2/3 full. Bake 18 to 24 minutes, until a cake tester inserted into the center of the cupcakes comes out clean.
Cool the cupcakes in the pans for 5 minutes, then carefully transfer to a wire rack to cool completely before frosting.
MAKING THE ESPESSO BUTTERCREAM
Place the butter in a large mixing bowl and beat with an electric mixer until very smooth. Add 4 tablespoons of milk, the espresso powder, vanilla, and salt and beat to combine. With mixer on low, gradually beat in 4 cups of the powdered sugar.
Scrape down the sides and bottom of the bowl, then turn mixer to medium and beat until smooth. Add additional powdered sugar if frosting is too thin and additional milk if frosting is too thick.
Pipe or spread frosting onto the cooled cupcakes and decorate with espresso beans (if desired). Serve.
Uneaten cupcakes can be stored at room temperature, covered, for two or three days or in the fridge, covered, for 3 or 4 days. (I think the cupcakes taste best at room temp though.) You can also store them in the freezer, tightly wrapped, for up to 2 months.