Even been to Snooze, an A.M. Eatery? You may have dined at this breakfast and brunch spot in Arizona, California, Colorado, Texas, North Carolina, Missouri, or (coming soon) Georgia. This Denver original has expanded to over 40 locations across the country, but it's still a great spot to get your breakfast fix, whether you have your heart set on eggs benedict, french toast, hashes and scrambles, or (our favorite), their delicious and fluffy homemade pancakes.
They serve delicious pancakes year-round at Snooze, but a special that we've seen off and on the menu over the past few years, are their hot cocoa pancakes, otherwise known as Nana's Hot Cocoa Pancakes. These delicious and oh-so addicting buttermilk pancakes are stuff with bananas and white chocolate chips, topped off with a homemade marshmallow, toasted walnuts, and Mexican hot chocolate sauce.
Don't overmix the pancake batter. One of the quickest ways to ruin pancake batter is by overmixing. Simply whisk together the wet ingredients, add the dry ingredients all at once, and stir until just combined.
Assemble all of your toppings first. There's nothing worse than eating a cold pancake, so make sure that your walnuts, marshmallows, powdered sugar, and Mexican hot chocolate sauce are ready to go before you begin cooking your buttermilk pancakes.
INGREDIENTS
Pancakes:
4 tablespoons melted unsalted butter, plus 4 to 5 tablespoons for the skillet
1/2 cup hot chocolate or cocoa mix
2 large eggs
Whipped cream, for serving
Fine salt
1 1/2 cups all-purpose flour
1 1/4 cups milk
1 tablespoon baking powder
1/2 teaspoon pure vanilla extract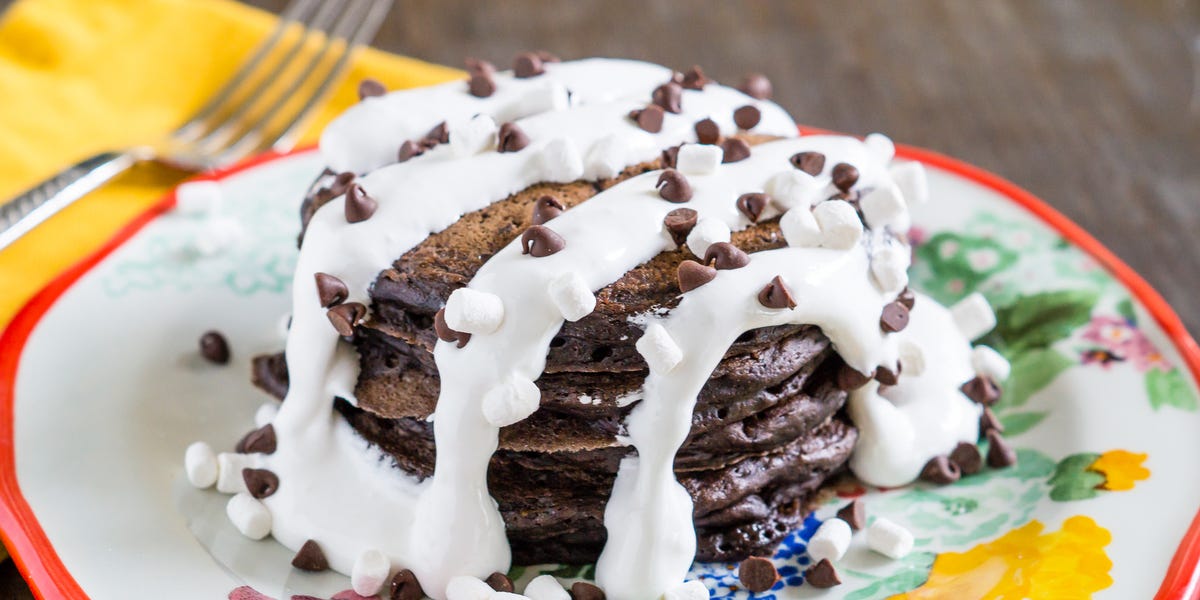 Hot Chocolate Syrup:
1/4 cup hot chocolate or cocoa mix
1 cup pure maple syrup
INSTRUCTIONS
STEP 1: MAKE THE HOT CHOCOLATE SYRUP
Bring the maple syrup and hot chocolate mix to a simmer.
Whisking constantly, in a small saucepan over medium heat.
Continue to simmer until the syrup is thick enough to coat the back of a spoon, about 5 minutes.
Keep warm.
STEP 2: PREPARE THE PANCAKE BATTER
Preheat the oven to 200 degrees F.
Whisk together the flour, hot chocolate mix, baking powder and 1/4 teaspoon salt in a large bowl.
Whisk together the milk, butter, eggs and vanilla in a medium bowl.
Pour the milk-egg mixture into the flour mixture, and gently fold just to combine.
STEP 3: COOK THE PANCAKES
Heat a large nonstick skillet or griddle over medium heat.
Add 1 tablespoon butter.
When it melts and the foam subsides, pour 1/4-cupfuls of batter onto the skillet, evenly spaced.
Cook until the surface of the pancakes begins to bubble and the bottoms have darkened by a few shades, about 4 minutes.
Flip the pancakes, and continue to cook until the bottoms have darkened by a few shades and the pancakes are springy when touched in the center, about 3 minutes.
Repeat with the remaining butter and batter. (Keep cooked pancakes warm in a low oven.)
Serve with the hot chocolate syrup and whipped cream.