Peaches and Cream Cheesecake is a fantastic, mouthwatering dessert! This isn't Cheesecake in the traditional sense. It does have a crust layer using cake mix and vanilla pudding mix, then it has a peach layer, followed by a cream cheese layer, topped with a cinnamon-sugar layer. After it bakes you smother the whole thing with whipped topping. You can add caramel sauce but it really doesn't need it.
When I served two peach desserts for company two weeks ago, Fresh Peach Crisp was one of the desserts, and this was the other. Everyone loved the Fresh Peach Crisp, but everyone RAVED about Peaches and Cream Cheesecake! A couple of our guests couldn't stop talking about it. They loved it. As the cheesecake bakes the ingredients kind of swell up a little and all the flavors merge together rather than being nice, little, neat layers–kind of like one of those Lava Cakes you see so much on the Internet.
While this dessert is not particularly healthy, it is spectacular in taste, texture and presentation. The whole key to making this cheesecake is not to overbake it. Avoid the temptation to cook this longer than the directions: 45-50 minutes–even if it doesn't look done. If you cook it longer than that, the crust gets tough. The cheesecake will finish baking as it cools. Once the cheesecake cools completely, you can cover it with non-dairy whipped topping and either refrigerate it or freeze it for later. I've done both.
Back in the mid 1990s I purchased some Women's Circle Cookbooks that had tons of great recipes in them. I combed through those paperback cookbooks constantly looking for new recipes and used so many. Peaches and Cream Cheesecake is one I found in those cookbooks. I've modified it  a bit over the years, but the main ingredients are intact from that original recipe. And, the outcome is always the same – it's a sensational dessert that everyone loves!
INGREDIENTS
FOR THE BASE
40g (~1/3 stick) unsalted butter
12 Oreo cookies
THE DECORATIONS
300 gram (10-11 oz.) tinned peaches
4g gelatin (powder or sheet)
20-25 gram (1.5 tbsp) – to taste
150 (2/3 cup less 2 tsp) peach juice (from the tin)
FOR THE FILLING
160g (5.6 oz.) cream cheese – softened at room temperature
40 ml (3 tbsp less 1 tsp) water
180 ml (3/4 cup) cold whipping cream (30-40% fat)
60 ml (1/4 cup) peach juice (from the tin)
150 gram (5.3 oz.) tinned peaches
40g (3 tbsp) sugar (finely grinded –caster or powdered sugar is best)
6 gram gelatin (powder or sheet)
INSTRUCTIONS
MAKING THE BASE
Line parchment paper on the bottom of the pan, make sure the paper sticks out a little so you can easily grab and pull it off the cake later.
Melt 40g butter.
Crush the Oreo cookies with a food processor (no need to get rid of the cream filling).
Mix cookie crumbs with melted butter and transfer to the pan.
Smooth out with a spoon and press firmly to form a base. You can press using the bottom of a glass.
Chill in the fridge for 20-30 minutes for the base to set.
MAKING THE PEACH CHEESECAKE FILLING
Soften 6g gelatin in 40ml water for 10-15 minutes. If you use gelatin powder, stir gently so the powder is thoroughly soaked.
Blend 150g peaches with 60ml peach juice.
Dissolve the gelatin by heating up over hot water or in microwave for 20-30 seconds until it is completely dissolved.
Take out some spoonfuls of blended peaches and combine with melted gelatin.
Make sure to scrape the bottom and walls of the bowl because gelatin tends to stick there.
Pour this mixture back into the blended peaches, mix well.
Whip cream cheese in a bowl at lowest speed for 1-2 minutes until softened.
Add whipping cream, beat at medium speed until well combined.
Then increase to high speed, whip until soft peak.
Transfer the peach mixture to the cream cheese, mix well with a spatula.
It's best to fold rather than stirring to avoid the cream curdling.
Pour the mixture straight into the pan, tilt pan so that the mixture is evenly smoothed out.
Chill in the fridge for at least 2 hours or until the cream cheese is completely set.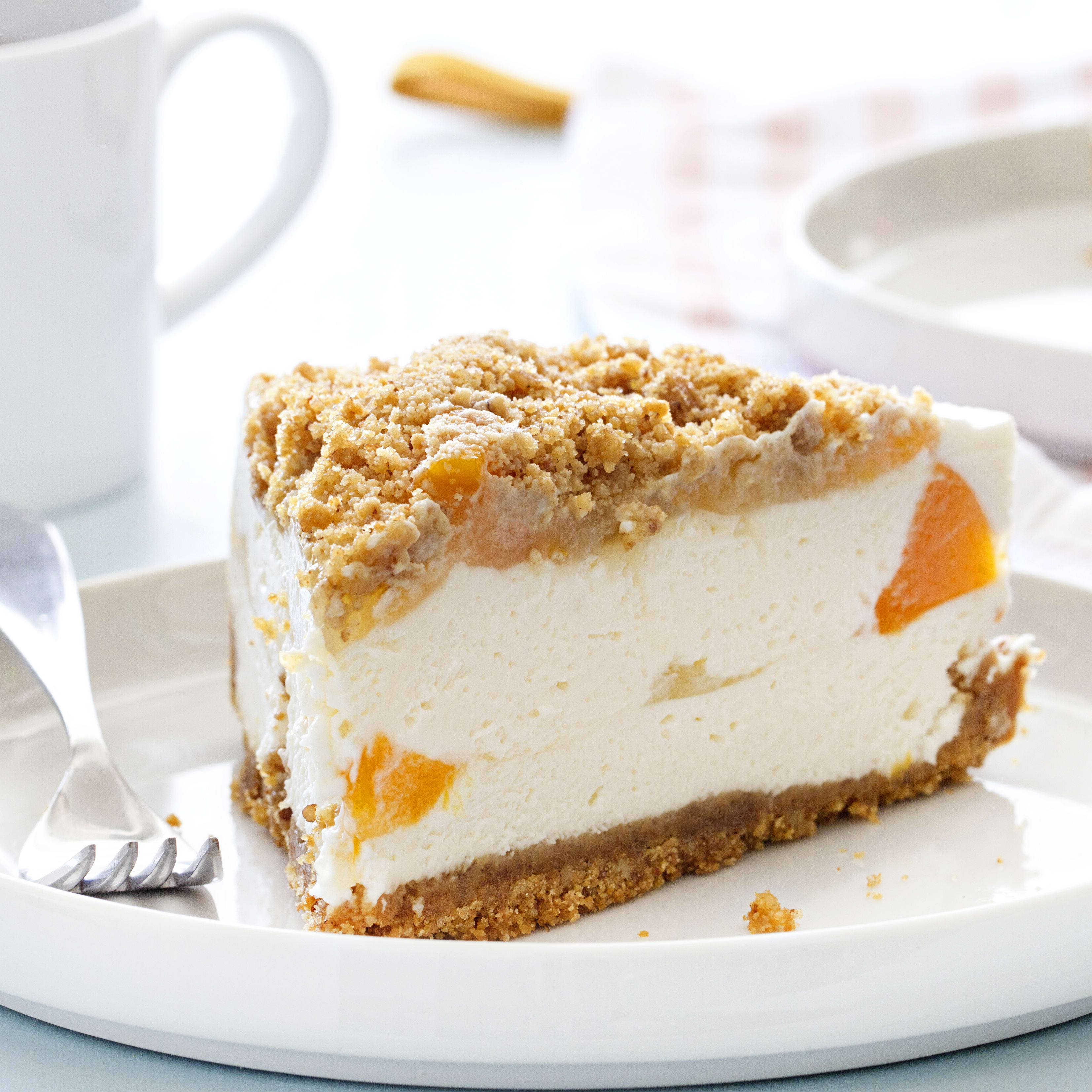 ASSEMBLE
Soften 4g gelatin in 150ml peach juice for 10-15 minutes.
Cook on medium heat, stir well to make sure gelatin is completely dissolved.
Remove from heat, add sugar to taste.
Let cool to room temperature.
Slice peaches thinly.
Line the thin slices of peaches around the top, starting from the outside working your way inwards to create a flower.
Gently pour the gelatin mixture on top of the cake. You can submerge the peaches completely in the jelly or just partly.
Note: The gelatin must have completely cooled and be poured gently. If the gelatin is too hot, the cheese layer can melt. Let cool in the fridge for another 2 hours or until the jelly layer is completely set.
Keep cake in the fridge, good to eat for 2 days.
When taking the cake out, run a thin knife around it.
You can also warm up the walls of the pan by blow-drying it with a blow dryer for 20-30 seconds, the cake will pull itself away from the pan.