When macarons hit the stores in the United States, people were going crazy over the cookies. I, on the other hand, was not a fan. They were so incredibly sweet! I love my desserts but even I have a threshold of how sweet a cookie should be. So for this reason, I never bothered to make them from scratch…until now. Call it my curiosity or sheer boredom but I finally gave macarons another try and you know what? They're not so bad. If you give me a batch of these caramel macchiato macarons, I won't say no. The combination of the coffee macarons with the caramel buttercream is one that I can get on board with.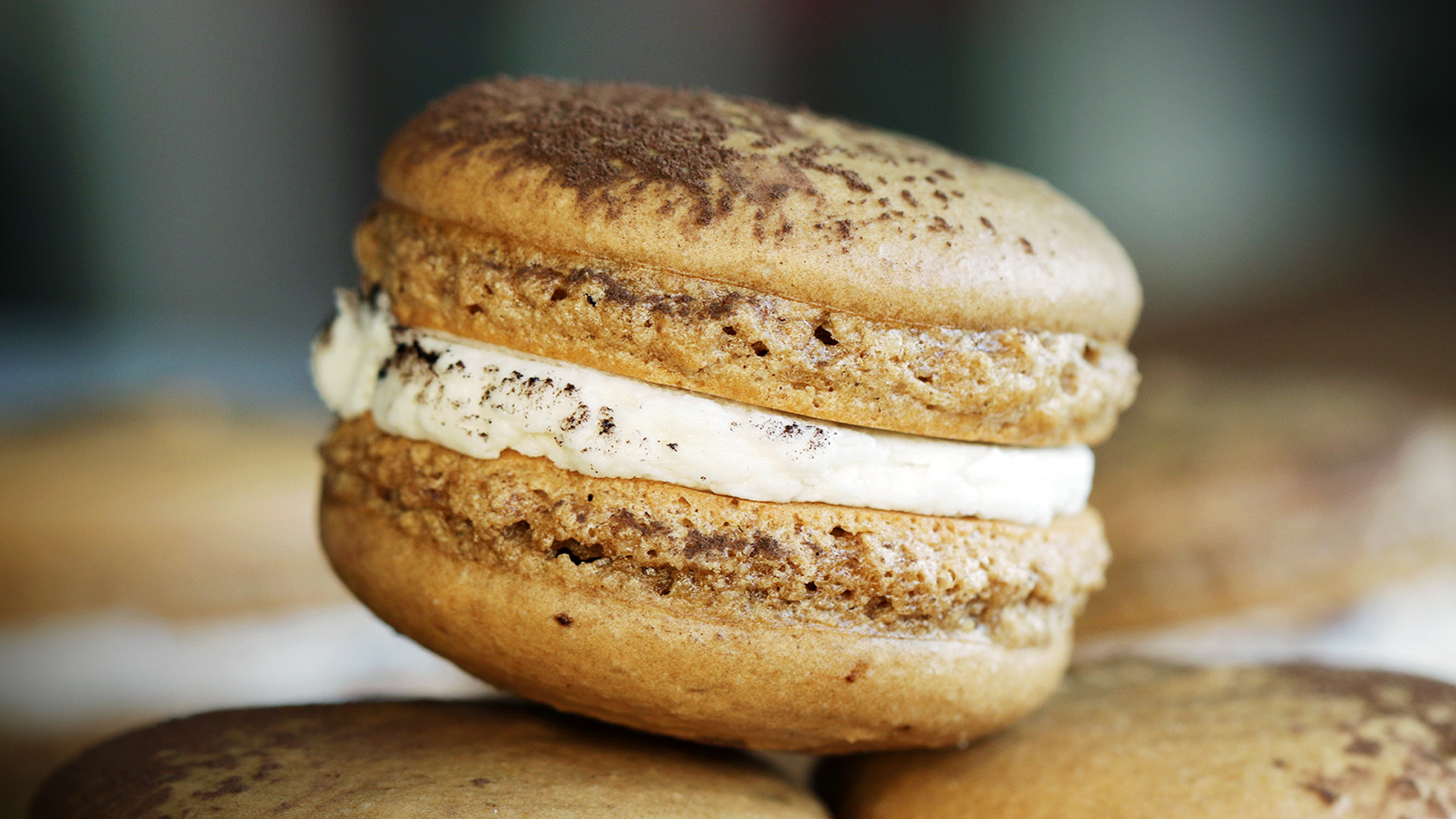 INGREDIENTS
THE DRY INGREDIENTS
1 tb instant espresso powder, ground
150 g powdered sugar
0.25 ts cinnamonpinch cayenne pepper
120 g hazelnut meal
FOR THE MERINGUE
95 g granulated sugar
0.25 ts cream of tartar (or lemon juice)
110 g (~3) egg whites, room temperature
FOR THE SALTED CARAMEL CREAM
0.5 ts instant espresso powder
2 tb water
cold water bath
0.25 ts vanilla extract
0.33 c heavy cream
8 tb (1 stick) butter, diced
1 ts salt
1 c sugar
INSTRUCTIONS
PREPARATION
Line 2-3 baking trays with parchment paper or silicone mats.
If using parchment paper, optionally draw guide circles (diameter 2.5-3 cm) about 3 cm apart on parchment paper, and flip written-side down.
MAKING THE HAZELNUT ESPRESSO SHELLS
Beat egg whites with cream of tartar to soft peaks.
Gradually add granulated sugar to egg whites, and beat to a stiff meringue (tips of peaks should gently curl when whisk is lifted), ~4-6 minutes.
Add dry ingredients to the meringue.
Fold until smooth and falling in thick ribbons (which disappear after 6-8 seconds).
Using a large round tip, pipe circles onto the prepared baking tray spaced 1.5-2 cm between the edges of adjacent shells.
Rest at room temperature until dry to the touch, 60-90 minutes.
Bake on middle rack, 18 minutes.
Remove from oven, and set aside until cooled to room temperature.
Carefully remove/peel shells from parchment or silicone mat.
MAKING THE SALTED CARAMEL CREAM
In a light-colored pot, heat sugar with water over medium heat to desired caramel color.
Remove from heat, and carefully whisk in heavy cream until smooth.
Whisk in butter until smooth.
Whisk in flavorings, and transfer to a mixing bowl in a shallow cold water bath.
Beat caramel just until peaks start to form, and remove from cold water bath.
Assemble macarons.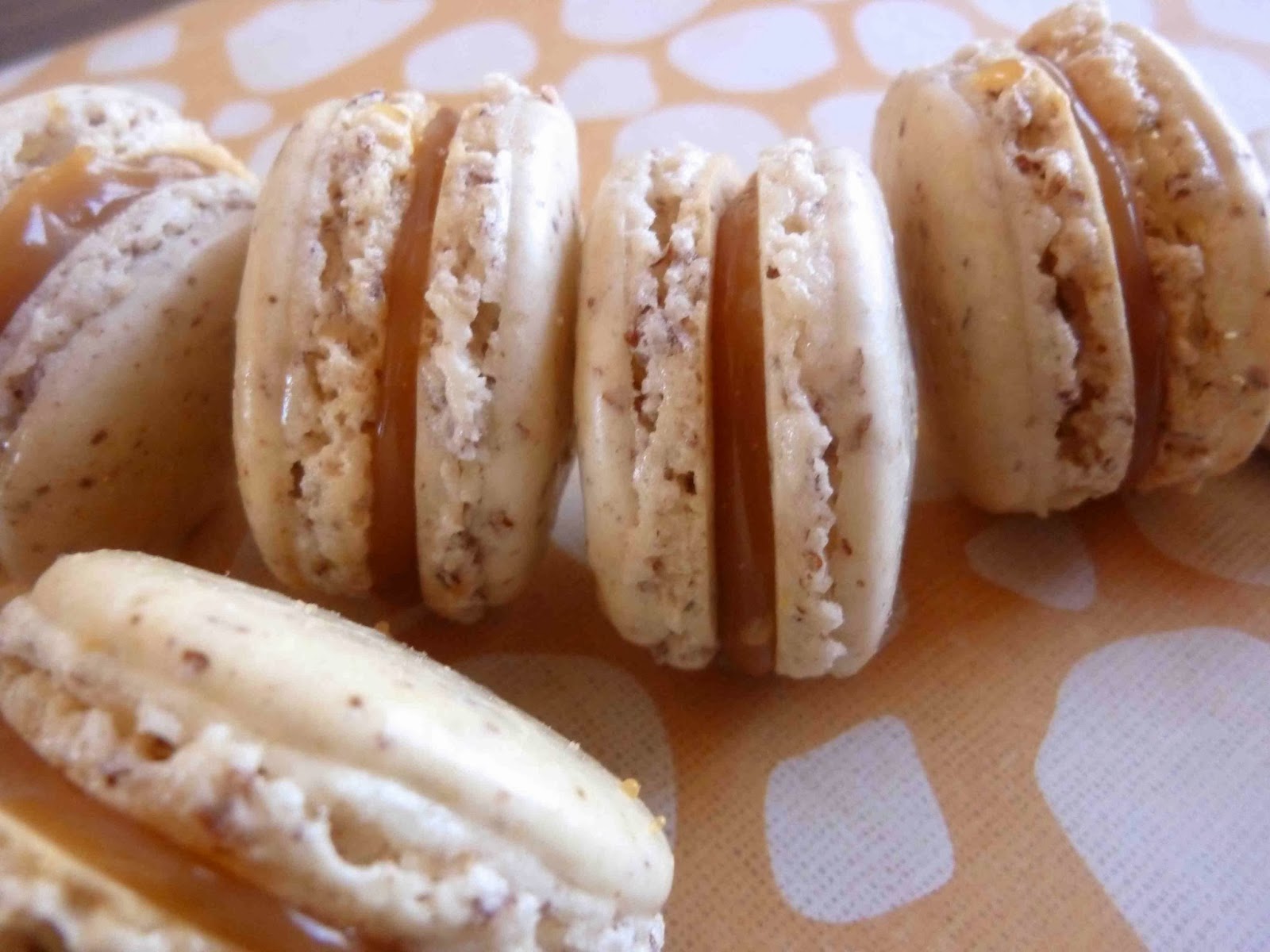 ASSEMBLING THE MACARONS
Pair shells by size.
Using a round tip, pipe ~0.5 tb filling onto one shell of each pair. Gently sandwich with the second shell.
In an airtight or covered container, refrigerate macarons in a single layer, at least 8 hours.
Serve, and optionally refrigerate up to 1 week or freeze up to 3 months.