This Lemon Yogurt Pound Cake Recipe is a simple dessert that will feed a crowd. The crumb is tender, the cake is moist, the glaze is both sweet and tart. Serve this at your next cook out, brunch, or pot luck!
I'm sitting here writing this, and am ACTIVELY trying to talk myself out of a slice of this cake. Because I ought to be eating yogurt, or granola. I should maybe slice some strawberries or a cantaloupe.
But this Lemon Yogurt Pound Cake is hanging out under the glass cover of my cake stand, looking all perfect with it's tender crumb and soft buttery lemon color, and every time I go to refill my coffee it is begging to accompany me back to my desk.
Pound cake goes really well with coffee.
With this pound cake recipe though, the Greek yogurt adds richness and moisture. Sort of like when you add sour cream to cake or quick bread batter.
INGREDIENTS
FOR THE CAKE
2 teaspoons baking powder
3 extra-large eggs
1/2 cup vegetable oil
1 cup plain whole-milk yogurt
2 teaspoons grated lemon zest (2 lemons)
1 1/3 cups sugar, divided
1/2 teaspoon kosher salt
1/2 teaspoon pure vanilla extract
1 1/2 cups all-purpose flour
1/3 cup freshly squeezed lemon juice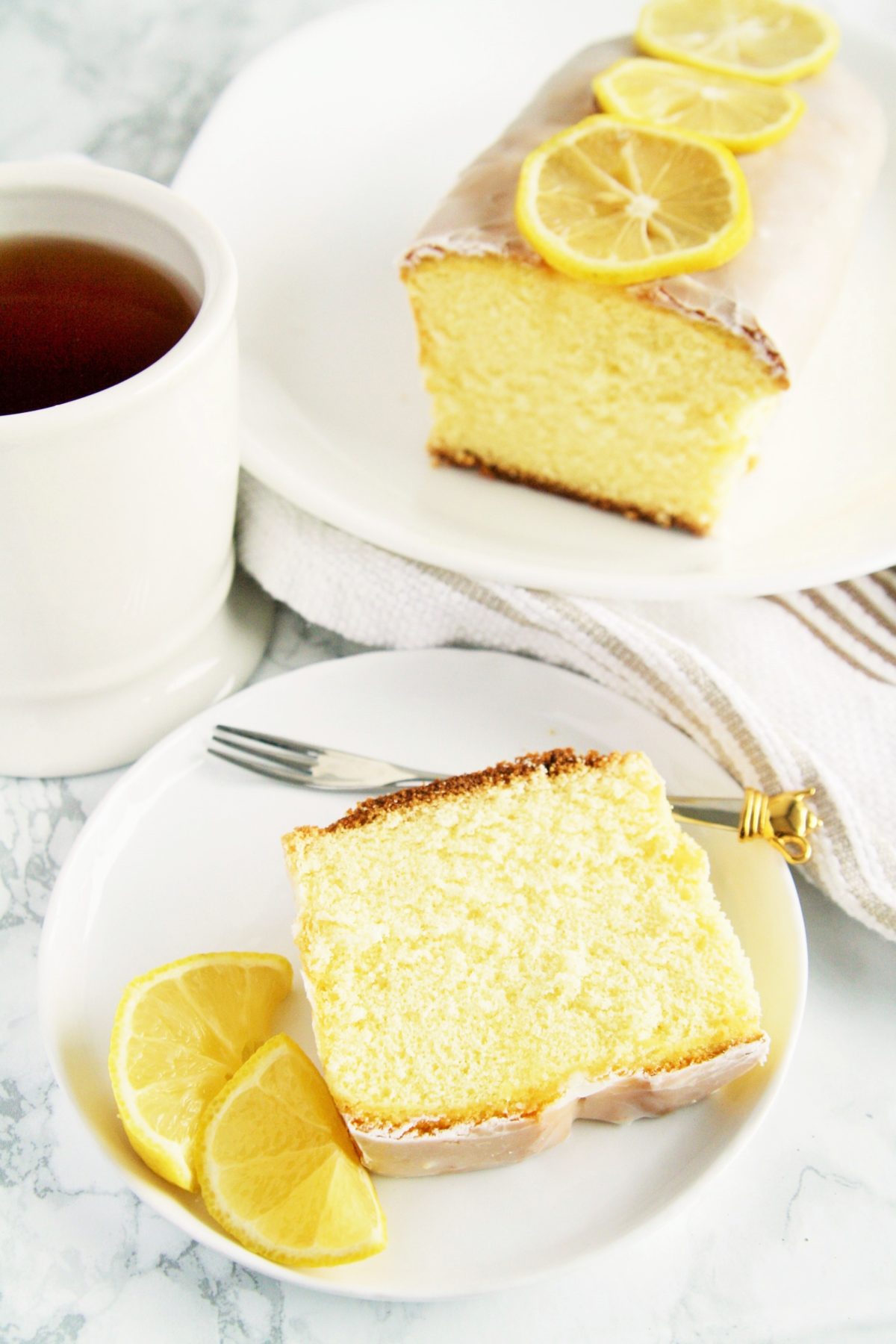 FOR THE GLAZE
2 tablespoons freshly squeezed lemon juice
1 cup confectioners' sugar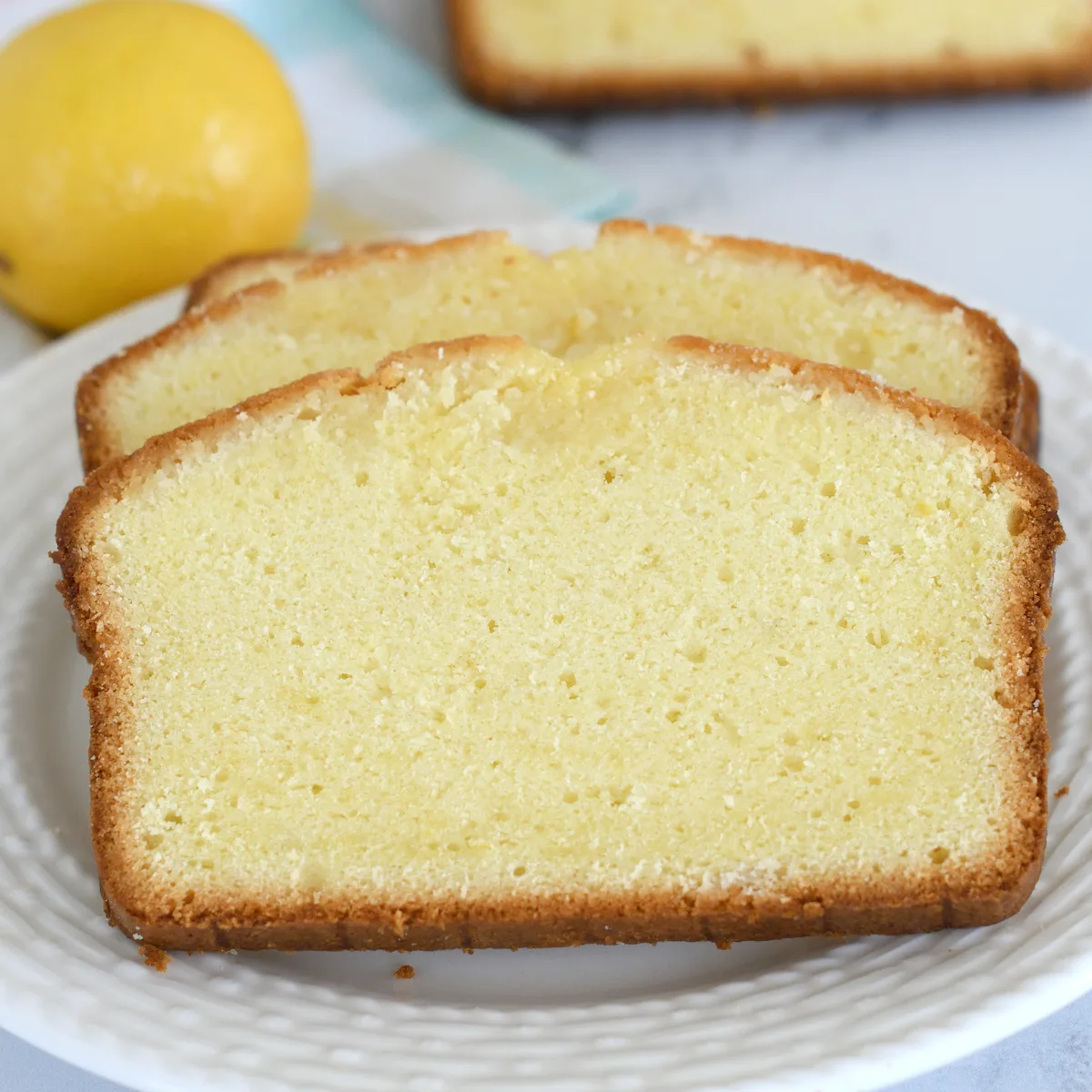 INSTRUCTIONS
PREPARE THE OVEN
Preheat the oven to 350 degrees F.
Grease an 8 1/2 by 4 1/4 by 2 1/2-inch loaf pan.
Line the bottom with parchment paper.
Grease and flour the pan.
MIX THE INGREDIENTS AND BAKE
Sift together the flour, baking powder, and salt into 1 bowl.
In another bowl, whisk together the yogurt, 1 cup sugar, the eggs, lemon zest, and vanilla.
Slowly whisk the dry ingredients into the wet ingredients.
With a rubber spatula, fold the vegetable oil into the batter, making sure it's all incorporated.
Pour the batter into the prepared pan and bake for about 50 minutes, or until a cake tester placed in the center of the loaf comes out clean.
MAKE THE GLAZE, DECORATE AND SERVE
Meanwhile, cook the 1/3 cup lemon juice and remaining 1/3 cup sugar in a small pan until the sugar dissolves and the mixture is clear.
Set aside.
When the cake is done, allow it to cool in the pan for 10 minutes.
Carefully place on a baking rack over a sheet pan.
While the cake is still warm, pour the lemon-sugar mixture over the cake and allow it to soak in.
Let it cool.
For the glaze, combine the confectioners' sugar and lemon juice and pour over the cake.