This easy pumpkin cheesecake recipe has a light and creamy filling with all your favorite fall spices, and lots of pumpkin flavor in a crunchy graham cracker crust all topped with dollops of whipped cream. It's the perfect dessert for thanksgiving, the holidays and any fall day!
My pumpkin cheesecake recipe is a family favorite that's baked on repeat as soon as the weather starts getting cool and crisp. Its full of fall flavors and just melts in your mouth. If you're intimidated by the thought of making a pumpkin cheesecake, then don't be! Getting the perfect no-crack bake is easier than you think and gives this pumpkin cheesecake a wonderfully delicate texture! If you're in the mood to try some more delicious pumpkin desserts, then try my creamy pumpkin pie, melt in your mouth pumpkin bars, or my delicious mini pumpkin pies.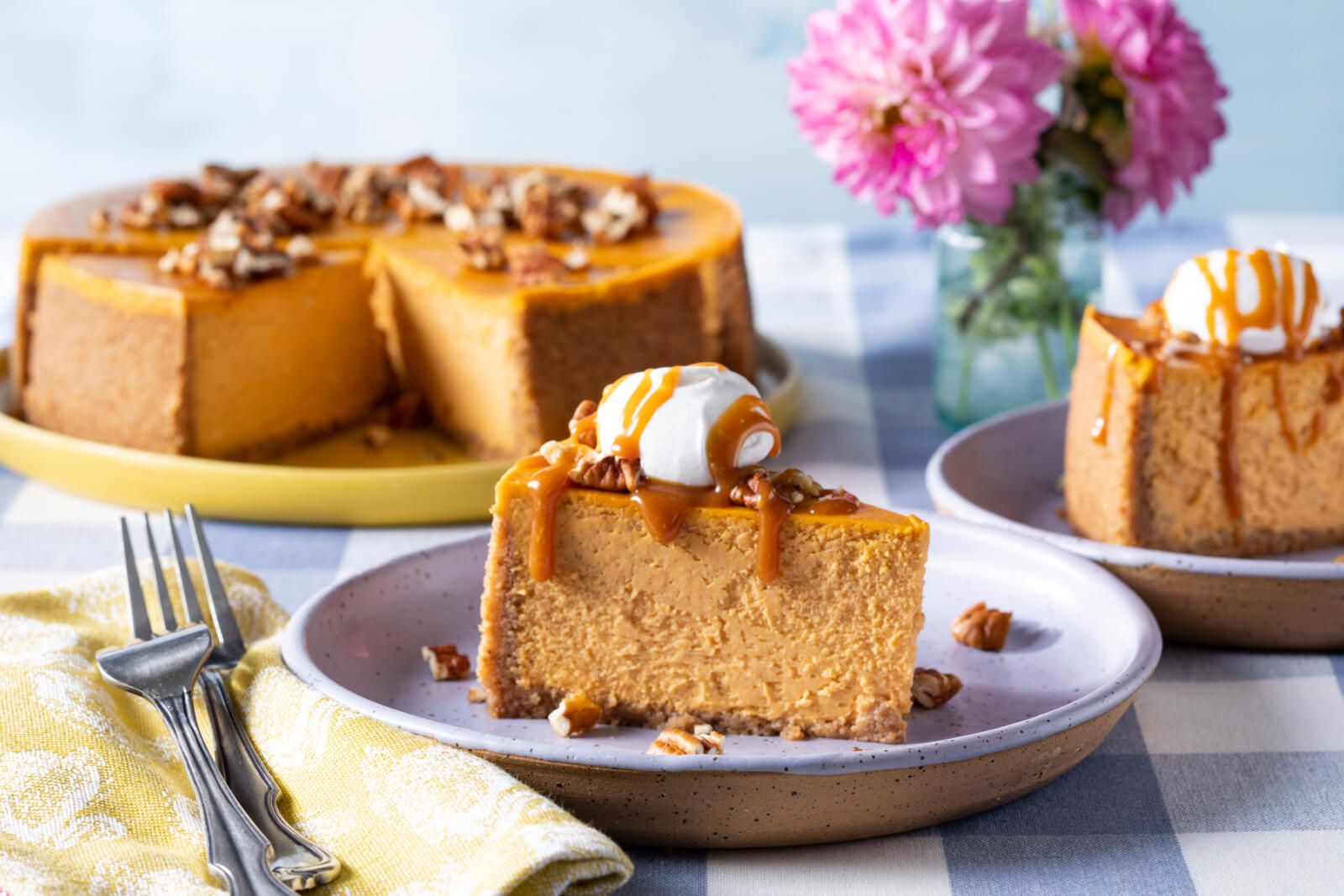 TIPS FOR THIS RECIPE
Start off with room temperature cream cheese. Leave it out the night before or heat it in the microwave for 20 seconds at 50% power. If the cream cheese is too firm the batter will not be smooth.
Beat the cream cheese and sugars until completely smooth.
Bake in a water bath and leave that oven closed for an hour after turning off and before removing. Slow and steady wins the race for a nice smooth un-cracked cheesecake.
Try not to open the oven, the rush of cold air into the oven will not be good for your delicate cake.
Don't be frightened if your cheesecake seems underdone after an hour of baking, it will firm up.
When you wrap the cheesecake up have a piece of paper towel under the plastic or foil. This will absorb condensation and your surface will be unmarred by water droplets.
INGREDIENTS
The Crust:
1 Tbsp sugar
6 Tbsp 3/4 stick melted, unsalted butter
1/2 tsp cinnamon
1 1/2 cups graham cracker crumbs, from about 12 whole graham crackers
The Filling:
2 Tbsp all-purpose flour
1 1/2 cups packed light brown sugar
2 tsp pumpkin pie spice
1/4 tsp salt
4 large eggs
1/4 cup sour cream
15 oz can pumpkin pie mix
24 oz cream cheese, room temperature
1 Tbsp real vanilla extract
Optional Toppings:
Toasted pecans
Pumpkin pie spice to dust
Caramel sauce
1 cup cold heavy cream beat with 1 Tbsp sugar and 1/2 tsp rum or vanilla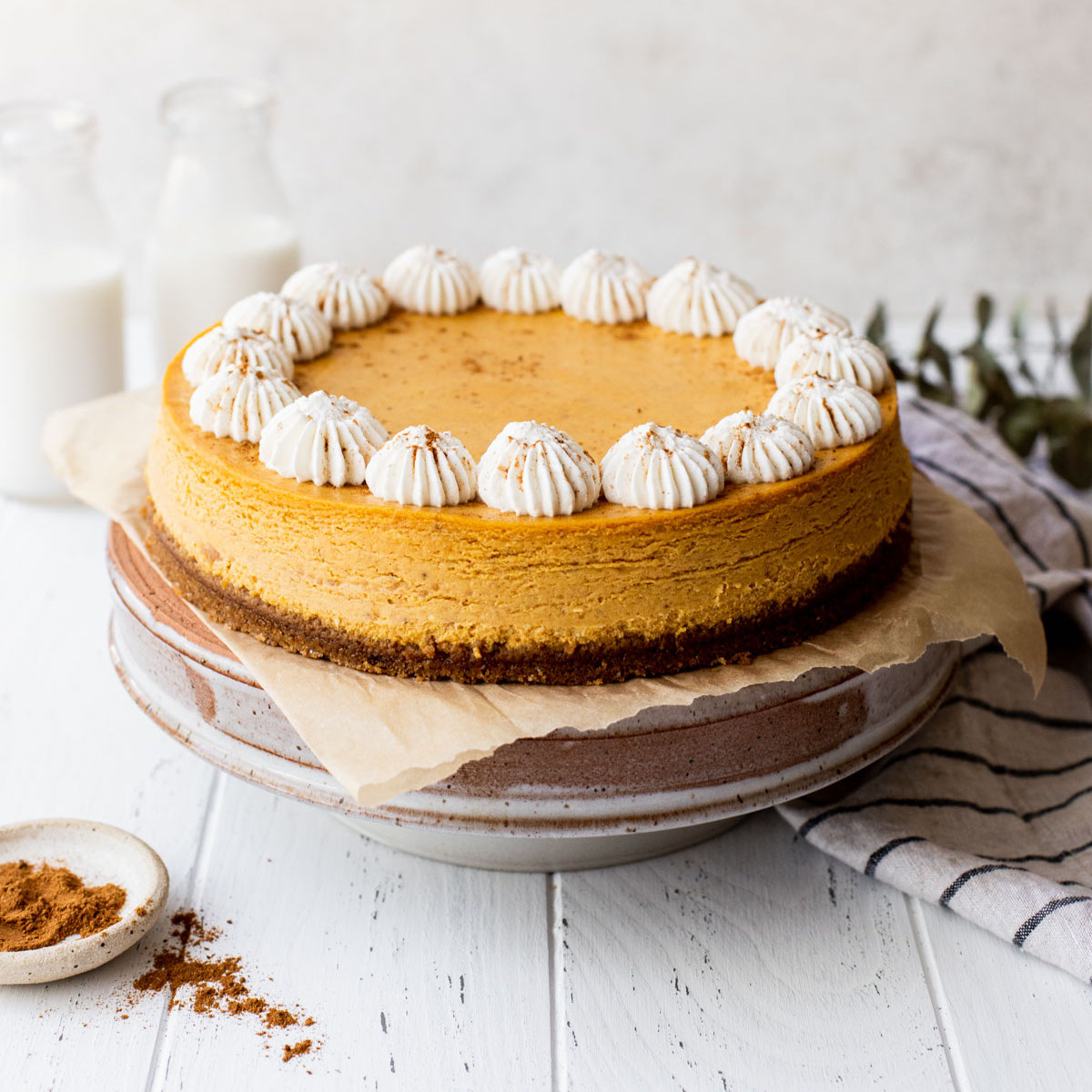 INSTRUCTIONS
MAKING THE CRUST
Preheat Oven to 350˚F.
Pulse graham crackers in a food processor until fine crumbs form.
In a medium bowl, stir together 1 1/2 cups graham cracker crumbs, 1 Tbsp sugar, 1/2 tsp cinnamon and 6 Tbsp melted butter.
Transfer into a 9-inch springform pan with 3″ tall walls and use a large spoon to press crumbs into the bottom of your springform pan, and going about 1/2″ up the sides of the pan.
Bake at 350˚F for 8 minutes.
Remove from oven and cool to room temp.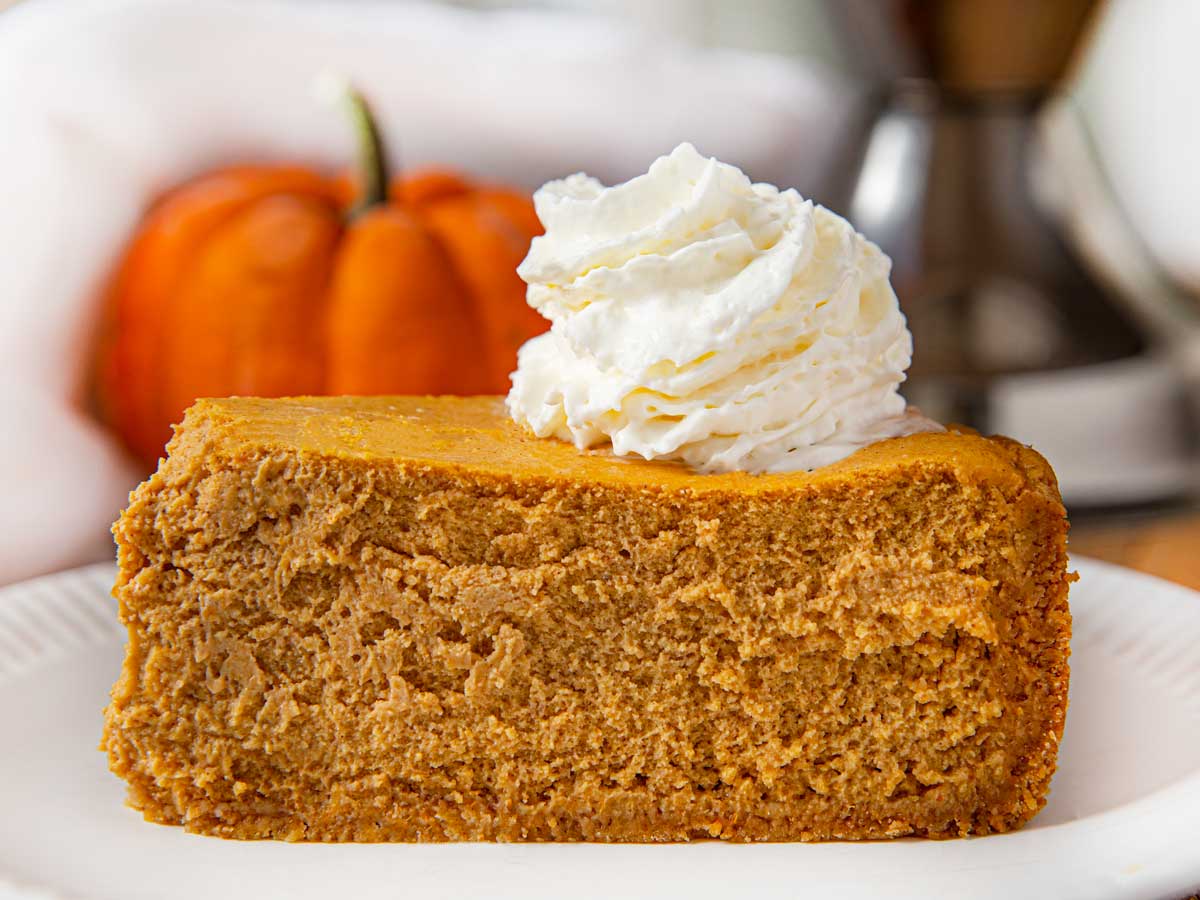 MAKING THE PUMPKIN CHEESECAKE FILLING
Preheat Oven to 350˚F.
In the bowl of your mixer with the paddle attachment, beat the 3 packages of softened cream cheese and 1 1/2 cups brown sugar on med speed until light and fluffy and without lumps (5 min), scraping down the bowl once to make sure you don't have chunks of cream cheese.
Tip: brown sugar is considered "packed" when it holds it's shape as it comes out of the measuring cup.
In a separate bowl, using a whisk, stir together 15 oz pumpkin pie mix, 4 large eggs, 1/4 cup sour cream, 2 Tbsp flour, 2 tsp pumpkin pie spice, 1/4 tsp salt and 1 Tbsp vanilla extract.
Mix until well combined.
Add this mixture to the cheesecake filling and continue mixing on low speed just until well combined, scraping down the bowl as needed.
Transfer filling into pre-baked crust and bake on the middle rack at 350˚F for 1 hour.
Turn off heat, prop the oven door open slightly with a wooden spoon and let cheesecake sit in the oven another 45 min.
Then remove from the oven and let cool to room temp before covering with plastic wrap and refrigerating.
Serve when fully chilled (at least 4 hours in the refrigerator, or overnight).
Before serving, carefully remove cheesecake from springform pan by running a blunt knife along the sides of the cheesecake to release from the springform mold.
Add desired toppings (see list above) and serve.
MAKING THE WHIPPED CREAM
Tip: Freeze mixing bowl for 10 minutes to get the best whipped cream results.
In a cold mixing bowl, add 1 cup cold heavy whipping cream, 1 Tbsp sugar and 1/2 tsp rum or vanilla.
Beat on high speed until fluffy and spreadable.
Don't over-beat or it will turn buttery. It only takes less than 2 min to make fresh whipped cream.