An unlikely combination of chocolate and sauerkraut yields an absolutely delicious and moist Chocolate Cake. Add cocktail cherries to the middle and finish with a luxurious Ermine Frosting for a real stunner!
Let them Bake Cake!
From high end multi-layer butter cream dream cakes to simple sheet pan cakes and my childhood favourite, wacky cake, everyone loves cake! Cake is difficult to resist and I spend hours drooling over my CAKE board on Pinterest. I won't pretend to be a professional cake artist, some days I can barely get the buttercream right but luckily my family is pretty forgiving. Once in a while, I get inspired to try something new and completely out there.
The Reason Why You Should Add Sauerkraut to this Delicious Chocolate Cake
You might be thinking…has she finally flipped her lid?! How on earth does sauerkraut taste good in a chocolate cake? The answer is, salt. If you have ever had Salted Caramel anything, you know this to be true. Salt really heightens the other flavours that is paired with, including chocolate. That is the whole reason salt is used in every aspect in cooking.
So what about the 'sour' flavour of the sauerkraut? To be honest, you really can't taste it. For example, a similar concept is used in the making of the classic 'Miracle Whip Cake'. Once you get past the odd ingredient addition, you'll be delighted with the flavour of this cake.
INGREDIENTS
FOR THE FROSTING:
1/2 teaspoon salt
8 Tablespoons. butter
2 teaspoons vanilla
12 oz. semi-sweet chocolate chips or squares
5 cups confectioners sugar
1 cup sour cream
FOR THE CAKE:
1 teaspoon baking powder
1 ½ cups sugar
½ cup butter
½ cup unsweetened cocoa powder
2 cups all-purpose flour
3 eggs
1 teaspoon baking soda
½ tsp. salt
1 cup water
1 teaspoon pure vanilla
¾ cup sauerkraut drained and chopped fine
INSTRUCTIONS
PREPARE THE OVEN
Preheat oven to 350 degrees
Grease, and flour two round cake pans.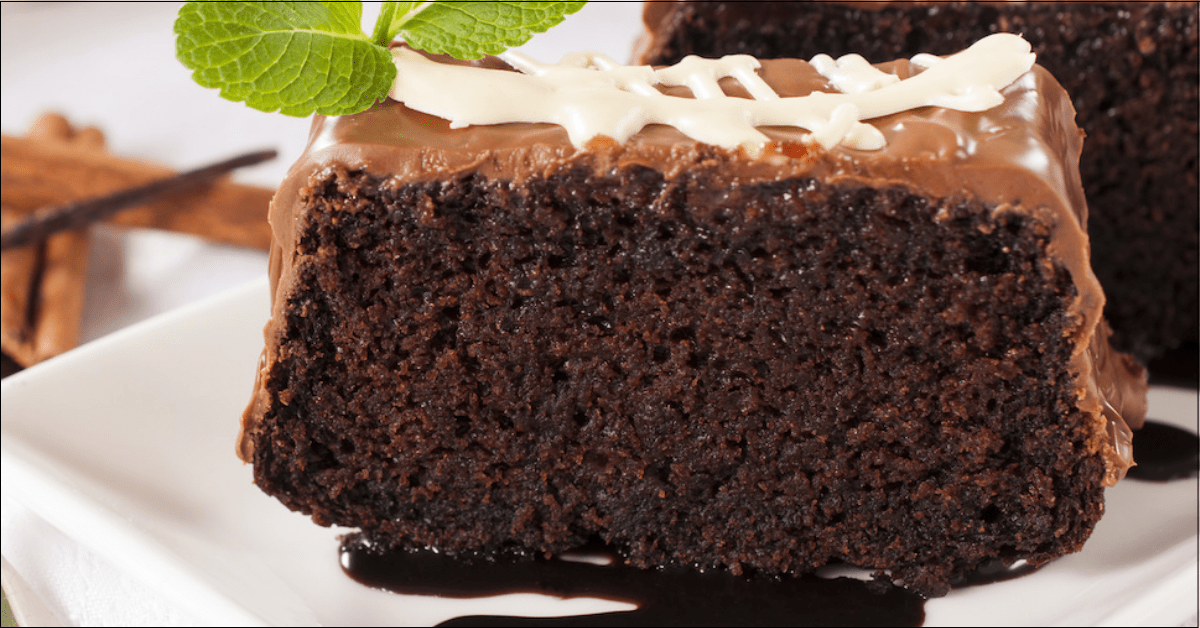 MIX THE INGREDIENTS
Sift all dry ingredients together.
Cream together sugar, butter, and vanilla.
Beat eggs in one at a time.
Add dry ingredients to creamed mixture alternately with water.
Add sauerkraut mix thoroughly.
BAKE THE CAKE
Pour into prepared pans.
Bake 30 to 40 minutes or until a toothpick inserted in center comes out clean.
PREPARE THE FROST AND DECORATE
Melt the chocolate with butter on low heat until smooth.
Remove from heat and pour it into a mixer.
Blend in the sour cream, vanilla, and salt.
Gradually add the sugar until it is your desired spreading consistency.
Whip until smooth.
Store cake in the refrigerator.
NOTES
NOTE: This recipe makes a very generous amount of frosting. I like to have a thick layer on my cakes, and in between layers. If you make this cake in a 9×13 cut the frosting in half.