This easy no bake peach cheesecake recipe is so rich and creamy. Made with simple ingredients already in your pantry. Perfect peaches and cream dessert!
I am back with another easy NO BAKE peach cheesecake recipe, which means I am clearly on a cheesecake kick. This one is perfect for Summer and peach season.
INGREDIENTS
FOR THE SUGAR SYRUP
1/2 cup water boiled dissolved
1/2 cup sugar
FOR THE CRUST
80 g unsalted butter melted
250 g butternut snap biscuits
FOR THE CHEESECAKE
2 peaches sliced (to decorate, extra)
1 dollop whipped cream (to serve)
1 sprinkle white chocolate curls (to serve)
4 yellow peaches cored cored peeled
250 ml thickened cream whipped
1 tsp vanilla bean paste
1/2 cup sugar
500 g cream cheese
3 tsp gelatin powder
INSTRUCTIONS
FOR THE CRUST
Grease and line a 20cm spring form cake tin.
In a food processor, place biscuits and pulse until fine crumbs.
Add butter and pulse again to combine.
Tip into prepared tin and press firmly into the base. Chill in the fridge until needed.
FOR THE CHEESECAKE
STEP 1:
Place a small heat proof jug in a small saucepan of lightly simmering water.
STEP 2:
Add 2 tablespoons of water, then sprinkle the gelatin into the jug.
Stir to dissolve set aside to cool 5 mins.
STEP 3:
Meanwhile, place cream cheese, vanilla and sugar into a stand mixer.
Beat until smooth.
Add the cooled gelatin mix and beat to combine.
STEP 4:
Gently fold in whipped cream.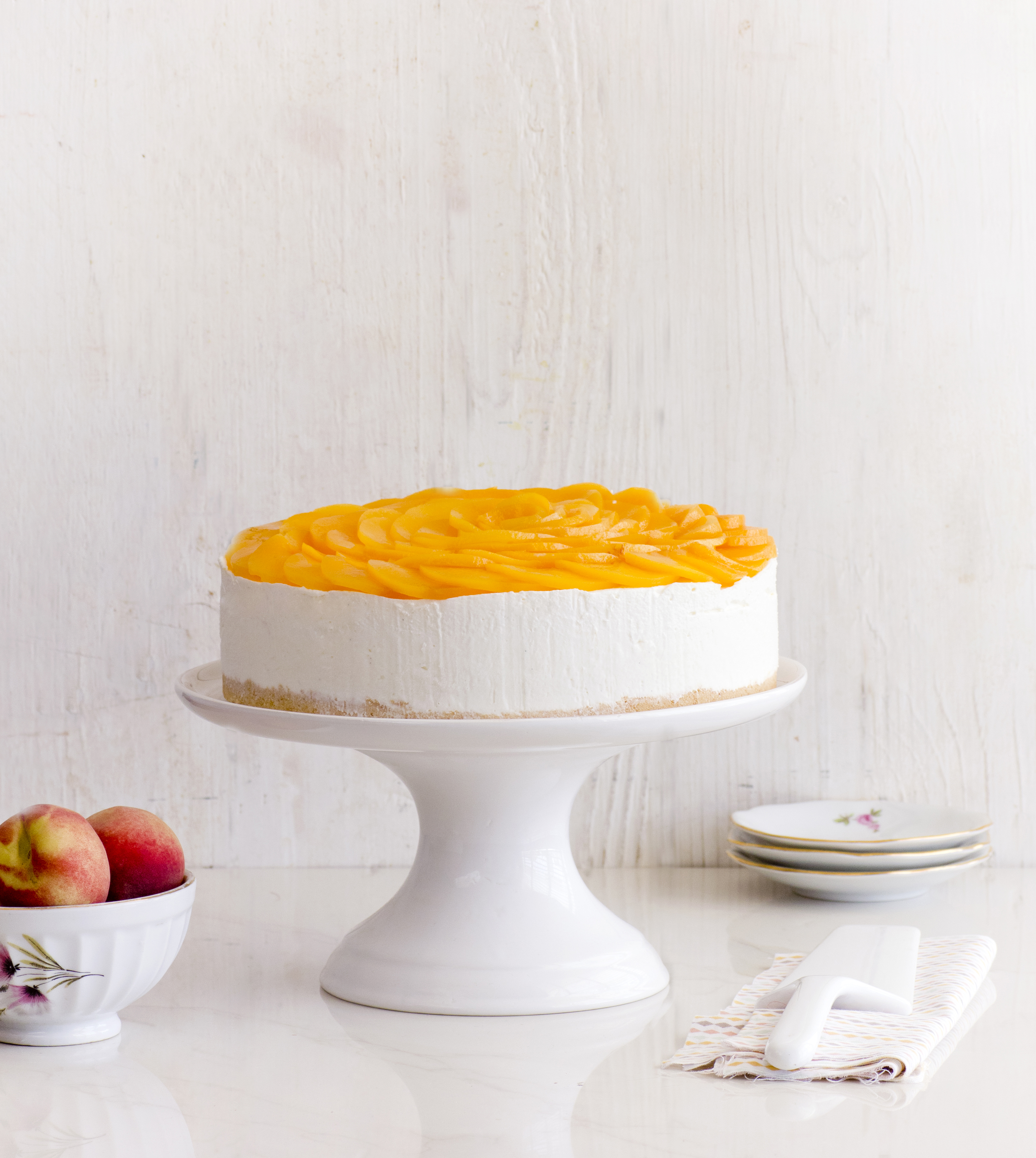 ASSEMBLE THE CHEESECAKE
Pour into prepared pan on top of the biscuit base.
Cover and refrigerate until set Minimum 4 hours to overnight.
In a medium bowl, puree or mash 2 peaches, add sugar syrup then set aside to infuse.
Place in a sieve over a bowl to strain, set drained syrup aside.
Remove cheesecake from the fridge, use the peaches to decorate, drizzle with the syrup.