Chocolate Pudding Pie! I love how silky smooth the filling is! It's so easy to make too! I love the crispy pie crust, and I love the whipped cream. But what do I love the most? That chocolate swirl in the cream. I use my chocolate sauce recipe to create it.
Did I mention this chocolate pudding pie is indulgent It's got a crispy base? And there's a little magic trick to getting that pie crust to stay crispy. Even with the pudding filling in it. The filling is delicate, chocolatey, and silky smooth.
Tips!
The easiest way to transfer the pie dough to the pie crust, is to use the rolling pin. Drape it over the rolling pin first and then lift it up before un-rolling into the pie dish.
The best way to put the dough into the tin? don't stretch the dough to the bottom. It will cause your pie crust to shrink as it bakes. Instead, carefully encourage it to naturally fall into the pie tin.
When making the pie crust, place on a baking tray to make transporting it in and out of the oven easier.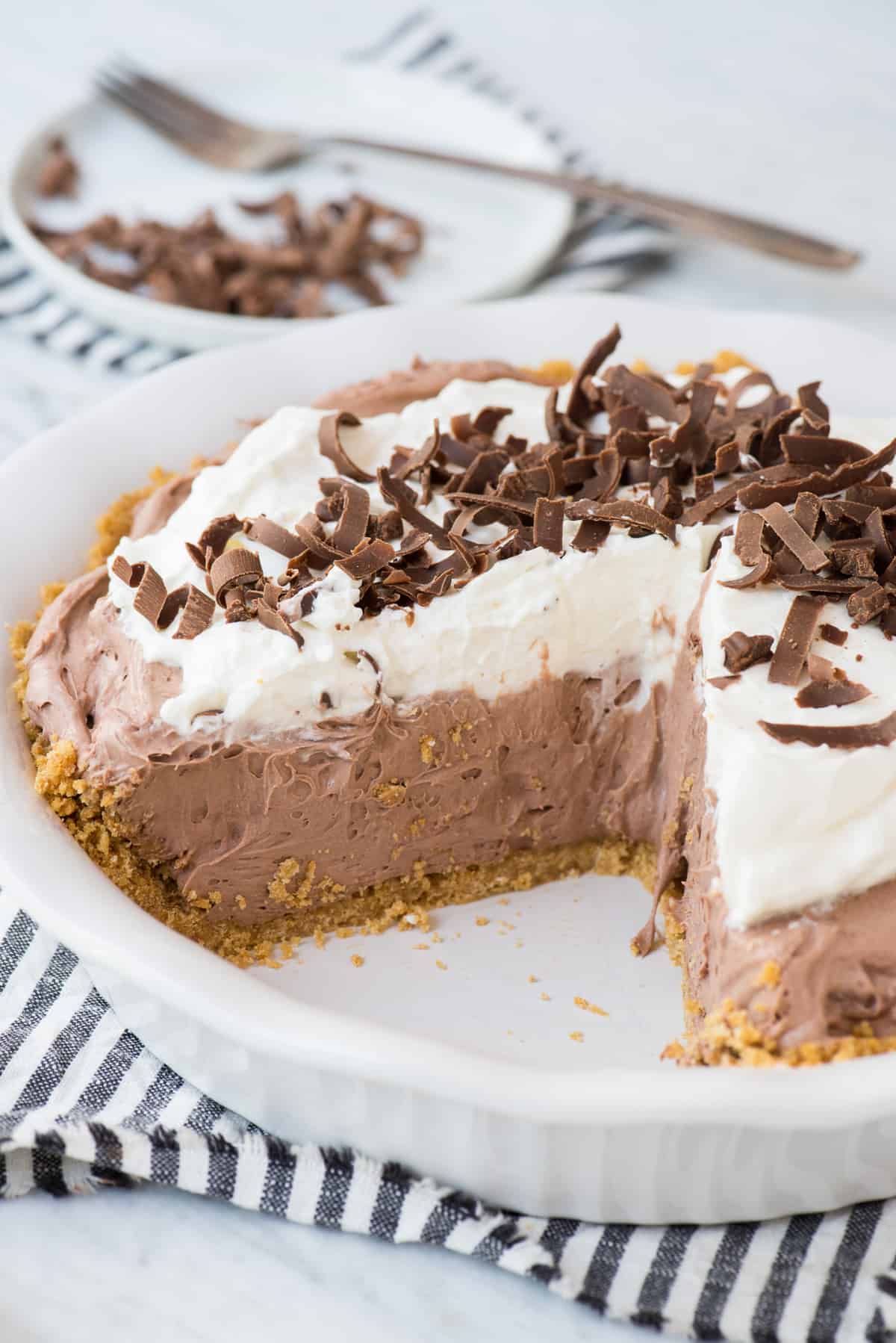 INGREDIENTS
Using Store-bought Graham Cracker Crust
1 ounce unsweetened Baker's Chocolate
1 prepared graham cracker crust (a store-bought crust is perfectly fine, but a homemade crust is easy and extra special!)
3 cups milk (I used 1%, but 2% or whole milk will also work well)
Whipped cream or Cool Whip for serving
1 (5 ounce) package Jell-O Cook & Serve Chocolate Pudding & Pie Filling
Or Just Make The Crust At Home
6 tablespoons butter melted
¼ cup sugar
12 full-size graham crackers crushed or processed into fine crumbs
INSTRUCTIONS
For a Homemade Graham Cracker Crust:
If you're making your crust from scratch, combine graham cracker crumbs, sugar, and melted butter in a large bowl.
Toss until all of the crumbs are evenly coated in butter.
Set aside about 1-2 tablespoons of crumbs to garnish the top of your pie, if desired.
Press crumbs into a pie dish and bake at 375 degrees for 8-10 minutes, or until golden brown.
Allow pie crust to cool.
For the Pie Filling:
Stir together dry chocolate pudding mix, milk, and Baker's Chocolate in a medium saucepan.
Bring to a full boil on medium heat, stirring constantly with a whisk.
Make sure that all of the chocolate is completely melted and incorporated into the pudding. The mixture should be completely smooth.
Remove the saucepan from the heat. The filling will thicken as it cools, so wait about 5 minutes, whisking regularly so that the filling stays nice and smooth.
After about 5 minutes, the filling should have thickened nicely.
Pour the filling into the prepared crust. Sprinkle with reserved graham cracker crumbs, if you want to.
Refrigerate the pie for at least 3 hours, or until set.
And then slice and serve with whipped cream or Cool Whip on top.