Dive into one of the best flavor combos ever with these Chocolate Orange Cupcakes! It starts off with a orange infused vanilla cupcake and a chocolate sauce center. Topped with a tall swirl of fluffy chocolate buttercream and a chocolate coated candied orange slice. Perfect for those chocolate orange flavor combo enthusiasts!
My favourite thing about these cupcakes is just how easy they are to make! Sure, they take a little bit of time, and a little planning ahead, but they make the most delicious weekend baking project. Ready for you to waltz into work on Monday morning and save everyone from the Monday blues!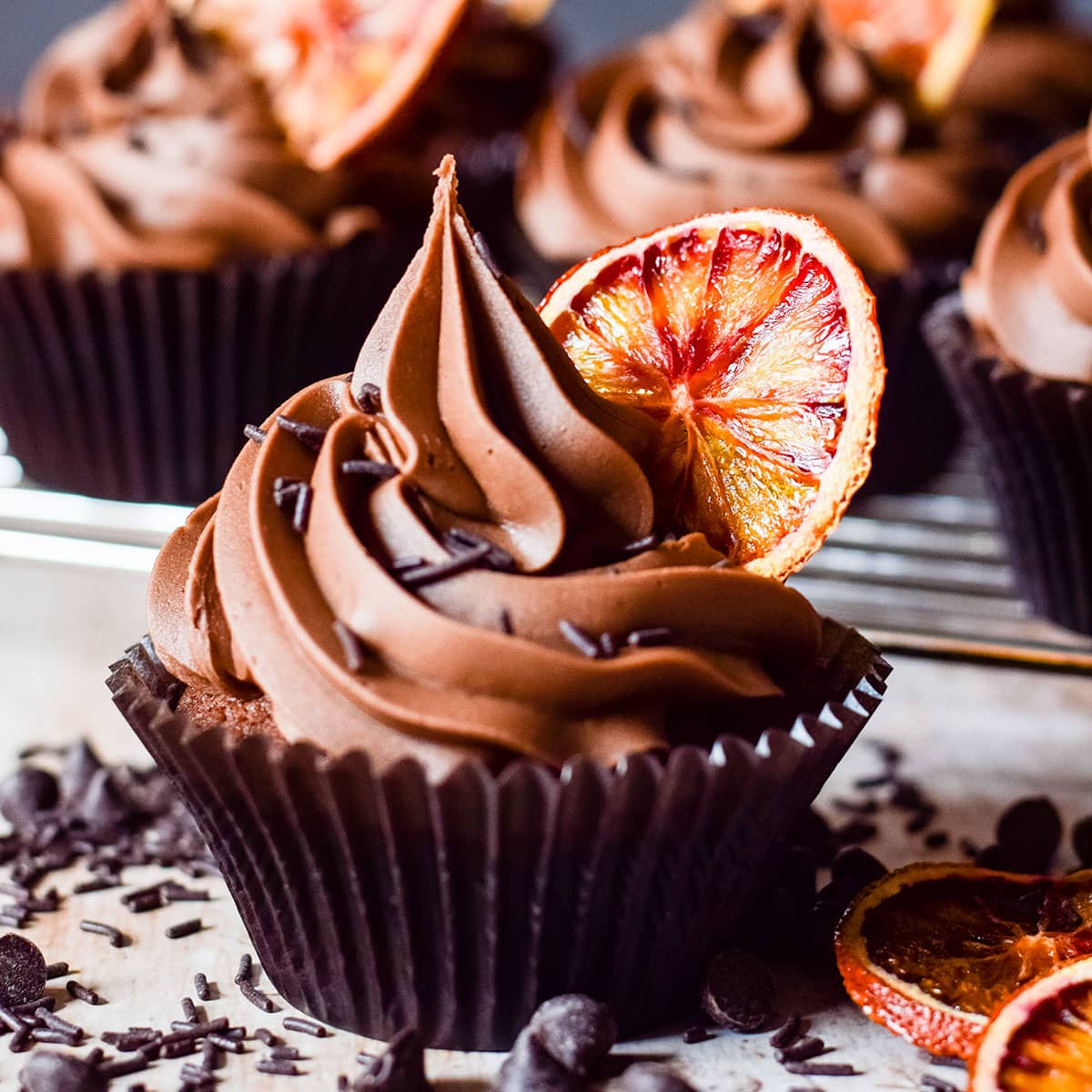 I love the candied oranges. They're really delicious. If you love orange and chocolate together, I mean it doesn't get any better than this! They're slightly chewy. Not, rip your teeth out chewy, but there's a bite to them. I wouldn't say they're bitter either, even though there's the white part of the rind still on them.
After they've had a good soak and simmer in the orange syrup for 40 minutes, you're left with the most delicious, aromatic orange experience. Once they're cooked and cooled, they kind of set like hard candy but after an hour, they go a little softer.
Let's talk cupcakes, because this recipe is made up of my famous vanilla cupcake recipe, and it's amazing! Moist, fluffy and full of flavour. This recipe has Greek yogurt which doesn't add flavour, but boy does it make these cupcakes moist! I've also infused them with a little orange juice and plenty of orange zest which compliments the orange slices on top.
INGREDIENTS
Chocolate Orange Cupcakes
1 cup all-purpose flour
1/3 cup unsweetened cocoa powder
1/4 teaspoon salt
1/2 teaspoon baking soda
2 tablespoon orange juice
1/3 cup canola oil
1 teaspoon vanilla extract
1 egg
2 egg whites
1/2 cup milk (regular or vegan)
1 cup granulated sugar
2 tablespoon orange zest (around 2 medium oranges)
1/2 teaspoon baking powder
Chocolate Drizzle (optional)
11/2 teaspoon coconut oil (or other oil)
1/2 cup chocolate chips
Chocolate Orange Buttercream
1/4 cup + 2 tablespoon vegetable shortening
3/4 cup unsweetened cocoa powder
11/2 tablespoon orange zest
3/4 teaspoon vanilla extract
1/2 -1 tablespoon milk (regular or vegan), if needed
3/4 cup butter (regular or vegan), softened
1/2 tablespoon orange juice
2 1/2-2 3/4 cup powdered sugar
INSTRUCTIONS
Chocolate Orange Cupcakes
Preheat the oven to 350°F and line a cupcake/muffin tin with 12 liners. Line a second one with 3 more and set aside.
Whisk together cocoa powder, flour, baking powder, salt, and baking soda in a medium bowl and set aside.
In a large bowl, whisk together the oil and granulated sugar. Whisk in the egg, egg whites, vanilla extract, orange zest, orange juice, then add milk.
Add the dry ingredients to the wet ingredients, mixing until they are just combined.
Pour the batter into the cupcake liners, filling 2/3 full. Do not fill to the top, or the batter will spill over when baking.
Bake for 12-15 minutes or until a toothpick inserted in the middle comes out clean.
Leave them in the pan for 5 minutes then transfer to a cooling rack, allow them to cool completely.
Chocolate Orange Buttercream
In the bowl of a standing mixer or handheld mixer, beat butter and vegetable shortening together. Add in the orange zest and orange juice.
Add in the powdered sugar, half a cup at a time. Start with 2 and a half cups, then add in the cocoa powder. If the buttercream is too thin, you can add in more powdered sugar.
If it's too thick, add in 1/2 tablespoon of milk or orange juice until desired consistency is reached.
Decorate the cooled cupcakes however you'd like! I added a chocolate drizzle over the buttercream, sprinkled them with orange zest, then added a slice of orange.
To make the chocolate drizzle, melt half a cup of semisweet or dark chocolate chips with 1 and a half teaspoon of coconut oil (or other oil) in the microwave for 30 seconds, stirring after 15 seconds.