Chocolate lava cakes with their deliciously rich molten chocolate center come together with 6 simple ingredients. Ready in just 25 minutes, this surprisingly easy dessert always impresses. If you don't have ramekins, follow our instructions for using a muffin pan instead.
Today we're making straight-up chocolate lava cakes. Even though peanut butter chocolate lava cakes are truly magical, we've received a lot of requests for a plain chocolate version. So we decided to make them. It IS chocolate molten lava cake, after all.
Molten cakes are always a crowd favorite, and they're infinitely better when freshly made at home. You'll love that lava cakes are single servings just like chocolate cupcakes. If you prefer a gluten-free option, consider making rich and fudge-like flourless chocolate cake.
Texture: This lava cake pairs moist chocolate cake with an ooey-gooey molten center. Be careful not to over-bake these.
Flavor: There's no doubt about it: chocolate is front and center in this lava cake recipe. They're more indulgent and chocolatey than our reader-favorite chocolate cake!
Ease: The secret for making chocolate lava cakes? There is no secret. These lava cakes require zero complicated steps and equipment. In fact, you'll be delightfully surprised with how remarkably simple the prep is.
Time: The best part about this recipe is that it whips up fast: Make a quick cake batter and bake in ramekins or a muffin pan. Then, serve immediately with your favorite toppings.
INGREDIENTS
1 stick butter
Vanilla ice cream, for serving
2 ounces semisweet chocolate
1/2 cup all-purpose flour
2 whole eggs
3 egg yolks
1 teaspoon vanilla
2 ounces bittersweet chocolate
1 1/4 cups powdered sugar
Baking spray, for spraying custard cups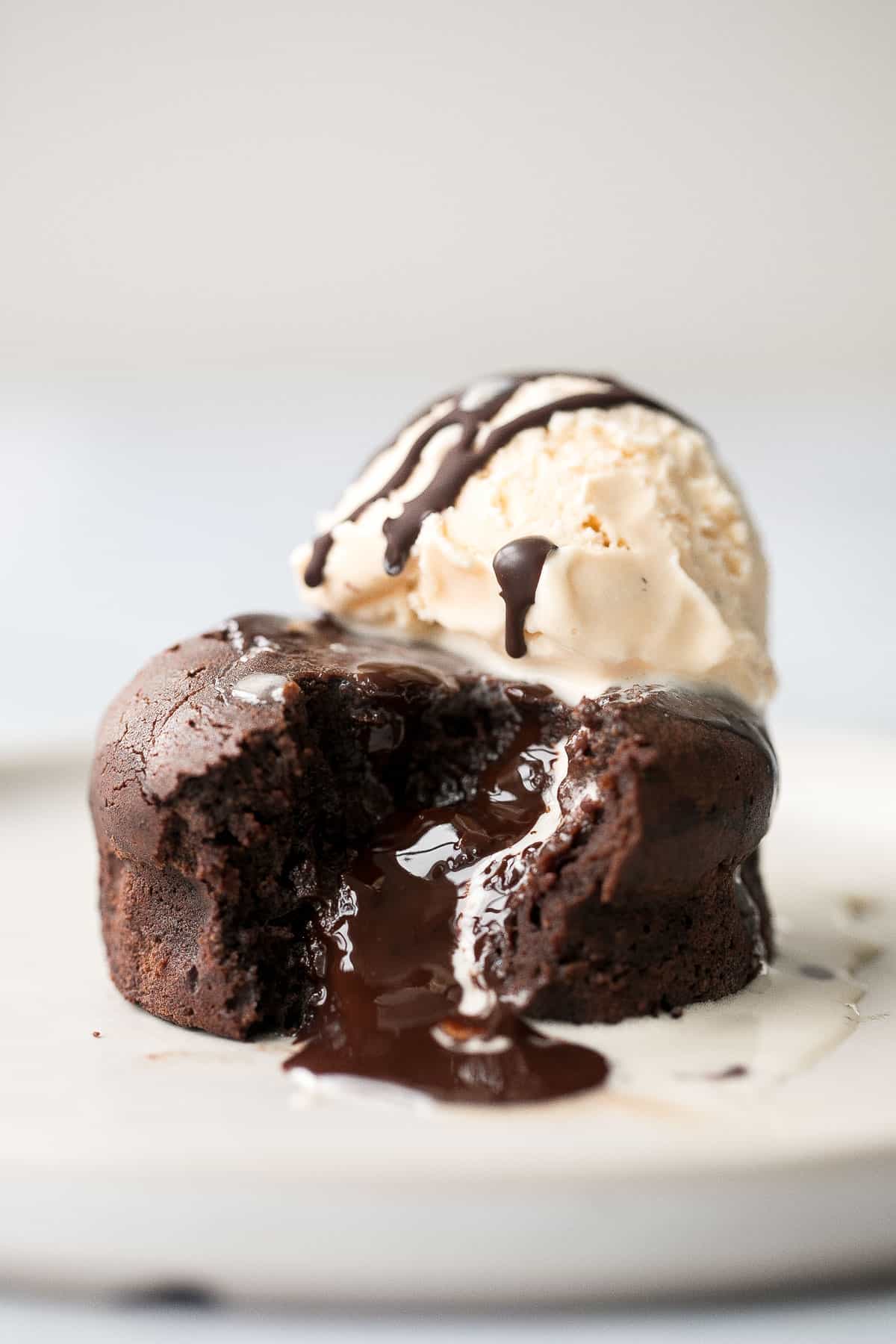 INSTRUCTIONS
Preheat the oven to 425 degrees F.
Spray four custard cups with baking spray and place on a baking sheet.
Microwave the butter, bittersweet chocolate and semisweet chocolate in a large bowl on high until the butter is melted, about 1 minute.
Whisk until the chocolate is also melted.
Stir in the sugar until well blended.
Whisk in the eggs and egg yolks, then add the vanilla.
Stir in the flour. Divide the mixture among the custard cups.
Bake until the sides are firm and the centers are soft, about 13 minutes.
Let stand 1 minute.
Invert on individual plates while warm and serve with vanilla ice cream.