This Chocolate Hazelnut Pear Cake is a moist and easy cake to make. A fudgey brownie-like Chocolate Cake topped with sliced pears and sprinkled with chopped hazelnuts. The perfect breakfast, tea or dessert cake. There is a delicate sweetness that pears add which balances the richness of the chocolate, creating a very delicious combo. Apple and cinnamon are a famous combo that we all know and love, I thought I would switch this classic combo up with one not as conventional but just as good – pear, chocolate and cardamom. When it is baking in the oven, the smell is pretty heavenly and comforting, it immediately says 'home'.
Fall season is usually all about apples and pumpkins. In fact a very popular and traditional greek dessert for the fall is a simple apple cake that most greek households know of and love. Everyone's family has there own version. It's a fall tradition and a simple cake to accompany tea or coffee. I thought I would switch things up and instead of doing an apple cake or 'milopita' i would make a pear cake which is just as simple and delicious.
went a few steps further and made it a chocolate pear cake and added hazelnuts too. Plus I also made it GF by using Bob's Red Mill Gluten Free 1-to-1 Baking Flour – traditional but with a twist. This is a flour I always have stocked which takes the guesswork out of GF baking. It's a special 1-1 blend of gluten free flours, starches and xanthan gum. It's perfect for quick breads, cookies, brownies and cakes. The fact that it's a 1-1 baking flour means you can use it as a straight substitute for all purpose flour and get excellent results. It works really well with this recipe. The cake sets up well when baking, it firms up even more as it cools and yet retains its fudgey texture.
The pears get nice and tender, making the cake irresistible and they also add a lovely decorative topping to the cake as well. The hazelnuts don't only add a nice crunchy texture to the cake, but the sweet and nutty flavours from the hazelnuts work so well with chocolate and pear and cardamom. Having them ground and in the batter accentuates that and adds a little extra body to the batter itself. It's a very light and naturally sweetened cake with a squidgey like brownie texture. Its not only refined sugar free and egg free making it vegan but its also gluten free if you use a gluten free 1-1 baking flour like Bob's. It's perfect served with a dusting of powered sugar and even served with a dollop of crème fraîche or whip cream.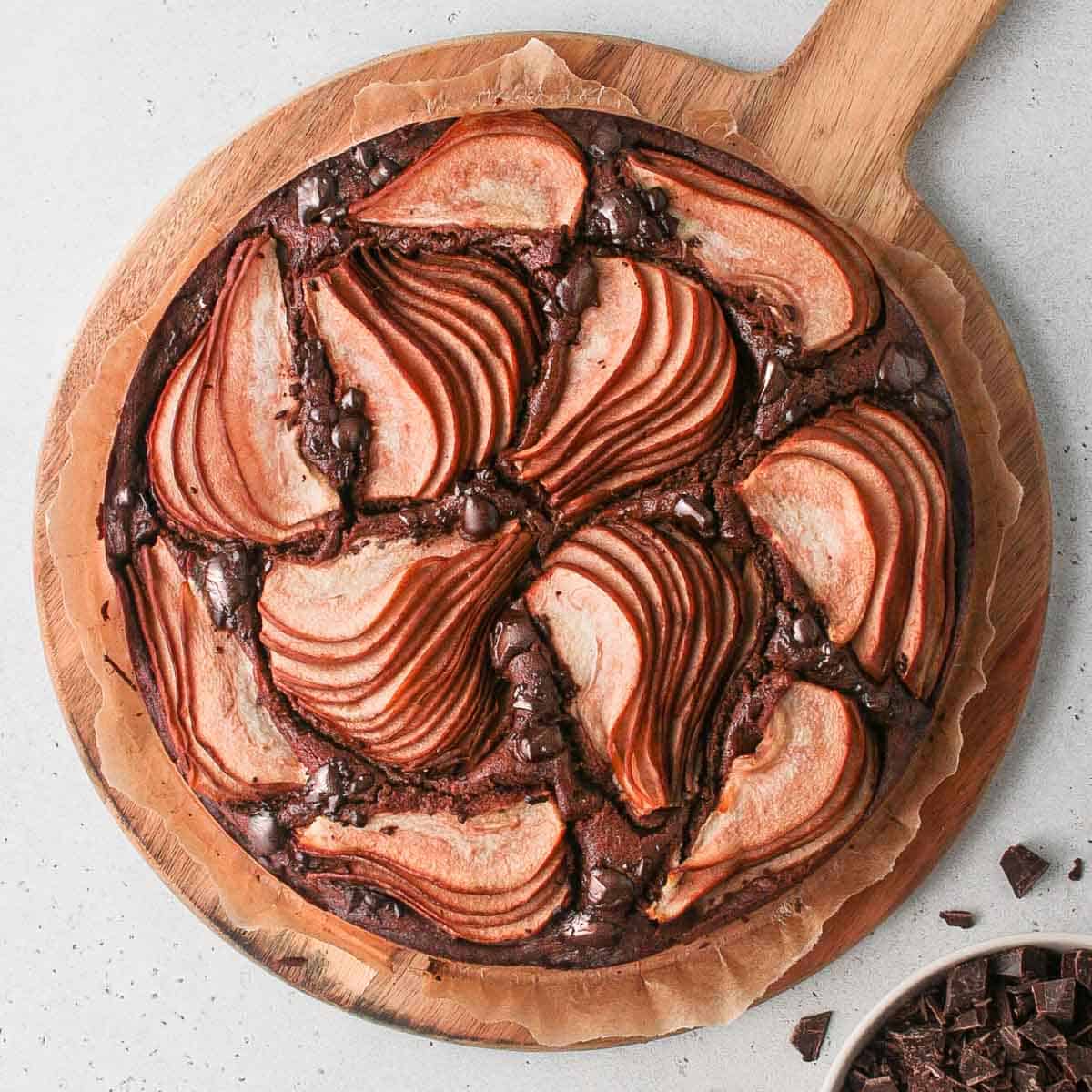 INGREDIENTS
For the Chocolate Pear Cake
1/4 cup unsweetened cocoa powder, 30g
1/3 cup + 2 tbsp granulated sugar, 90g
3 small pears, peeled, cored and sliced
1/2 cup brown sugar, 110g
1/2 cup ricotta, or sour cream, Greek yogurt. 125g
6 tbsp milk
2 large eggs
1/2 cup canola oil, 120g
1 1/3 cup all purpose flour, 170g
1/2 tsp salt
1 tsp vanilla extract
2 tsp baking powder
For the Hazelnut Crumb Topping
2 oz finely chopped hazelnuts, 50g
1/4 cup granulated sugar, 50g
1/2 cup all purpose flour, 60g
4 tbsp cold butter, cubed
INSTRUCTIONS
For the Cheesecake
Prepare a 9 inch (22 cm) cake pan with parchment paper at the bottom and grease the sides. Pre-heat oven to 355 F (180C).
Combine all the dry ingredients: flour, unsweetened cocoa powder, baking powder and salt in a medium bowl.
In a large bowl, whisk eggs and both sugars together until combined.
You can use a handheld mixer or just a whisk. No need to fluff the eggs too much, just mix it.
Add canola oil, ricotta, milk and vanilla extract to the egg mixture and whisk until blended.
Combine the dry ingredients and the wet ingredients together.
Add the dry ingredients to the egg mixture in batches and fold using a spatula.
Mix until just combined. If the flour is lumpy I would definitely sift it into the wet ingredients.
For the pear
Peel, core and slice them the pear.
Peel the pear, slice in two and remove the core.
Then cut each half into more slices. I like to slice them pretty thin, but not paper thin, about half an inch or 1 cm thick.
You need enough pears to relatively tightly cover the cake. You don't need to let it overflow with pears, but just cover in one layer.
Slightly press them down so as to make them stick to the cake better.
For the hazelnut topping
Chop the hazelnuts to desired size.
Combine with sugar, flour and cold butter in a small bowl. Use either a cookie cutter or fork to combine the mixture.
Keep mixing until the butter resembles small peas in size.
Decoration time!
Cover the chocolate pear cake with a generous amount of the hazelnut crumb topping. It may look like a lot, but trust me!
Bake the cake for about 40-55 minutes or until a toothpick comes out clean.
Cool completely in the pan.
Put the hazelnut crumbs on top of the cheesecake.
Slice and enjoy