This is a bit of a twist on the traditional Pavlova and the raspberries balance the sweetness from the caramel flavored meringue. Pavlova is a meringue dessert named after the Russian ballet dancer, Ánna Pávlova. The dessert is believed to have been created to honour the dancer during or after one of her tours to Australia and New Zealand. Pavlova has been a source of argument between the two countries for many years, however more serious research into the matter indicates New Zealand as source of today's pavlova.
INGREDIENTS
For the strawberry sauce:
30ml icing sugar, sieved
600g strawberries
For the  meringue:
6 egg whites
200g white caster sugar
15ml cornflour
50g demerara sugar
10ml white wine vinegar
200g light brown sugar
175g whole almonds, toasted
To assemble the dish: 
15ml icing sugar
icing sugar, to decorate
600ml cream
500g seasonal berries (strawberries, hulled and halved, blueberries and cherries)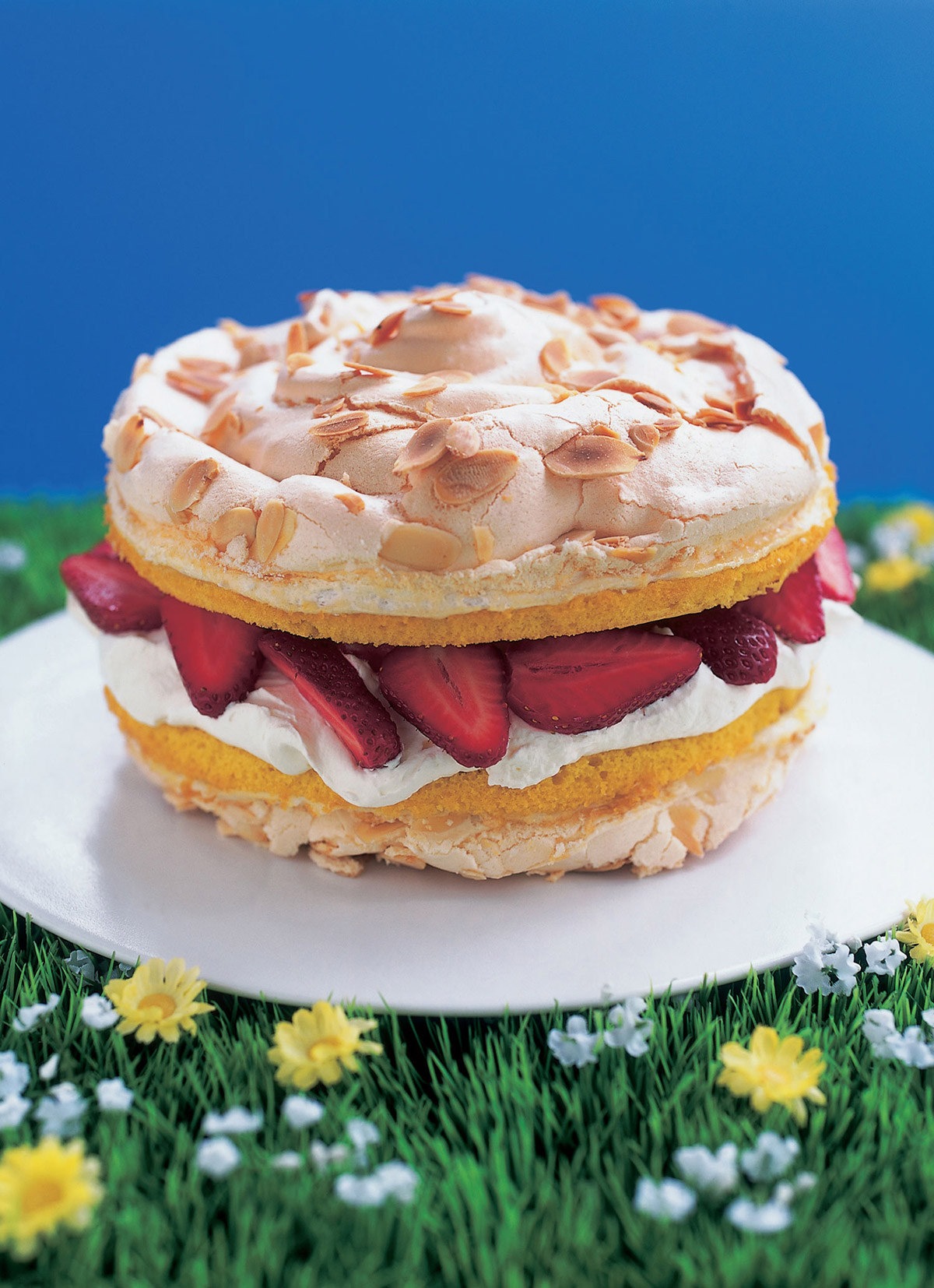 INSTRUCTIONS
MAKING THE MERINGUE
Heat the oven to 140°C. Line 2 flat baking sheets with baking paper.
Chop 2/3 of the almonds in a food processor. Don't let them become greasy or clump together. They should be in small pieces, not ground.
Roughly chop the rest of the nuts with a knife.
Mix all the sugars together in a bowl.
Beat the egg whites in a large bowl until stiff and then add the sugar in 3 batches, beating the mixture back to stiff after each addition.
Add the cornflour and vinegar and keep beating until the meringue mixture is glossy and stiff. The beaters should begin to feel heavy when stirring.
Using a spatula, quickly fold in all the finely chopped nuts and most of the roughly chopped nuts.
Divide the mixture between the 2 baking sheets.
Spread into 20cm circles and then scatter the remaining nuts over.
Bake for an hour, then turn off the oven and leave the meringues inside to cool for an hour.
Keep the oven door closed to prevent the meringue from cracking.
MAKING THE STRAWBERRY PUREE
Purée the strawberries in a blender.
Press through a sieve to remove the seeds and then sweeten with the icing sugar.
ASSEMBLING THE CAKE
Sieve the icing sugar into the cream and whip until the cream just holds firm.
Place one of the meringues onto a serving platter.
Spread over half the cream.
Using a spoon, swirl some of the strawberry sauce through the cream.
Place the second meringue on top.
Spread on the rest of the cream, swirl more strawberry sauce gently through the cream and top with the berries.
Dust with a little icing sugar and serve the remaining strawberry sauce alongside.