It's St. Patrick's Day friends and while I've never been one for dressing head to toe in green or downing pints of green tinted beer, we do have a few traditions in our house that we've kept up through the years. I always give my girls a stash of gold wrapped chocolate coins for good luck and, like a good mother, check to be sure they are wearing a token green ribbon in their hair or a pair of bright green socks before they set off for school. The hubs will man the griddle if St. Patty's falls on a weekend, making homemade pancakes died with green food coloring number "not natural". And even though my girls are aren't so little anymore, they've been known to build a leprechaun trap or two the night before just for giggles. We've still yet to catch that leprechaun.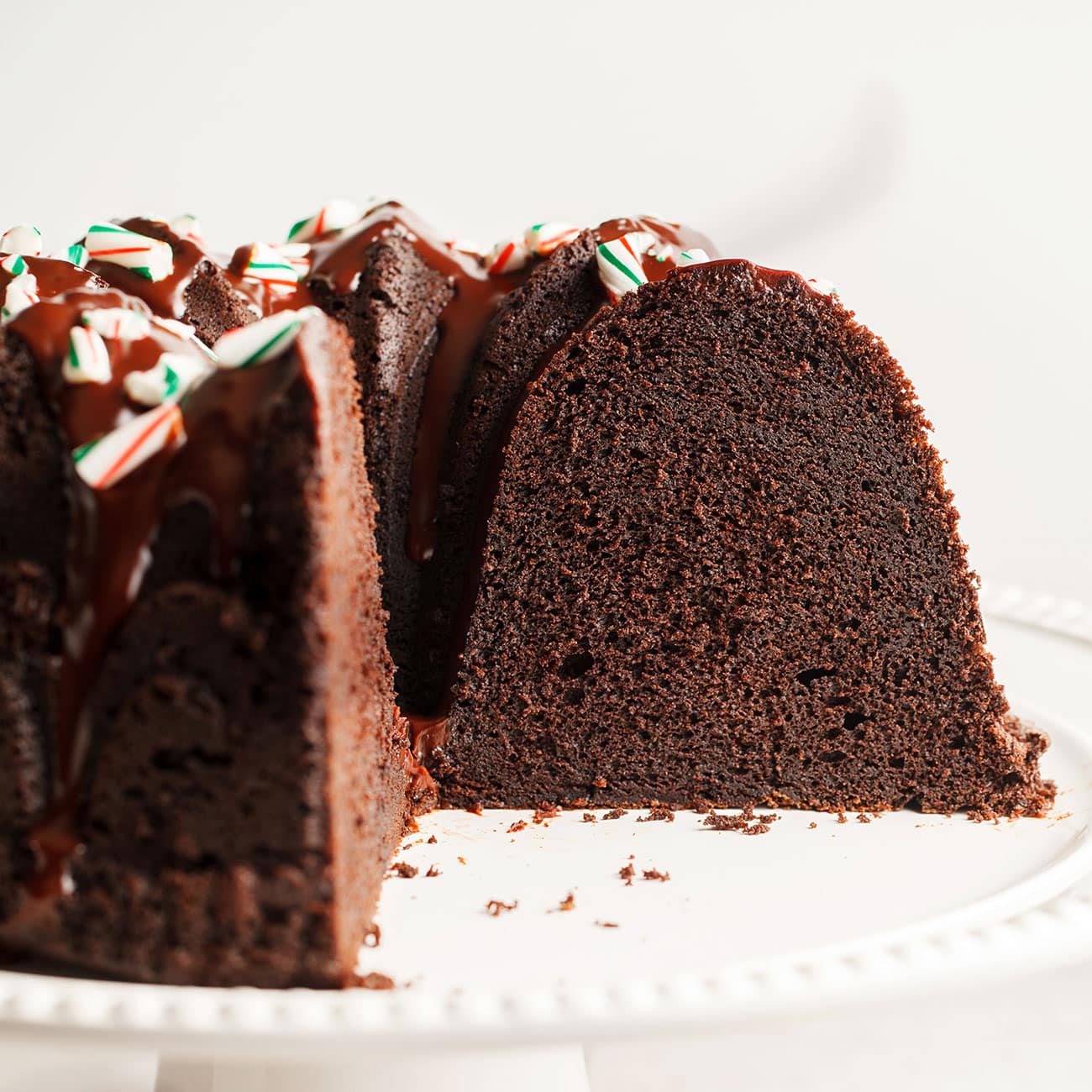 For me, St. Patrick's Day is the perfect occasion to bake up a boozy bundt. Skip the beer, give me the bundt! You all know that chocolate on chocolate is my favorite kind of chocolate. But throw in a hint of espresso and a dash of Irish liqueur and swoooooon!!! I created this dark and decadent baileys chocolate bundt cake especially with St. Patrick's Day in mind. Because who doesn't love a moist, ultra chocolate cake spiked with creamy Irish cream liqueur?? It's the ultimate chocolate lover's dessert!
I always love a pretty little bundt because they are easy to make, delicious to eat, and don't require much in the way of decorating skills. Unlike a more fussy layer cake, a bundt cake looks beautiful straight from the pan and can be adorned with a simple shiny glaze before serving.
I mean….just look at that shine!
I betcha wanna know the trick to that super smooth, glossy finish? It's vegetable oil. Yep. Just two teaspoons added to the chocolate ganache and your cake will sparkle and shine from a mile away. You can make the ganache without the added oil but I say it's #worthit for the shine factor.
INGREDIENTS
Make The Cake
2 tablespoon vegetable oil
2 cups packed light brown sugar
5 large eggs
2 tablespoons instant coffee granules
1/2 teaspoon salt
3/4 cup unsalted butter, softened
1 teaspoon baking soda
1 tablespoon vanilla extract
8 ounces unsweetened chocolate, coarsely chopped
2/3 cup unsweetened cocoa powder, plus more for dusting the pan
1 and 3/4 cups all-purpose flour
3/4 cup Irish Cream liqueur
1 cup sour cream, room temperature
Chocolate Glaze
2 tablespoons butter
1/3 cup Irish Cream liqueur
1 cup confectioners' sugar
2 ounces bittersweet chocolate, coarsely chopped
INSTRUCTIONS
Make The Cake
Coat the inside of a 12-cup bundt pan with nonstick spray and lightly sprinkle with cocoa powder.
Tap out any excess.
Adjust the oven rack to the lower-middle position and heat to 350ºF.
Combine the chocolate and oil in a microwave-safe bowl.
Microwave for 15 seconds intervals, stirring well between each one until the chocolate is melted and smooth.
Set aside to cool slightly.
In a separate bowl combine the flour, cocoa powder, baking soda, and salt.
Stir with a whisk.
Set aside.
Using a stand mixer fitted with the paddle attachment, beat the butter and sugar together on medium-high speed until fluffy, about 5 minutes.
Beat in the sour cream and vanilla.
Add the coffee granules and melted chocolate.
Mix until well combined.
Add the eggs, one at a time, mixing well after each addition.
Add half the flour mixture, followed by the Irish cream, and then the remaining flour mixture.
Mix well after each addition.
Pour the batter into the prepared pan and bake for 45 to 55 minutes or until a wooden toothpick inserted into the center comes out clean.
Cool in the pan for 20 minutes.
Invert the cake onto a parchment-lined wire rack and cool to room temperature.
Transfer to a serving platter and drizzle with glaze.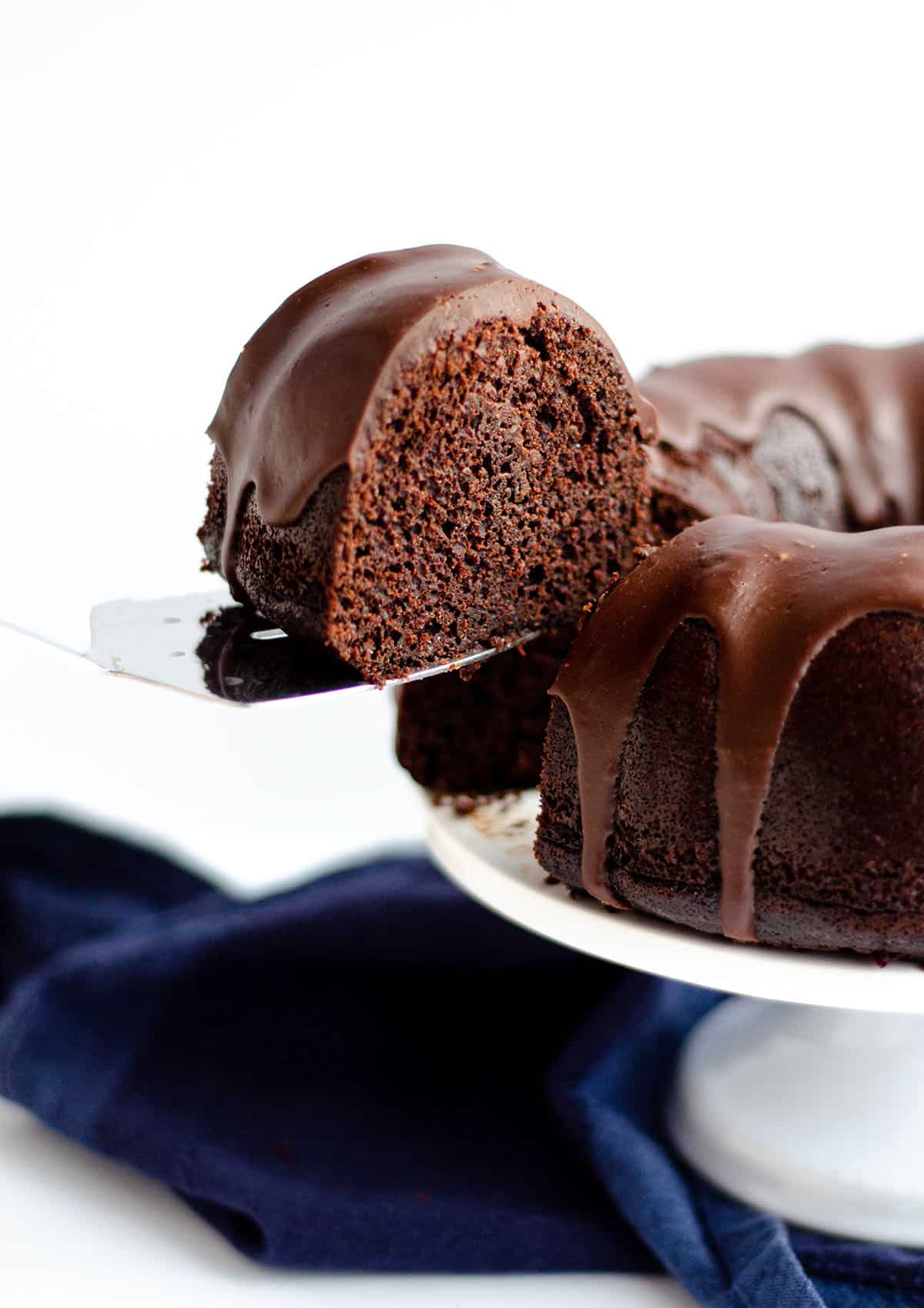 Make The Glaze
Place the chocolate, Irish cream, and butter in a medium heatproof bowl set over a pot of barely simmering water.
Stir continuously until melted and smooth.
Remove from heat.
Gradually whisk in the powdered sugar, 2 tablespoons at a time, until well combined, smooth, and spreadable consistency.