Made using fresh grated carrots and sweet raisins, this quick and easy carrot cake recipe makes a wonderful dessert for Easter or any spring celebration. One recipe makes two 9 in. cake layers and is the perfect pairing to our tangy homemade cream cheese frosting!
Carrot cake can also be refrigerated or frozen, so you can make it ahead of time and decorate it when you're ready. Learn how to properly bake and store your carrot cake, as well as how to add those cute piped buttercream carrots for a sweet finish!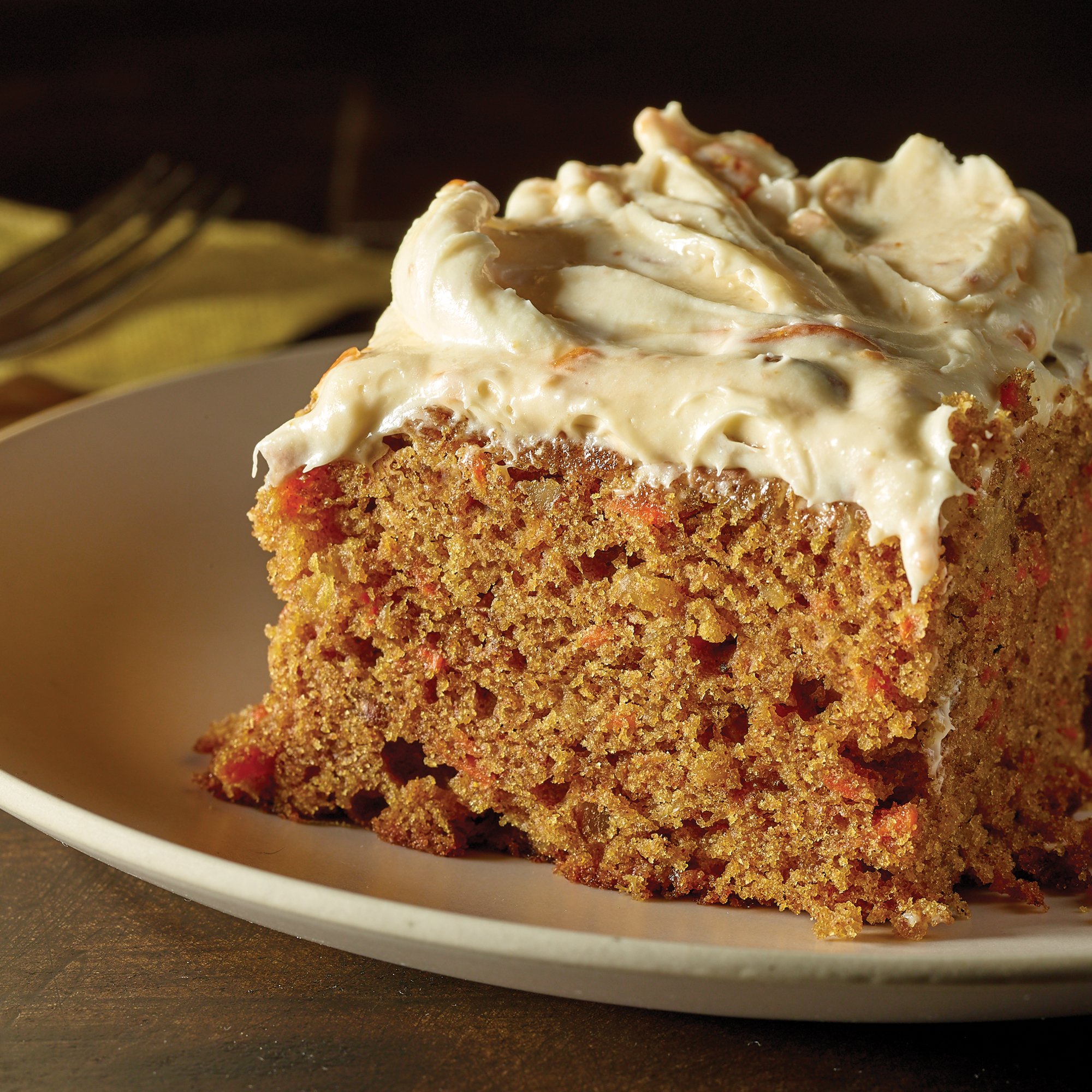 INGREDIENTS
Carrot Cake
4 1/2 cups cake flour
4 tsp baking powder
2 tsp baking soda
1 1/2 tsp salt
2 1/2 tsp ground cinnamon
1/2 tsp nutmeg
1 1/2 cup unsalted butter, melted and cooled
2 cups light brown sugar
2 tsp vanilla extract
1 1/2 cups granulated sugar
1 1/2 cups unsweetened applesauce
6 large eggs, room temperature
4 cups finely grated carrots
1 cup dried currants
Cream Cheese Frosting
16 ounces softened cream cheese
1 cup softened unsalted butter
5 cups sifted powdered sugar
1 1/2 teaspoons vanilla extract
pinch salt
INSTRUCTIONS
Carrot Cake
Preheat oven to 350 degree F. Grease bottom and sides of 4 cake pans lightly, then put parchment paper on bottom lines. Set aside.
Place dry ingredients into a large bowl and mix together.
In another bowl combine wet ingredients: vanilla, sugars, butter, eggs, and applesauce and whisk together.
Divide the wet mixture into 3 parts
Part by part, pour the wet mixture into the dry mixture, stir after each addition.
Continue to stir until completely combined and no dry spots remain. Fold in carrots and currants.
Fill each prepared cake pan evenly with batter.
Bake cake rounds until a toothpick comes out with just a few crumbs on it, when inserted into the center of each round.
Cool cake rounds for 15 minutes. Then remove each cake from cake pans, peel off parchment and put on cooling racks. Cool completely. Refrigerate cake layers for at least 2 hours.
Cream Cheese
With a stand mixer, beat the cream cheese and butter until it becomes and fluffy. Scяαρє down sides of the bowl.
Add powdered sugar, a little at a time and continue to beat together.
Add vanilla and salt and scяαρє down sides of the bowl and continue to beat together until light and fluffy.
Set aside 1 1/2 cups of frosting for piping decorative carrots.
Put them together
Slice cake tops off so that they are even.
Spread a thin layer of frosting onto the top of one layer and top with another layer. Repeat with other cake layers
Frost the sides and top with a very thin layer of frosting
Refrigerate cake for an hour.
While crumb coated cake chills, divide remaining cup frosting in 1/2.
In one bowl add 2 drops violet food coloring, 3 drops lemon yellow, and 1 to 2 drops leaf green. Stir together until completely combined and you produce a moss green color.
In the other bowl of frosting add 3 drops of sunset orange food coloring and 1 to 2 drops buckeye brown. Stir together until completely combined and you produce a moss green color.
Fill orange frosting in piping bag with round tip and fill green frosting in piping bag with star tip.
Remove chilled cake from the refrigerator and add another layer of frosting.
Sprinkle crushed walnuts bits over the sides and top of cake. Refrigerate cake again for 30 minutes.
Using the orange frosting, pipe small (3/4 inch) carrots all over cake.
Using the green frosting, pipe stems on top of each carrot.