Apple Cider Cupcakes with Cider Buttercream Frosting might just be the most quintessential fall cupcake. Chunks of real apple are scattered in a cider flavored cupcake topped with a spiced cider buttercream frosting and a drizzle of salted caramel. Flavor wise, it doesn't get more perfectly fall than that!
My apple cider cupcakes are not too sweet, not too tart, and packed with lots of cinnamon-cider flavor. While little chunks of apple give a sweet bite and crisp texture to these cakes which I love.
I chose to use a variety of crisp pink apples that have a nice tart bite to them to ensure my cupcakes weren't overly sweet but any crisp red apple will work nicely.
INGREDIENTS
FOR CIDER SYRUP:
2 cinnamon sticks OR 1 teaspoon ground cinnamon
½ cup apple cider
½ cup granulated sugar
FOR CUPCAKES:
1 cup (2 sticks) unsalted butter, melted, browned, and cooled
½ cup full-fat plain yogurt
1 ½ cups granulated sugar
2 apples, peeled and coarsely grated
¾ teaspoon baking soda
1 teaspoon kosher salt
1 ½ teaspoons baking powder
¼ cup apple cider
4 large eggs, at room temperature
2 ½ cups all-purpose flour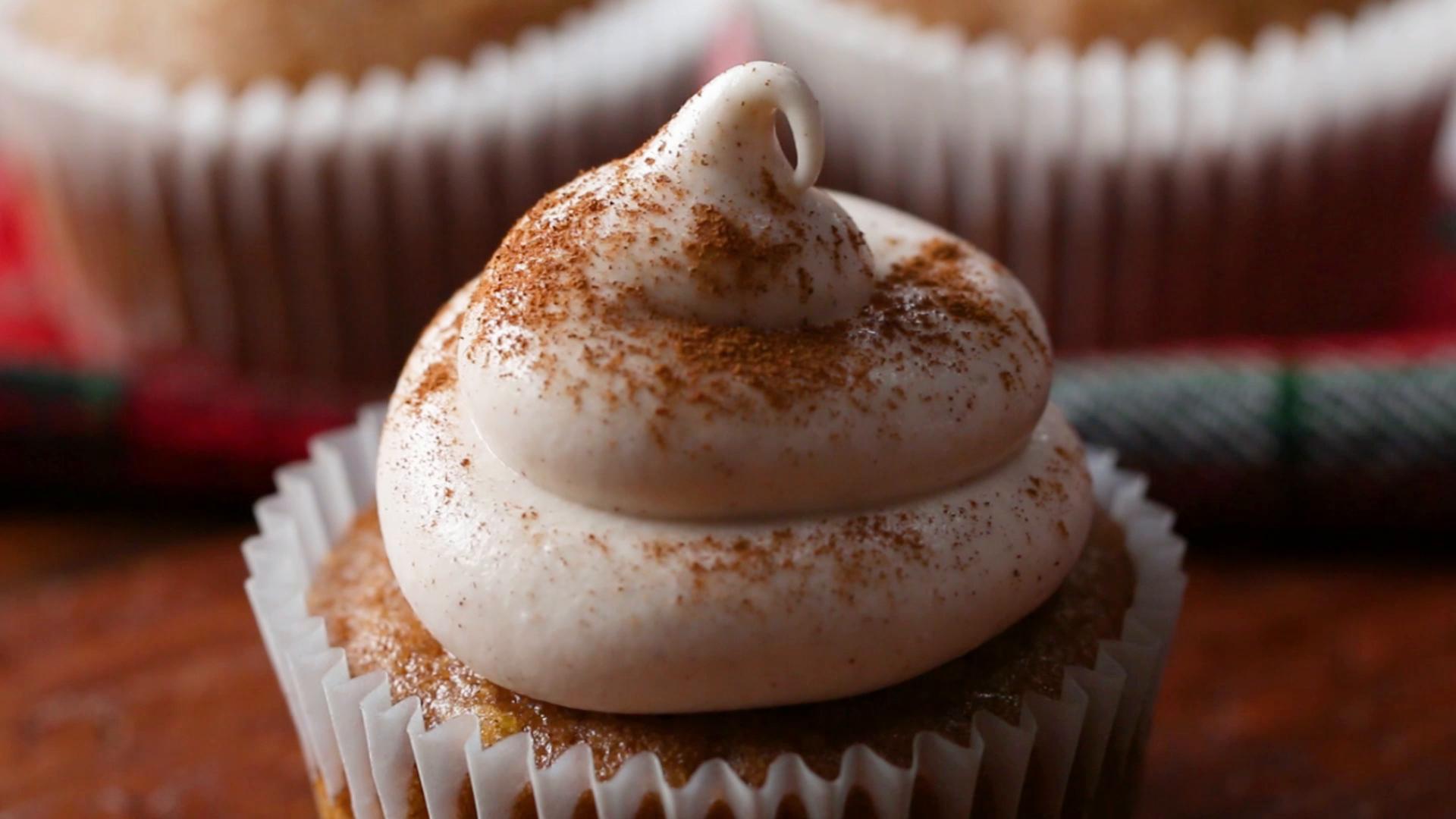 FOR APPLE CIDER FROSTING
2 teaspoons pure vanilla extract
a pinch of salt
4 cups confectioner's sugar
2 tablespoons apple cider syrup (above)
1 ½ cups (3 sticks) unsalted butter, at room temperature
INSTRUCTIONS
MAKE THE CUPCAKES:
Preheat oven to 350 degrees F. Line two muffin tins with cupcake liners.
In the bowl of a stand mixer, combine the flour, sugar, baking soda, baking powder, and salt.
In a medium bowl, whisk together the yogurt, cooled browned butter, apple cider, and eggs.
Add the wet ingredients to the flour mixture and mix on low speed until combined.
Increase speed to medium and mix for 1 minute.
Be careful not to overmix.
Gently fold in the grated apples.
Divide the batter evenly into the prepared muffin tins.
Fill each 2/3 of the way.
Bake cupcakes until golden brown on top and a toothpick inserted into the center come out clean, about 12-15 minutes.
MAKE THE SYRUP:
Make the syrup while the cupcakes are baking.
Combine all the ingredients in a small saucepan.
Bring to a boil over medium heat.
Cook until the syrup starts to thicken, stirring occasionally.
Remove from heat and let cool.
Remove cupcakes from oven and let cool slightly in pans, 2-3 minutes.
Poke holes in the tops of the cupcakes with a skewer.
Brush the tops of the hot cupcakes with the syrup.
Let cool completely in pans.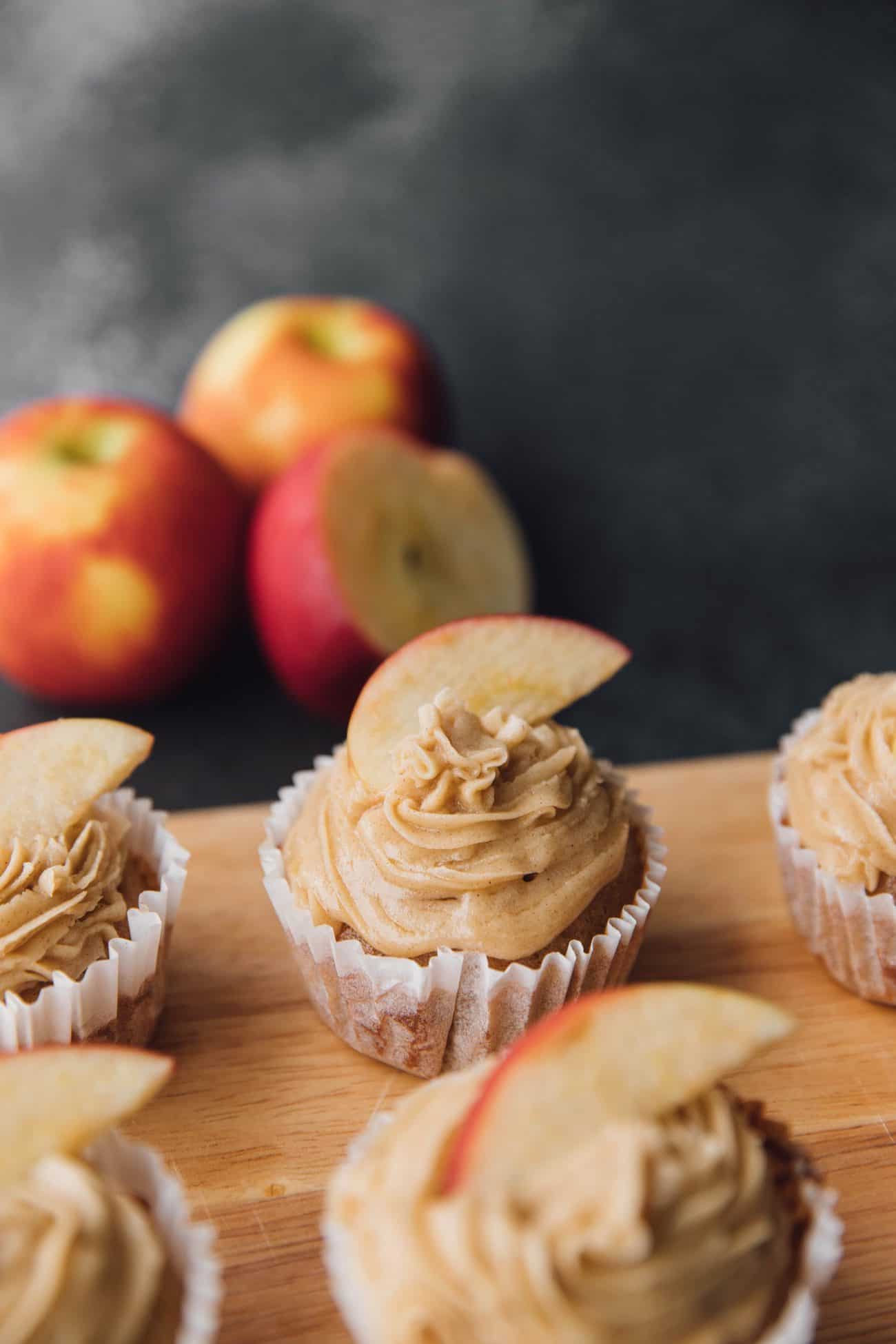 MAKE THE FROSTING:
In a medium bowl, beat butter on medium speed until light and fluffy.
Add in the rest of the ingredients and mix on low for a minute.
Increase speed to medium and beat until light and fluffy, about 2-3 minutes.
ASSEMBLE THE CUPCAKES:
Frost cupcakes with your decorating tip as desired. I used Wilton 4B. Drizzle leftover cider syrup over frosting. Cupcakes will store at room temperature in an airtight container for 2-3 days.