Using any soft/light cake recipe of your choice, you can create a delicious fresh berry cream cake. I recommend using my white cake recipe below or you could even try chocolate, pistachio, or a 6 inch cake instead. This minimally decorated naked-style cake is layered between fresh and fluffy whipped cream and piled high with juicy berries.Add
Using practically any soft/light cake recipe of your choice, you can create a naked-style cake with three lovely layers of whipped cream and fresh berries. If decorating layer cakes makes you nervous, this cake is FOR YOU; no complicated decorating involved!
I chose my vanilla flavored white cake because it's ultra soft and sponge-like, which pairs beautifully with light whipped cream and summer berries. Heavier cakes would make this difficult to cut and serve.
This cake is:
Celebrating the season's fresh flavors
Very easy to decorate– less is more!
Towering tall with whipped cream and berries
Adaptable to many cake flavors
Light, fresh, and naked-style
Tips
The refrigerator is your friend. Chill this assembled cake in the refrigerator for at least 2 hours before slicing and serving. Why? This stabilizes all of your hard work! It helps the whipped cream adhere to the cake layers and ensures a neater slice.
Keep it simple. Make it easy on yourself! I've seen many naked cake recipes that call for a soak in simple syrup to prevent it from drying out. You can absolutely take this route, but I don't find it necessary if your cake is moist to begin with (like the white cake below or any others listed above).
Level your cakes. Level off the top of each cake layer so both sides are flat. This is important because flat and even layers add stability to your finished cake. You can use a cake leveler or large serrated knife. I always use a serrated knife.
INGREDIENTS
Sponge Cake
1 Cup Granulated Sugar Divided
1/4 Cup Vegetable Oil
1 1/2 Teaspoon Baking Powder
1/4 Cup Milk
1/4 Teaspoon Salt
1 Tablespoon Vanilla Extract
5 Eggs Divided
1 Cup Cake Flour
Citrus Simple Syrup
Peel of 1 Orange
1 Cup Water
1 Cup Granulated Sugar
Peel of 1 Lemon
Whipped Cream
1 Tablespoon Orange Zest
1/4 Cup Powdered Sugar
2 Cups Heavy Whipping Cream
Berries
Raspberries rinsed
Blackberries rinsed
Blueberries rinsed
Strawberries rinsed, remove stems and slice
INSTRUCTIONS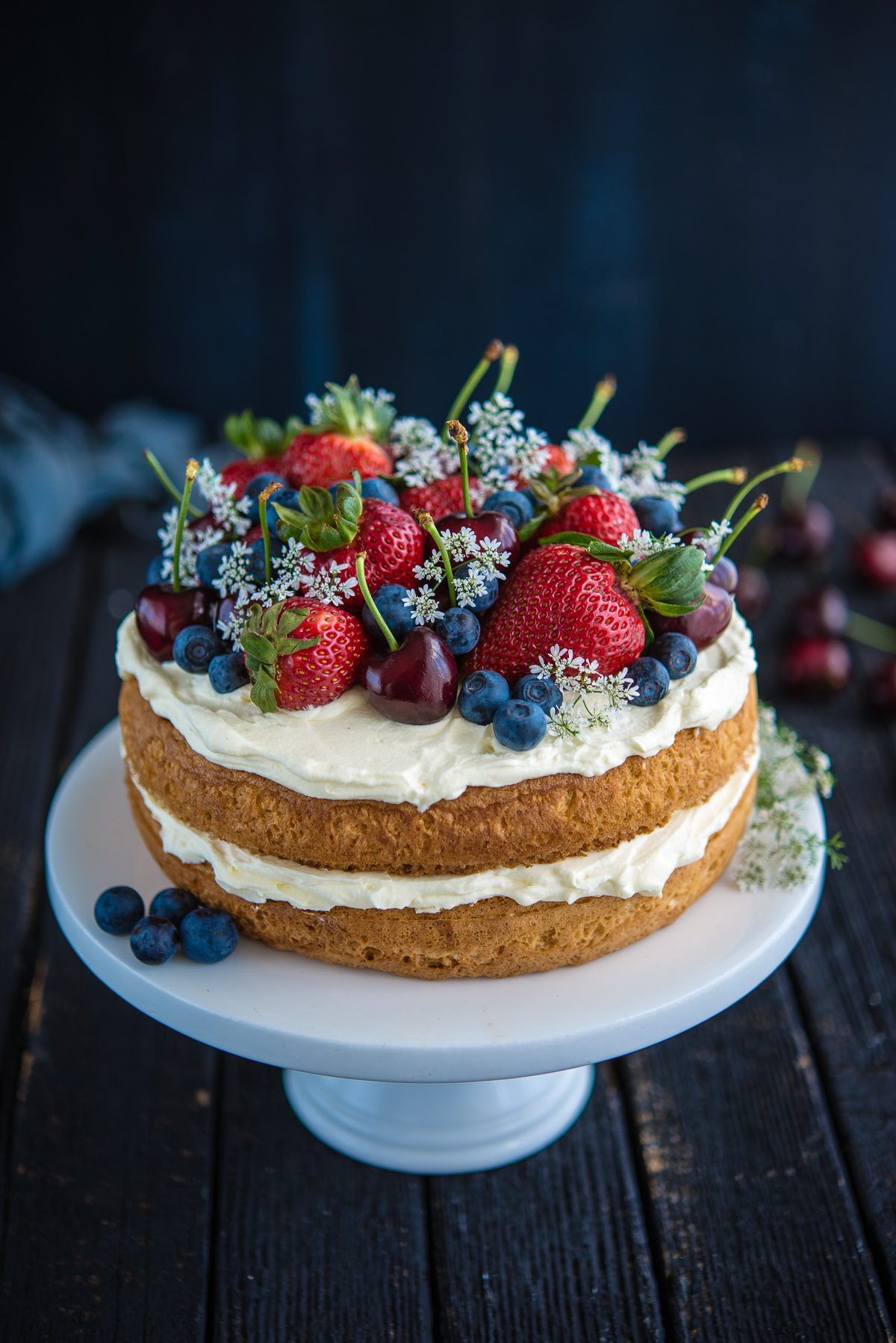 Prepare the Sponge Cake
Preheat oven to 350 degrees F and line (3) 8″ cake pans with parchment paper
Separate the egg yolk and egg whites, place the egg yolks in the mixing bowl and set the egg whites aside
In a mixing bowl with whisk attachment, combine egg yolks and 1/2 cup granulated sugar; whisk until combined pale yellow color and fluffy. Slowly add milk, vegetable oil and vanilla extract until foamy. On low speed, add in flour, baking powder and salt. Pour the egg yolk mixture into another bowl and set aside
In a mixing bowl with whisk attachment, whisk egg whites until stiff peak. Slowly add in the remaining 1/2 cup granulated sugar to the egg whites. Fold the egg whites into the egg yolk mixture until fully combined
Divide the cake batter into (3) 8″ cake pans. Bake for 12-14 minutes or until cake springs back at the touch
Prepare The Citrus Simple Syrup
While the cake is baking, combine sugar, water and citrus peel in a small saucepan. Bring to a simmer for 3-4 minutes until the sugar is dissolved
Remove from the heat and allow the syrup to cool before using
Prepare The Fresh Whipped Cream
Add the heavy whipping cream, powdered sugar, vanilla extract and orange zest in a mixing bowl with whisk attachment. Whisk until soft peaks form
Assemble The Berries and Cream Layer Cake
Once the cake is baked and cooled, brush the simple syrup on each layer of cake. Place the first layer of cake on a cake plate, spread a layer of whipped cream and top with mixed berries
Repeat with next two layers or cake, whipped cream and berries and finish the top layer off with a beautiful pile of mixed berries
Slice and serve!