I love lemons. I say when you get a big bag of lemons, you make as many sweet and savoury lemon recipes as you can! This includes that best blueberry lemon loaf cake I've ever had.
I have made this recipe multiple times and have gotten the seal of approval each time! The original lemon loaf recipe is actually from a 30+ year old community cookbook from a small town in Manitoba where my mother-in-law grew up.
I need to thank her for lending me this (and other cookbooks) because they are full of gems (and oddities) that I've enjoyed reading and testing out. From jello salads with vegetables in it (I'm not sure if I would like it – have you tried a recipe like this?) to Greek Moussaka (so delicious), old cookbooks are a great source of inspiration.
Back to the delicious loaf cake – it is so tender, it just melts in your mouth and it's so full of bright, tart lemon and sweet blueberry flavour!
I love the look of the blueberry swirls that form as the loaf bakes so each slice is a little different.
The simple lemon glaze on top gives the loaf a thin crust with that extra lemon zing! Why not eat a slice or two with a cup of coffee or tea?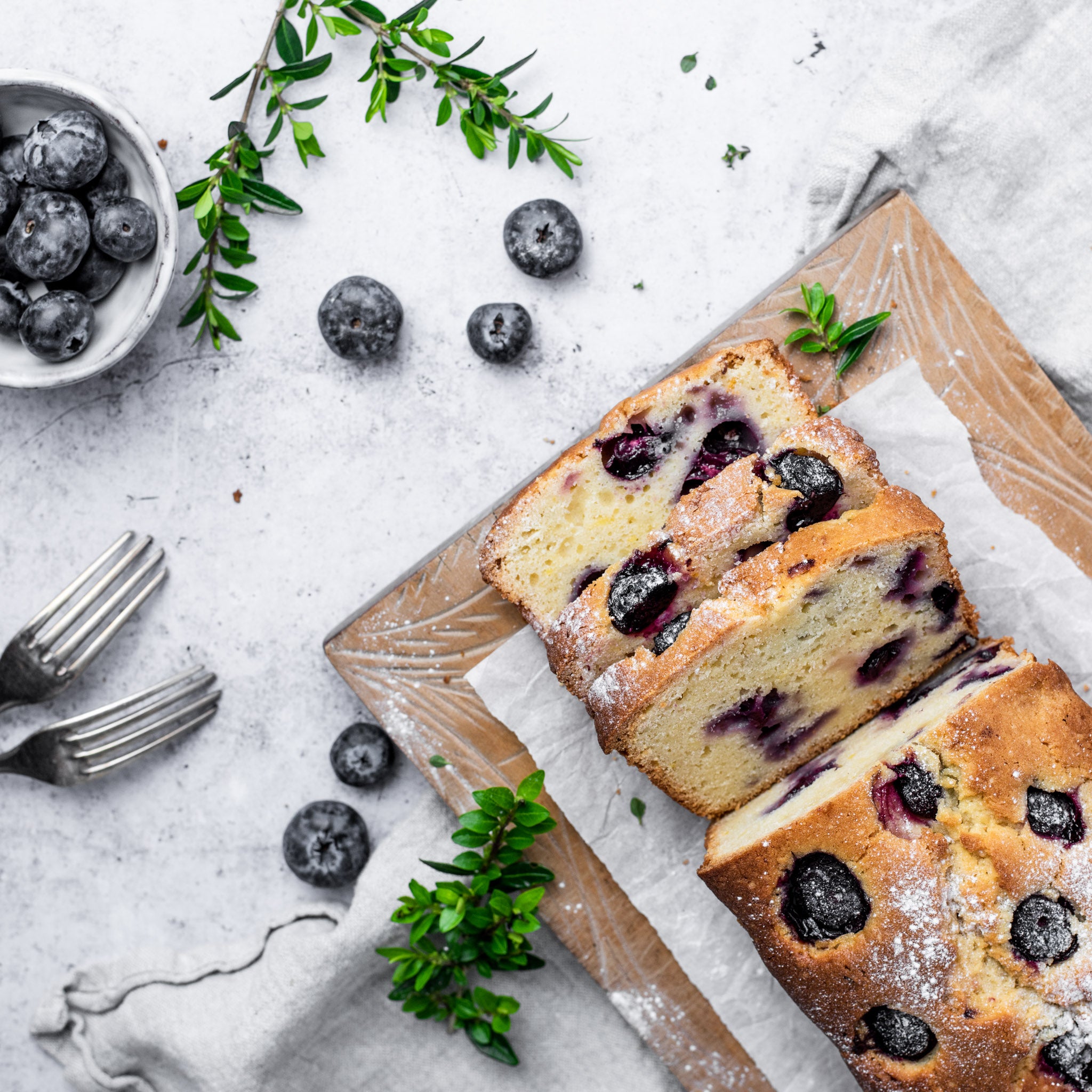 INGREDIENTS
The loaf
1 tablespoon lemon zest (from 1 medium size lemon)
1 and 1/2 cup all purpose flour
2 teaspoons baking powder
1 cup greek yogurt
1 cup granulated sugar
3 large eggs
1 tablespoon fresh lemon juice
11/2 cup blueberries washed and dried
1/2 teaspoon salt
1 teaspoon vanilla extract
1/2 cup olive oil or a neutral vegetable oil
1 tablespoon all purpose flour
The glaze
1 cup powdered sugar
1 tablespoon cream
1 and 1/2 tablespoons lemon juice
INSTRUCTIONS
Bake the loaf
Preheat oven to 350°F and grease 9×5 loaf pan with baking spray or line with parchment paper and set aside.
Toss the blueberries with 1 tablespoon of flour and set aside. In small bowl combine the lemon zest and sugar. Mix together with your fingers until zest is coated with sugar and sugar is infused.
In large bowl add the sugar zest mixture and whisk in the eggs and the oil until well combined. Then whisk in the yoghurt, lemon juice and the vanilla.
Sift the flour, salt and baking powder right into the wet ingredients then whisk until just combined. Do not overmix. It's ok if there are still a few streaks of flour in the batter.
Fold in the blueberries until combined.
Pour the batter into the loaf pan and smooth the top of batter.
Bake for approximately 50 minutes or until top is golden brown and tester comes out clean.
Allow loaf to cool in pan for about 10 minutes then remove the bread from the pan and allow it to cool completely on rack.
Glaze the loaf
While bread is cooling make the glaze: In small bowl whisk together the powdered sugar, lemon juice and the cream until smooth.
Add more sugar or more juice to obtain desired consistency.
Drizzle glaze over the cooled loaf. Serve immediately or store bread in sealed container.
Note: Loaf can be stored in a sealed container at room temperature for 3-4 days.