This BEST vegan chocolate cake recipe is quick and easy with no unusual ingredients. Hundreds of readers have loved this moist fluffy vegan chocolate cake. It's egg-free and dairy-free. So many readers love it regardless of it being a vegan cake.
When you think about vegan cake, you might think it will be dry, crumbly and somehow inferior to a typical chocolate cake filled with eggs and butter.
Well, you're wrong. Very wrong.
It might be an egg free and dairy free chocolate cake, but it is awesome!
So moist, so fluffy, so rich, so chocolatey – so amazing.
This vegan chocolate cake really is the BEST.
1. INGREDIENTS
a. Vegan Ganache:
350 ml (1 ½ cups) full fat coconut milk (from a tin, NOT the drinking kind)
350 g (12.5oz) vegan dark chocolate (40-70% cocoa solids. Or use half dark and half milk chocolate) chopped
b. Vegan Chocolate Fudge Cake:
360 ml (1 ½ cups) almond or soy milk
1 ½ tsp cider vinegar
2 tsp vanilla extract
¾ tsp baking powder
260 g (1 ¼ cups) caster (superfine) sugar
150 ml (scant ⅔ cup) sunflower oil
230 g (scant 2 cups) plain (all-purpose) flour
¼ tsp salt
80 g (⅔ cup) cocoa powder (Dutch processed)
1 tsp bicarbonate of soda (baking soda)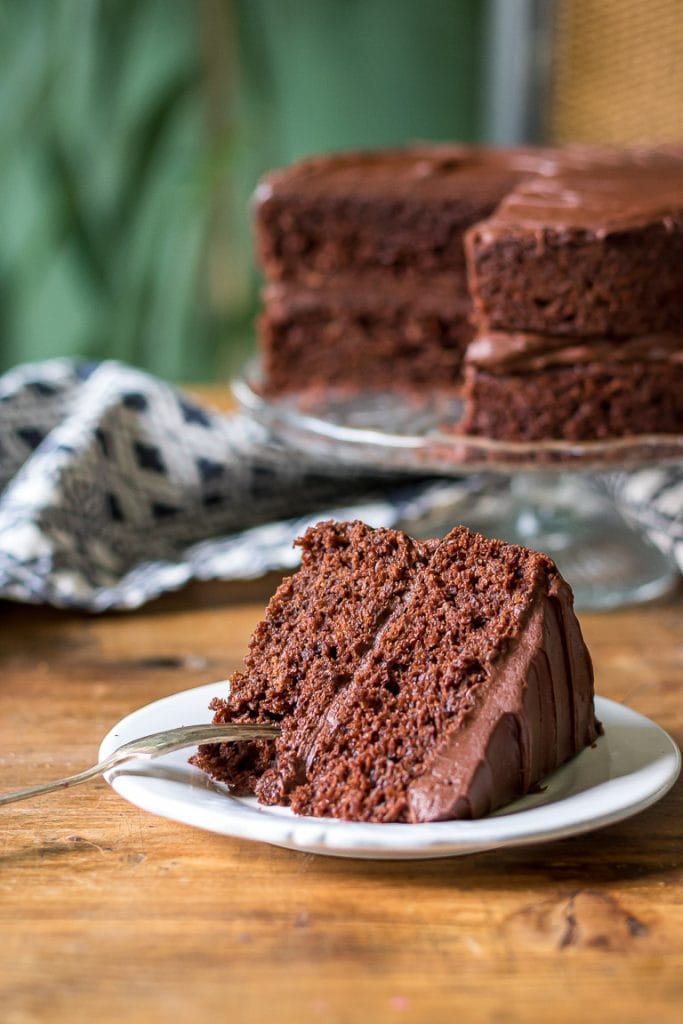 2. INSTRUCTIONS
a. Ganache
Place the chopped chocolate in a heat-proof bowl. Heat the coconut milk until it is just boiling then pour it over the chocolate.
Set aside for 2 minutes then stir until smooth and the chocolate is completely melted. Cover and place in the fridge for about 2 hours, stirring occasionally.
The ganache should be thick but spreadable, if it is too runny still then return it to the fridge until it is firm, or pop it in the freezer for a bit to speed up the process. If it is too thick then gently warm it over a pan of hot water until it has softened.
b. The cake
Preheat the oven to 180 Celsius degrees.
Grease three 15cm/6inch round tins and line the bases with baking parchment
Whisk together the almond/soy milk and vinegar in a large jug; the milk should curdle slightly. Whisk in the sugar, oil and vanilla extract.
In a large bowl, mix the flour, cocoa powder, baking powder, bicarbonate of soda and salt together.
Gradually whisk the wet mixture into the dry until smooth; be careful not to under-mix or over-mix.
Divide the batter evenly into the tins and bake for about 30 minutes.
Cool the cake in their tins for 30 minutes then carefully turn them out onto a wire rack to cool completely (they are delicate so be gentle).
If you are making them a day in advance, wrap in clingfilm once cool.
To assemble the cake, place one of the layers on a serving plate/cake stand.
Spread a third of the ganache over the first cake layer and place another cake on top, spread over another third of the ganache and repeat.
Decorate as you like –  with fresh berries, vegan chocolates, cand̾i̾e ̾d nuts etc.