This Dark Chocolate Bourbon Pecan Pie is a Thanksgiving favorite. The dark chocolate adds a nice bitterness to the sweetness and saltiness from the pecans.
The hardest question I've been asked lately has been, "What's your favorite pie to make at Thanksgiving?!" THIS IS HARD FOR ME TO ANSWER. But, if I had to answer, I'd wince and say this Dark Chocolate Pecan Pie. Of course I love all pie but chocolate and pecans are a match-made in heaven. They're meant for each other!
For this post, Syrup is my go-to ingredient for the silkiest smoothest pecan pie. It's an essential ingredient in classic pecan pie because it prevents the crystallization of sugar. This is crucial when cooking all of these ingredients together.
The corn syrup isn't overly sweet but I really love the dark chocolate because it balances the sweetness in the pie and gives a really complementary bitterness.
Another option is to make the entire pie, cover lightly with a clean kitchen towel and keep on the kitchen counter for up to 2 days.
You can make the pie crust and store in the freezer for up to 2 months. Thaw it in the fridge overnight and roll it out and proceed with the recipe.
INGREDIENTS
1 c. dark brown sugar
2 large eggs, at room temperature
1 tsp. pure vanilla extract
2 c. pecans, chopped
1 tbsp. bourbon
4 oz. dark chocolate, chopped
1 Basic Pie Crust
1/2 c. butter, browned and cooled slightly
1 tbsp. all-purpose flour
1/4 c. granulated sugar
1 tbsp. whole milk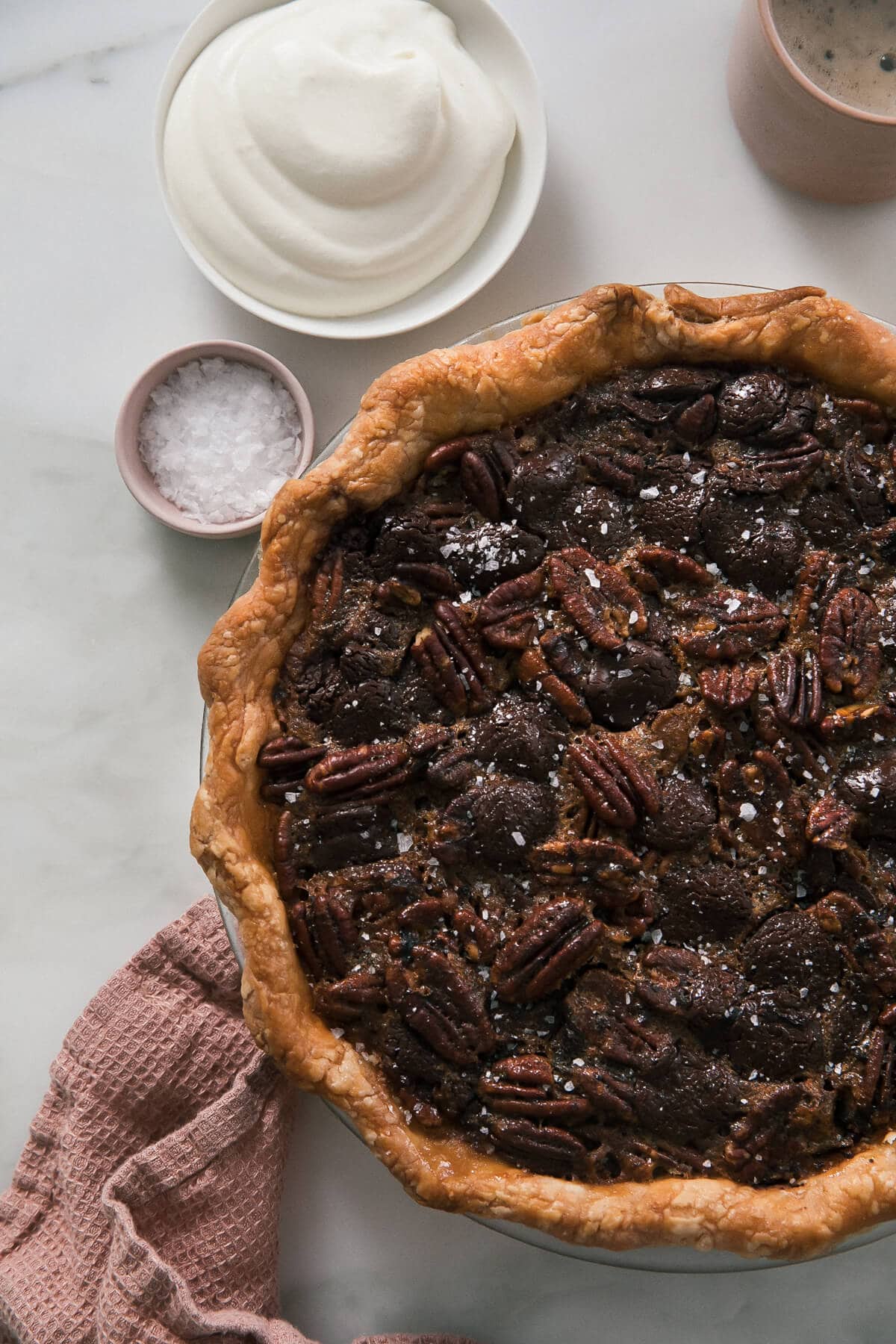 INSTRUCTIONS
Preheat oven to 375°.
On a lightly floured surface, roll out dough into a 12" circle.
Drape over pie dish and gently press to fit, making sure there are no air bubbles.
Trim edge to 1" and tuck overhang under itself and crimp edges.
Bake until lightly golden and only par-baked, 15 minutes.
Increase oven temperature to 400°.
In a large bowl, beat eggs until slightly foamy, then stir in browned butter, white sugar, and brown sugar.
Whisk together until fully combined
Then stir in flour, milk, bourbon, and vanilla.
Add pecans and chocolate chunks and stir until fully combined. Pour mixture into par-baked pie crust.
Bake 10 minutes, then lower oven to 325° and bake until top no longer jiggles in center, 40 to 50 minutes more.
Let cool completely before slicing and serving.