AA simple chocolate cake with marshmallow frosting can't be beat! This cake will become your go-to chocolate cake staple. Kick that boxed mix to the curb!
I went for a hike. I ate a salad afterwards. Followed by an Oreo. Then an Oreo dipped in peanut butter. Topped off with a pumpkin spice fiber bar and four leftover chicken wings. That friends is how you refuel like a champion. Really I think I was just wishing it was a giant piece of cake and I was filling the void with anything that was sweet – but when you're alone and the only one to see you go chest deep into the back of the fridge is the dog, you just let go of the guilt and do yo' thang.
We opted for celebrating my birthday a week early – though it's actually on Halloween, we wanted to make sure that Beka could celebrate with us, since she's due any day now and there is a distinct possibility I'm spending my birthday in the hospital with her and her husband, or if not at the hospital, I'll be sleeping it off afterwards.
But it will be so great to have a tiny tot to share a close-to-birthday with! My ovaries are clearly taking over. Bless anyone's heart around me, because it's getting frightening.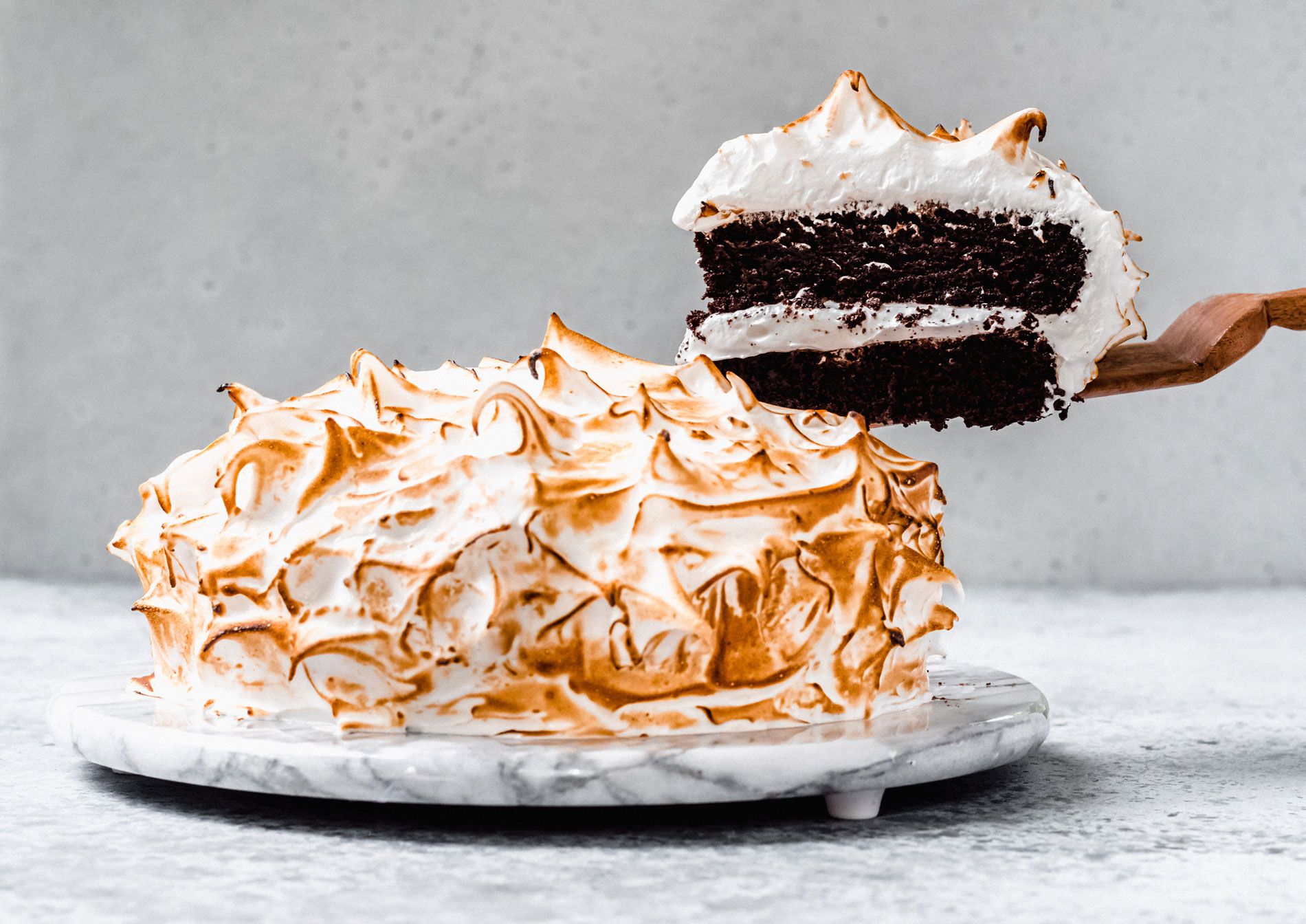 INGREDIENTS
3/4 cup (65g) unsweetened cocoa powder (spooned and leveled)
Chocolate shavings, for topping
1/4 tsp baking powder
3 large eggs
1 1/3 cups (315ml) warm water
1 3/4 cups (360g) granulated sugar
2 tsp vanilla extract
1 cup + 2 Tbsp (246g) Mayonnaise
1 1/4 tsp baking soda
2 cups (250g) all-purpose flour (spooned and leveled)
Marshmallow Frosting
1 tsp vanilla extract
1 cup (200g) granulated sugar
1/4 tsp cream of tartar
4 large egg whites (make sure there's not even a drop of yolk!)
INSTRUCTIONS
PREPARE THE OVEN
Preheat oven to 350 degrees F. Spray a 13 by 9-inch baking dish with non-stick cooking spray.
MIX THE INGREDIENTS
In a medium mixing bowl whisk together flour, cocoa powder, baking soda and baking powder for 20 seconds, set aside.
In a separate large mixing bowl, using an electric hand mixer set on high speed, beat eggs, sugar and vanilla for 3 minutes. Blend in mayonnaise.
Mix half of the flour mixture into the sugar/mayonnaise mixture, mix in the water then mix in remaining flour mixture. Pour into prepared pan.
BAKE THE CAKE
Bake in preheated oven until toothpick inserted into center comes out clean, about 34 – 38 minutes. Let cool completely on a wire rack (I like to cover about halfway through to seal in moisture).
Frost completely cooled cake with marshmallow frosting then top with chocolate shavings.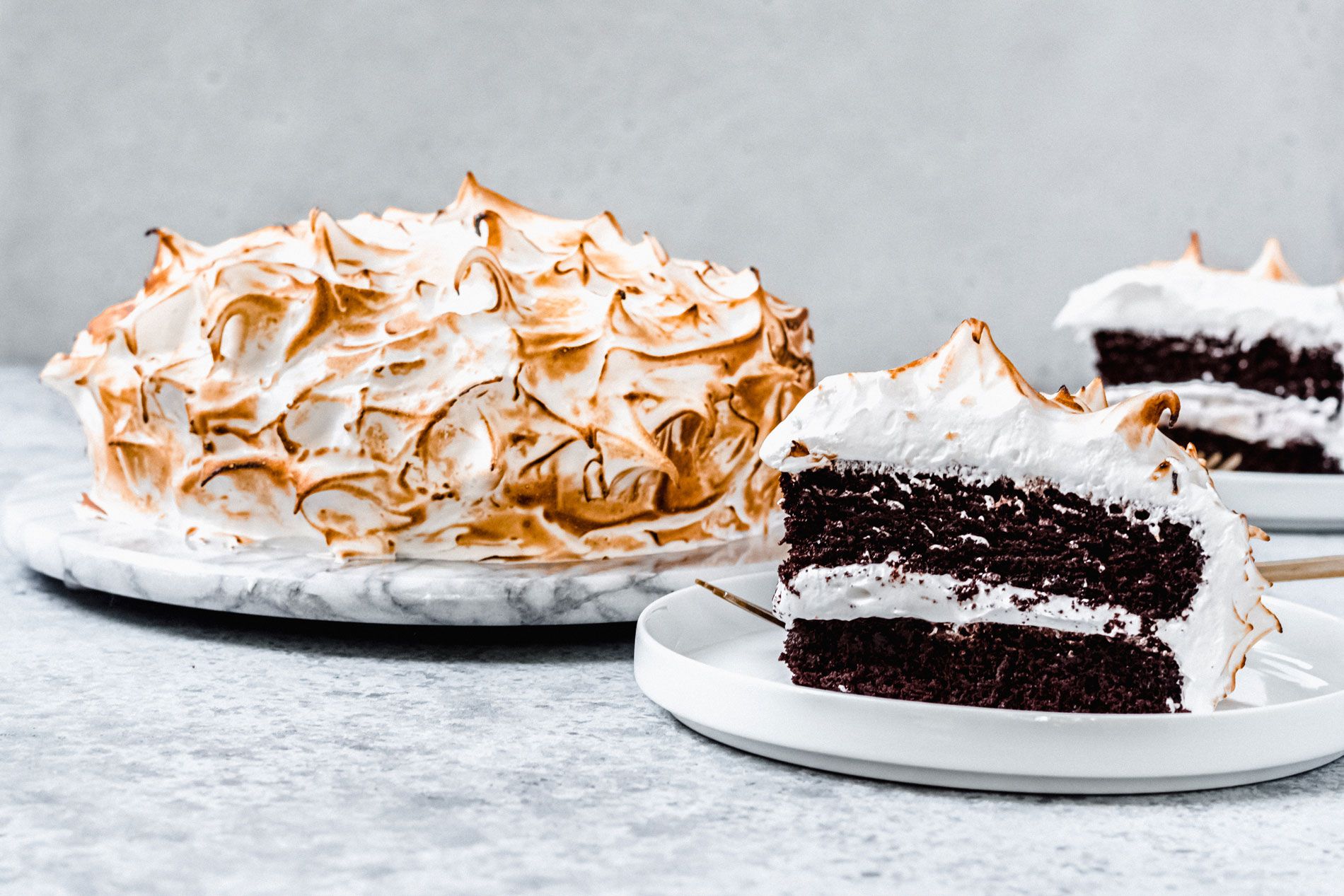 MAKE THE FROSTING
Fill a large saucepan with about 1 1/2-inches of water and bring to a simmer.
Add egg whites, granulated sugar and cream of tartar to a heat proof bowl of an electric stand mixer.
Set bowl over saucepan (make sure it doesn't touch water) and heat mixture, whisking constantly until it's very warm (I let mine get to 150 degrees F), about 3 – 4 minutes.
Remove from heat and transfer bowl to electric stand mixer fitted with a whisk attachment.
Beat mixture beginning on low and increasing to high speed until stiff glossy peaks form, about 5 – 7 minutes.
Pour in vanilla during the last 10 seconds of mixing.