Blueberries have to be one of my favourite berries – up there with all the rest. I use them for smoothies a lot and muffins and scones but I had never made a berry pie. National Pie Day was coming up and I decided I would try my hand at a berry pie. The dilemma here in Trinidad is getting fresh berries. You can get them, but you will pay an arm and a leg to get fresh, mediocre imported ones, that is why I always use frozen here. So I was on the look out for a good pie filling recipe that was simple and also used frozen berries.
I wanted the blueberries to really shine in this pie, which I think they would no matter what spice I used. I wanted to spice them up a little extra to bring out their sweetness and also give them a little more depth of flavour, especially since the filling lacked the wild berries that would give it a flavour boost. That is why I decided to use the combo of cinnamon, allspice and ground cardamom. We loved the subtle combination of spice and the blueberries. They all are warm spices that go really with the blueberries.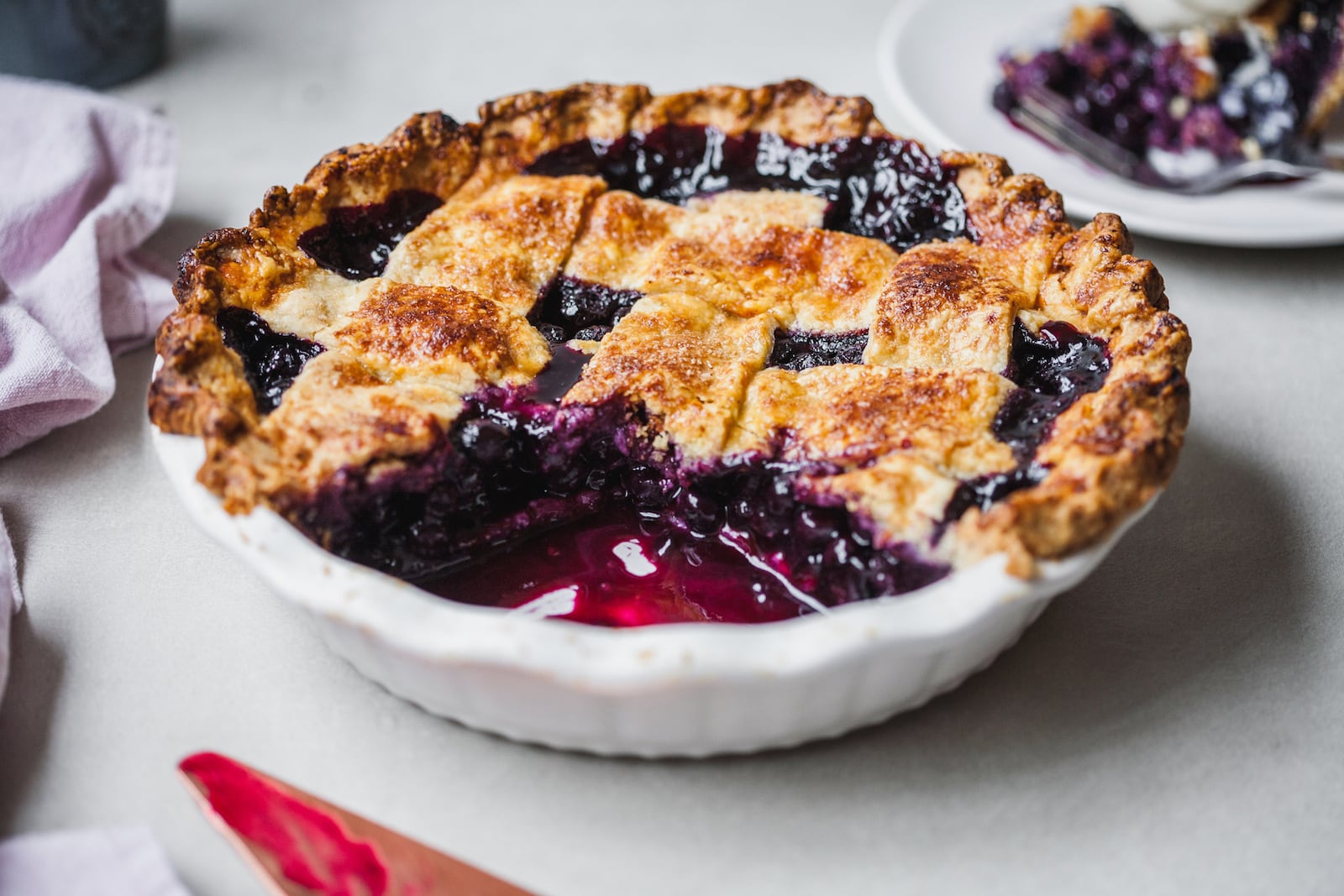 I used my usual pie crust method which I use for pretty much every pie crust I make. It's so simple and it always turns out perfectly even with my imperfect pie baking hands and skills. I knew this pie needed a top layer which meant I needed to double the pie crust recipe. I decided to make a simple lattice. I have never done a lattice before and I drummed up the courage to do it. I looked at a few tutorials, pics and directions and made a very basic one. I have included the simple directions I used from The Kitchn below. Not too difficult at all. The thing that makes it difficult in the Caribbean is the heat factor. I don't have AC in the kitchen or throughout my apartment, so try making dough and playing with it in 30 plus degree weather. It's a sopping mess after you place the first strip of dough down. That is ok though – it took a lot of running back and forth to the freezer, from making the strips to laying them on the pie, but it was totally worth it and boosted my confidence to make a tighter lattice for my next one. As I always say, if I can do it you can too!!!
This is truly a delicious pie and it is such a simple recipe that I recommend it to anyone! Hope you give it a try whether you are a seasoned pie maker or like me still in the beginners phase of pie making. We could not even wait until the pie fully set for two reasons. One I needed to have a taste, like really really needed to. Second reason was we were losing light to shoot it, thus the bit of blueberry mess on the plate. If we had waited the allotted cooling time the filling would have set completely as we learned later when we went for our second and third slices. You live you learn – some lessons are delicious and worth learning the hard way though.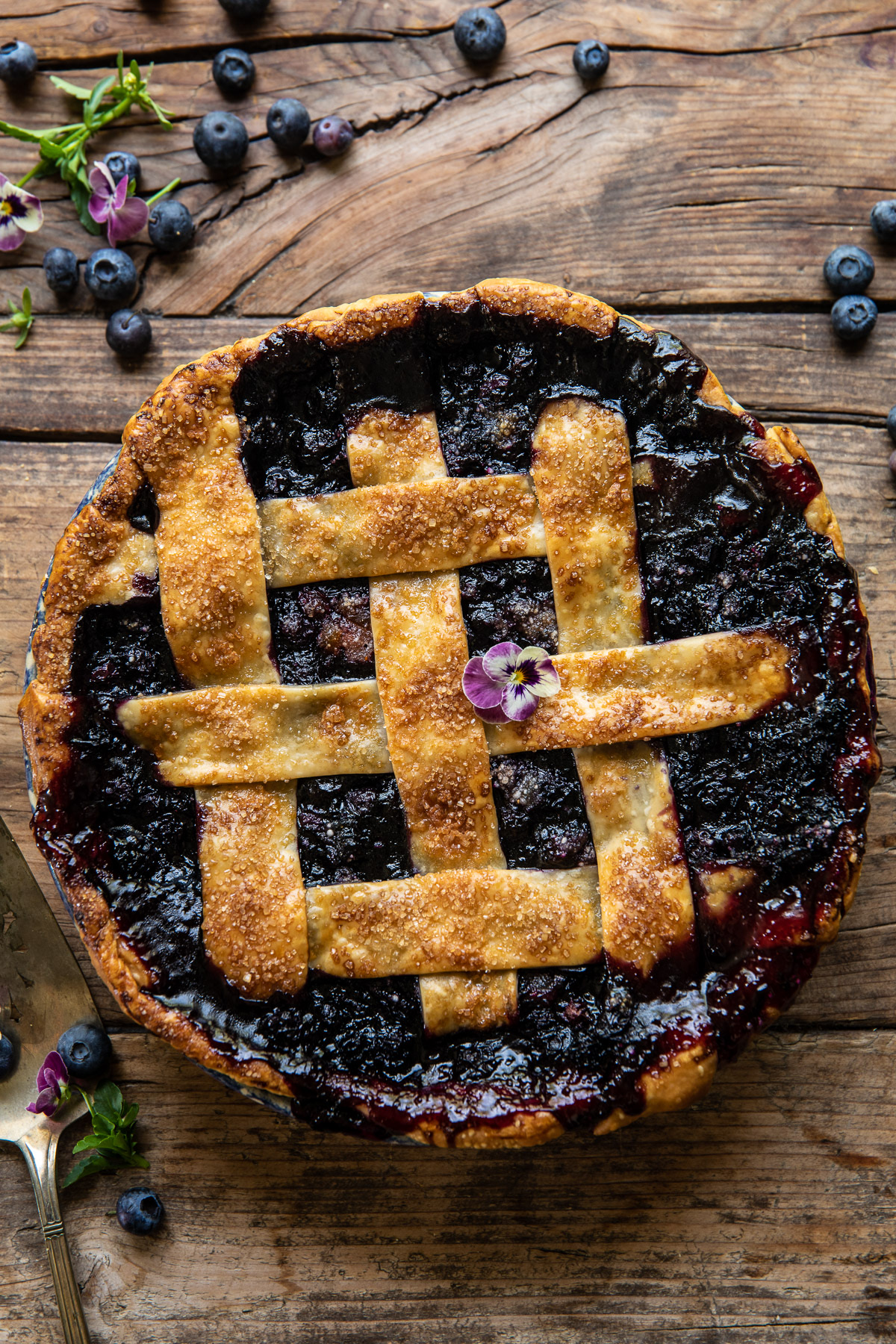 INGREDIENTS
6 cups blueberries fresh or frozen (do not thaw if using frozen)
2-3 tablespoons demerara or turbinado sugar (optional)
1 pie crust top and bottom
2 tablespoons cornstarch
1/4 cup light brown sugar
3/4 teaspoon ground cinnamon
1/8 teaspoon ground nutmeg
2 tablespoons lemon juice
2 tablespoons all-purpose flour
1 egg wash (optional) 1 egg + 1 teaspoon water mixed together
1/2 cup granulated sugar
INSTRUCTIONS
Mix together the blueberries, sugars, flour, cornstarch, lemon juice, cinnamon, and nutmeg in a large bowl.
Set aside while preparing the crust.
After the mixture has set out for ~15 minutes, or when the pie crust is ready, spoon the filling onto the bottom pie crust in the pie dish (excluding any excess liquid).
Place the top pie crust over the filling in whichever design you choose (see blog post above for lattice photos & instructions).
Let the pie chill in the freezer for 20-30 minutes while the oven preheats to 400°F.
Before baking, lightly brush the crust with an egg wash and sprinkle with demerara or turbinado sugar. This step is optional.
Place the pie on a baking sheet (in case any crust falls or filling drips out) and bake at 400°F for 10 minutes.
Then lower the temperature to 350°F (without opening the oven) and bake until the crust is golden and filling is bubbling – another 20-30 minutes (or more depending on how cold the pie was).
Let the pie cool down for about an hour.
Enjoy the dessert!