This Carrot Cake Cheesecake Cake is a showstopper! Layers of homemade carrot cake, a cheesecake center and it's all topped with a delicious cream cheese frosting!
I have a rough job. Making cakes. Eating cakes. Making more cakes so they are just perfect for you.
Today's recipe for Carrot Cake Cheesecake Cake had to be just right. I've got a reputation on the line here, haha, and I want you ALL to make this as your Easter dessert!
It's a show stopper of a cake, but so worth it.
The layers of carrot cake would be delicious enough on their own.
But I snuck in a thick, gorgeous cheesecake in the center.
I've covered this in a massive amount of cream cheese frosting. You're welcome!
Let me tell you a few tricks to this recipe. It's not easy. It's not hard. It's one of those, "read the directions before you begin" type of recipes.
INGREDIENTS
Cheesecake:
1 teaspoon pure vanilla extract
1 teaspoon lemon zest plus 2 tablespoons lemon juice (from 1 lemon)
3 tablespoons all-purpose flour
3 large eggs
2/3 cup granulated sugar
2/3 cup sour cream
Three 8-ounce packages cream cheese, softened
Sour Cream Topping:
Pinch kosher salt
1/4 teaspoon pure vanilla extract
2 tablespoons sour cream
1/2 cup confectioners' sugar
Carrot Cake:
1 1/2 cups shredded carrot (2 to 3 medium carrots)
2 large eggs
1/2 cup sugar
1/2 cup vegetable oil
Kosher salt
1/2 teaspoon ground ginger
1 teaspoon ground cinnamon
3/4 teaspoon baking soda
1 teaspoon baking powder
1 cup all-purpose flour
1/2 cup pecan halves, plus more, chopped, for garnish
INSTRUCTIONS
STEP 1: PREPARE THE OVEN
Adjust an oven rack to the middle position and preheat to 350 degrees F.
Spread 1/2 cup of the pecans on a rimmed baking sheet.
Bake until golden and toasted, 10 to 12 minutes.
Allow to cool, and then finely chop.
STEP 2: MAKE THE CARROT CAKE
Combine the pecans, flour, baking powder, baking soda, cinnamon, ginger and 1/4 teaspoon salt in a large bowl.
Whisk together the oil, sugar and eggs in a separate bowl.
Stir the carrots into the egg mixture.
Fold the carrot-egg mixture into the flour mixture until just combined.
Pour into an ungreased 9-inch springform cake pan and tap it on the counter to even out the batter.
Bake until the cake bounces back when pressed and a toothpick inserted in the middle comes out clean, 20 to 25 minutes.
Cool completely. The cake can be made a day ahead and stored in the pan.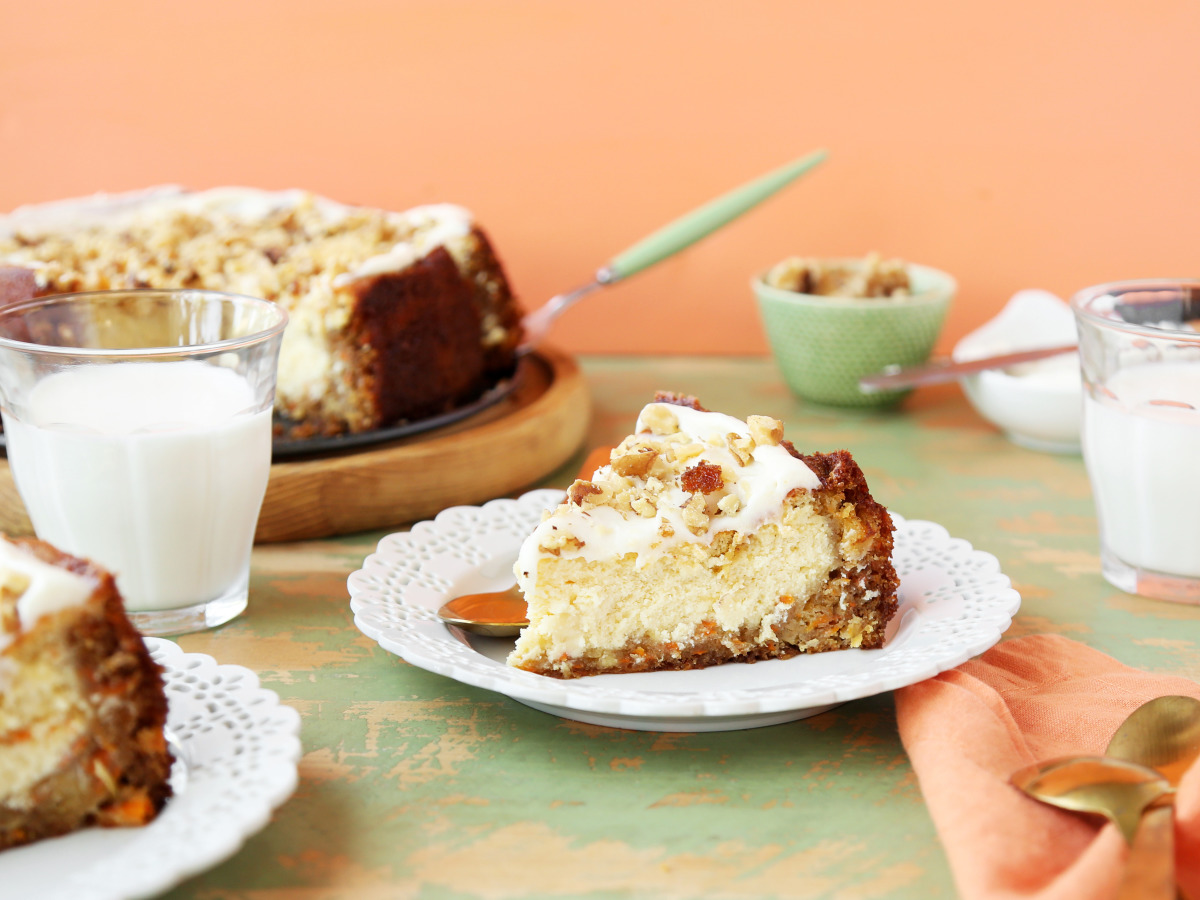 STEP 3: MAKE THE CHEESECAKE
Preheat the oven to 350 degrees F.
Beat the cream cheese, sour cream and granulated sugar in a stand mixer fitted with a paddle attachment until smooth and creamy, about 5 minutes.
Scraping down the sides of the bowl as needed.
Add the eggs one at a time, beating well after each addition.
Beat in the flour, lemon zest and juice and vanilla, about 1 minute.
STEP 4: ASSEMBLE THE CHEESECAKE
Pour the cheesecake mixture over the carrot cake.
Wrap the bottom and sides of the pan with a large piece of foil.
Put in a roasting pan or a large baking dish and fill halfway up the sides of the cake pan with water.
Bake until the cheesecake is pale yellow and just jiggles slightly in the center, about 1 hour.
Turn off the oven and let the cheesecake rest in the hot oven for 30 minutes.
Remove, run a sharp knife around the edge and let cool completely on a rack.
Cover and refrigerate 8 hours or overnight.
STEP 5: MAKE THE SOUR CREAM TOPPING AND SERVE
Whisk together the confectioners' sugar, sour cream, vanilla and salt.
Spread on top of the cheesecake; garnish with chopped pecans.
Refrigerate for at least 30 minutes before serving.
Cut into slices and serve.