This gorgeous no-bake Strawberry & Pretzel Tart is such a treat! It's starts with a pretzel base that is slightly salty. That perfectly evens out the sweet strawberry filling: a soft and perfectly set mousse with real strawberries. The tart is topped with whipped cream, crumbs from the base, fresh strawberries, and some strawberry sauce! Take your tastebuds on a flavourful treat!
This tart is so easy to make! I love the saltiness from the pretzel crust. It's different and really delicious. Plus, lately I've really been into playing with salt in desserts. I love the texture of the mousse too. It's soft, airy and light.
The crust is made up of pretzel crisps. So it's slightly crunchy, salty, but also sweet. The mousse is soft, sweet, packed full of fresh strawberries and creamy. It's so light and airy too!
Tips!
Make sure you dry your strawberries well before using to prevent the mousse from splitting.
Make sure you use fresh pretzels and not stale ones for the crust so that it's nice and crispy. Trust me, the texture is amazing!
INGREDIENTS
1/4 cup (55 gm) brown sugar
1/2 cup /1 stick (115 gm) of unsalted butter, melted
1 cup (240 mL) heavy whipping cream
Heaping 1/4 teaspoon salt
1 lb (450 gm) of strawberries, hulled and sliced
3/4 cup (150 gm) sugar
1 teaspoon vanilla
5 ounces of pretzels (which should be up about 1-1/2 cups of pretzels crumbs)
1- 8 ounce block (225 gm) of cream cheese, at room temperature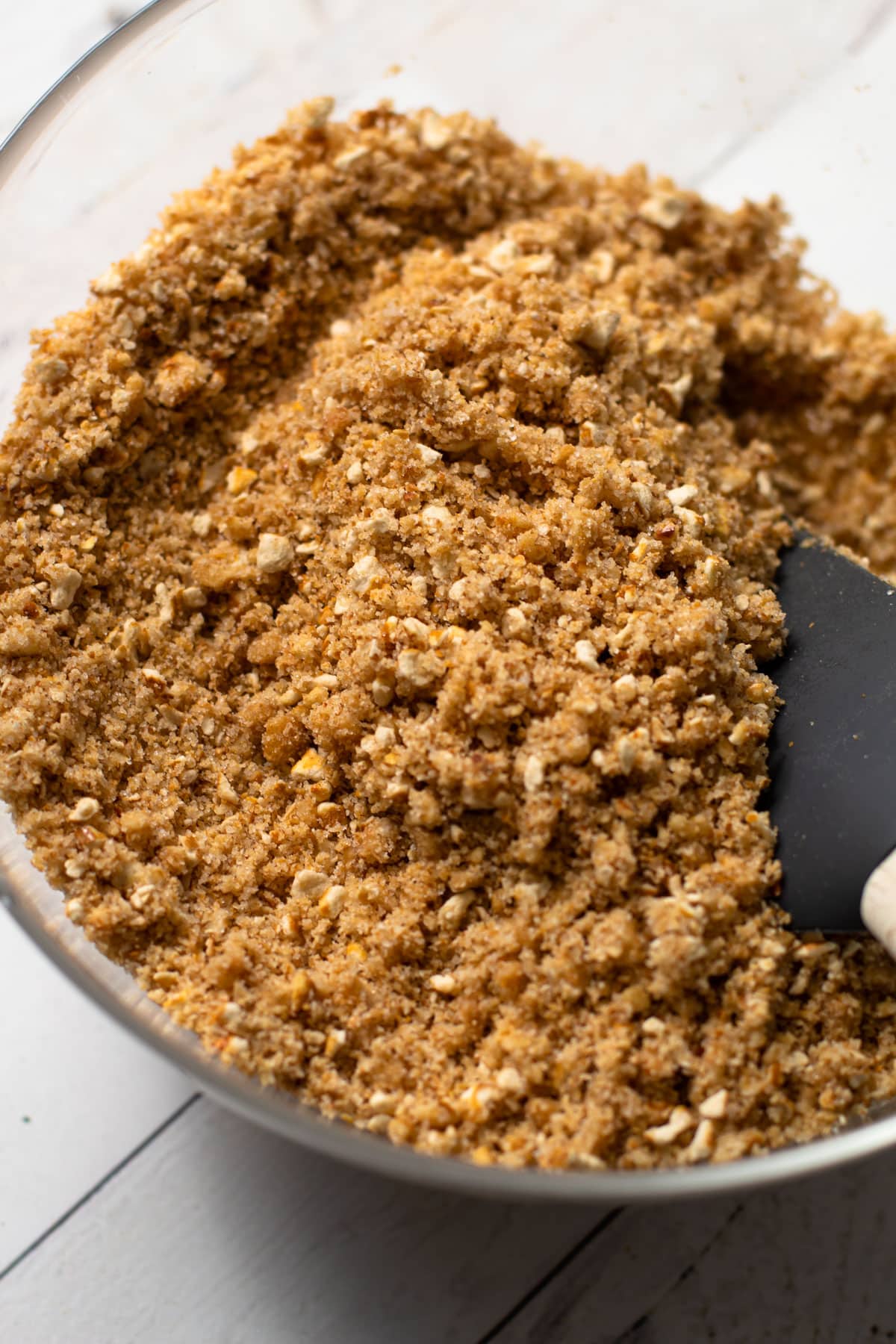 INSTRUCTIONS
For the crust
Preheat the oven to 350 degrees F.
In a food processor, whiz the pretzels, salt, and brown sugar until the you are left with crumbs.
Add the melted butter and pulse to combine. Or you can crush the pretzel and stir the other ingredients in to combine.
Pat out the crumbs into the bottom and sides of a 10″ tart pan.
Bake in the oven for 8-10 minutes until set. Allow to cool completely before using.
For the cheesecake filling
Beat the cream cheese, sugar, and vanilla on medium speed in the bowl of a stand mixer until smooth and without lumps. Scrape the sides of the bowl if needed.
In a separate bowl, whip the heavy cream using a whisk or whisk attachment of a stand mixer until stiff peaks form.
Fold half of the whipped cream into the cream cheese mixture.
Once fairly integrated, add the remaining whipped cream and continue to fold until uniform.
Take care not to overwork the mixture as this can cause it to lose its fluffiness. Spread the mixture out into the bottom of the cooled tart crust.
Allow to chill in the fridge until ready to serve.
Once ready to eat, arrange the sliced berries to decorate the top of the tart. Serve chilled.