In North America, a Coffee Cake is defined as a chemical or yeast leavened, sweet and rich cake-like bread. It is oftentimes topped with a streusel mixture. No mention is made of it actually containing coffee. So when I found this recipe for a Coffee Walnut Cake that actually contained coffee, I just had to make it. This cake is popular in England and it's not hard to see why. It is a rich butter cake flavored with espresso (or coffee) and chopped walnuts. The cake is sandwiched together and frosted with a delicious whipped mixture of espresso (or coffee), mascarpone cheese, powdered sugar, and heavy cream.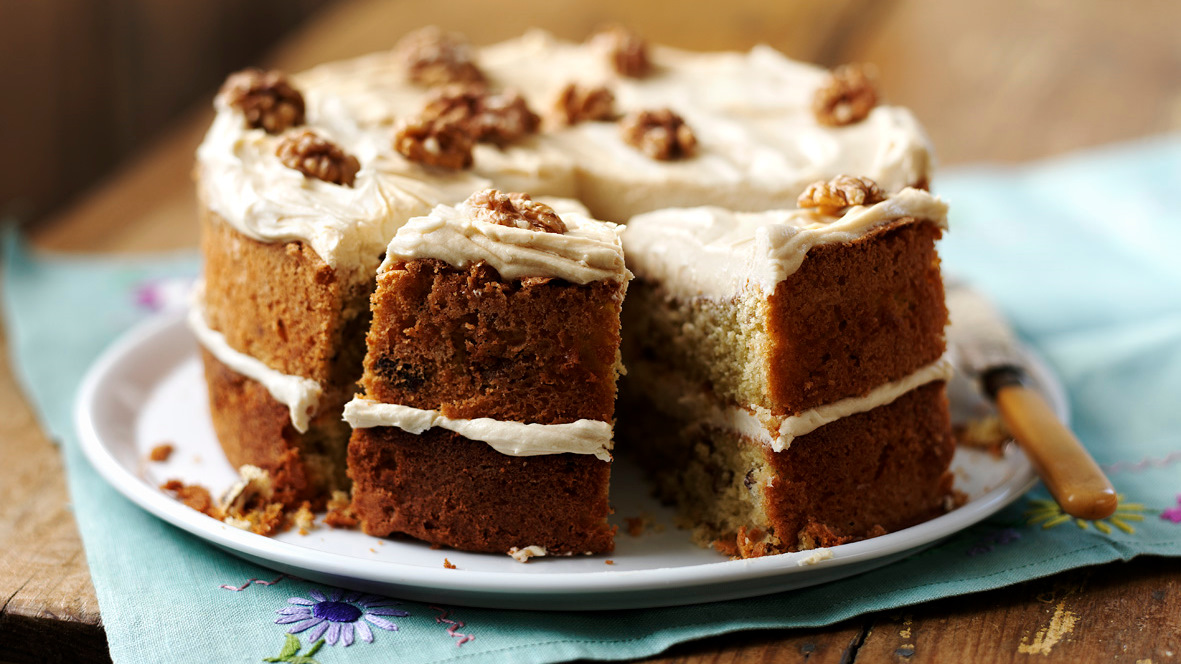 This cake is very similar to a pound cake. The original instructions for making a Coffee Walnut Cake were very easy to remember. It went like this: Weigh your eggs in the shell. Whatever their weight, use an equal weight of butter, sugar, and self rising flour. For this recipe I have adjusted the ingredients slightly, and I also added some milk. For the coffee flavor, you can use either instant espresso powder or instant coffee granules or powder.
The Coffee Frosting on this cake is delicious. It contains mascarpone cheese (pronounced mas-kahr-POH-nay) which is a thick, buttery-rich, delicately sweet and velvety, ivory-colored cheese. It's often sold in plastic 8-ounce (225 gram) tubs which can be found in the deli section of your local grocery store or in specialty food stores. However, if you cannot find Mascarpone, or it is way too expensive, a good substitute would be an equal amount of regular cream cheese.
INGREDIENTS
For the cake
225 g (1 cup) caster sugar (super-fine sugar)
1/2 teaspoon baking soda
2 1/2 teaspoons baking powder
2–4 teaspoons instant coffee or instant espresso powder
200 g (1 1/3 cup) plain flour (all-purpose flour)
4 eggs
1–2 tablespoons milk
50 g (2 oz) walnuts
1 tablespoon boiling water
225 g (2 sticks) unsalted butter, softened
For the frosting
350 g (2 1/2 cups) icing sugar (powdered sugar)
1 tablespoon boiling water
walnut halves for decorating
175 g (1 1/2 sticks) unsalted butter, softened
2 1/2 teaspoons instant espresso powder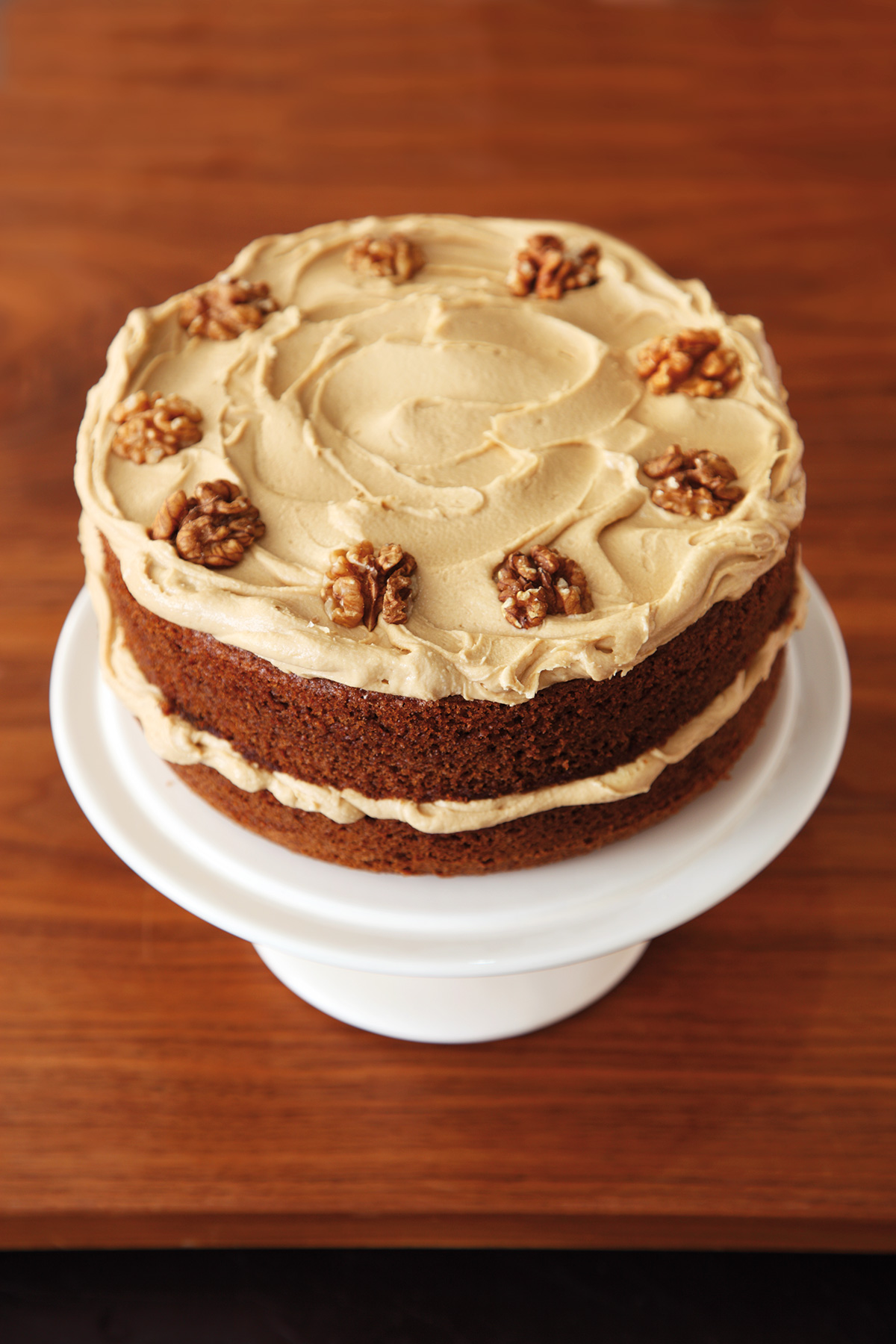 INSTRUCTIONS
For the cake
Preheat the oven to 180°C/350°F (without fan). Grease and line the base of two 20 cm (8 inch) cake tins.
Dissolve the instant coffee powder in the boiling water. If you want a strongly coffee-flavoured cake, I suggest using 4 teaspoons.
Place the walnuts and caster sugar into the bowl of a food processor and blitz until you have a fine powder. Add the butter, flour, coffee mixture, baking powder, baking soda, and eggs. Blitz again until you have a smooth batter. With the motor still running, pour a little bit of milk down the funnel until the batter is a soft, spreadable consistency.
Divide the batter between both cake tins. Bake for about 25 minutes, or until the cakes are lightly golden and a cake skewer inserted in the centre comes out clean.
Cool the cakes in their tin on a wire rack for about 10 minutes before inverting onto a wire rack. Remove the cake tins and baking paper from the cake. Leave the cakes to cool completely.
For the frosting
Dissolve the instant espresso powder in the boiling water. Using a stand mixer with the flat paddle attachment, beat together the icing sugar (powdered sugar), butter and coffee mixture until you have a thick and spreadable frosting.
To assemble the cake
Place one sponge upside down on a plate or cake platter. Spread half of the frosting onto the sponge and spread it evenly. Place the second sponge on top.
Cover the top sponge with the remaining frosting. Decorate the cake with walnut halves.