This decadent-looking dessert has a secret. It may look (and taste) like it would be laden with calories, and like it would be difficult and time-consuming to make, but neither is the case.
In fact, this gorgeous darling has only 309 calories a slice with the sauce. Its good looks belie the fact that you can make the apple galette in about 15 to 20 minutes of prep time, and make the caramel sauce by the time it comes out of the oven.
Ready-to-use pie crust dough is a big timesaver and works especially well for this recipe. (It's generally sold in the refrigerated area near the dairy products, and can also be kept on hand in the freezer.) Simply roll it out thinner to make the dough easier to pleat and to ensure that the finished size of your galette is that of a pie.
As you peel and slice the apples, keep them in a bowl of cold water with a squeeze of lemon to prevent the apples from browning. Drain off the water before you proceed with the recipe.
This recipe makes a double batch of the salted caramel sauce, so use half and set the rest aside for later. (There will be no shortage of uses: You can spoon it over ice cream, angel food cake or any chocolate dessert.) If the sauce gets too thick as it stands, simply warm it on the stove or in the microwave.
The galette is best made far enough in advance of serving that it can cool a bit before slicing. The sauce may be made up to a week ahead and kept refrigerated.
ư
INGREDIENTS
For the filling:
1 Tablespoon unsalted butter
4 cups cored, peeled, and thinly sliced apples (this was 4 medium apples for me)
1 Tablespoon lemon juice
1/4 teaspoon nutmeg
1/3 cup sugar
1 Tablespoon all-purpose flour
Pinch salt
1 teaspoon cinnamon
1/4 cup apple cider
1 Tablespoon cornstarch
For the crust:
1/2 teaspoon salt
1/4 cup buttermilk (or use regular milk mixed with 1/2 tsp vinegar)
1/2 Tablespoon sugar
1/2 cup unsalted butter, cold (1 stick)
1 1/4 cup all-purpose flour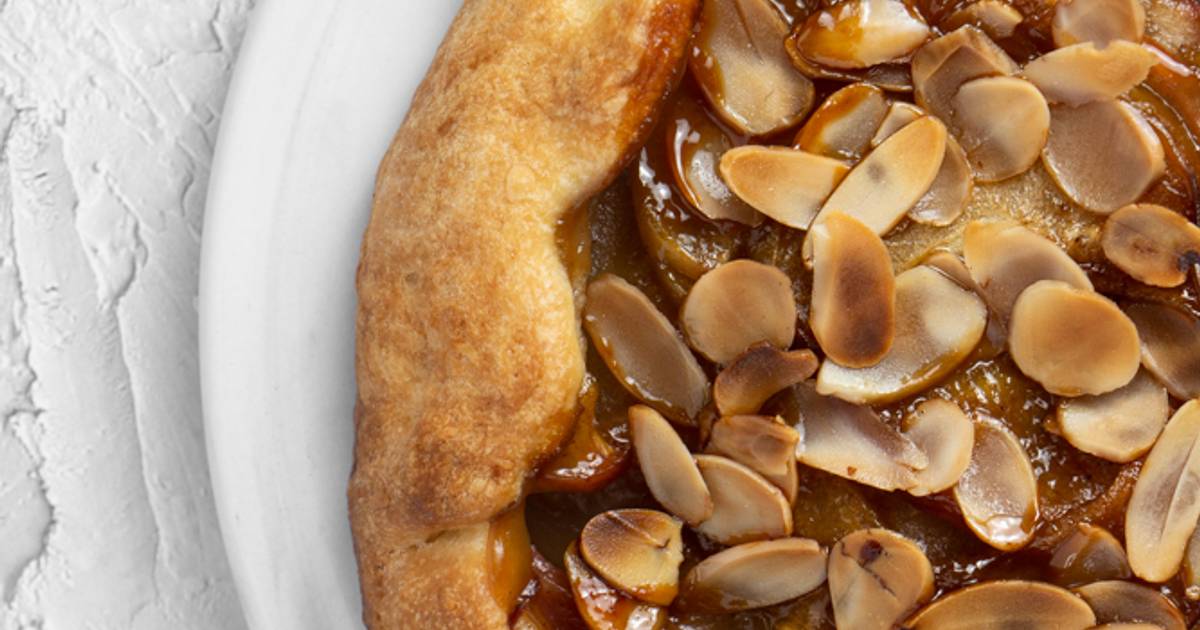 For the salted caramel sauce:
1/2 cup heavy cream
1 cup granulated sugar
1/2 teaspoon salt
1 tablespoon butter
1/4 cup water
For assembling the galette:
Turbinado or coarse sugar
Heavy cream or half & half
INSTRUCTIONS
Step 1: Making the crust
Combine all ingredients except buttermilk in food processor.
Pulse until butter is well combined with the flour mixture.
Add buttermilk and pulse until a dough forms.
Turn dough out onto a clean surface and shape into an even, flat disk.
Wrap in plastic wrap, then roll the sides to form an even edge.
Refrigerate for 1 hour while preparing the filling.
Step 2: Making the filling
In a medium saucepan, bring the apple cider to a boil over medium heat, and boil until reduced by half and mixture becomes syrupy, 2-3 minutes.
Add the apples and all other filling ingredients, and cook over medium heat until the apples release their liquid and the filling thickens, about 5-7 minutes.
Remove from heat and let cool completely – I often put it in the fridge to speed along this process.
Don't put warm filling on the rolled out pie dough or it could get soggy.
Step 3: Making the galette
Preheat oven to 375 degrees F.
On a clean, lightly floured countertop or surface, roll out the dough to 1/4 inch thickness in an even-ish circle.
Place the circle of dough on a parchment-lined baking sheet.
Pour the apple filling mixture onto the center and spread it out to within about an inch of the edges.
Fold the edges of the dough over the filling (at least 2-3 inches over), creating a freeform pie shape. This can be very rustic, and certainly does not need to be perfect! Just try to keep it even and not create any holes for filling to come out.
Brush the folded-over edges of dough with a little heavy cream or half and half, then sprinkle with sugar.
If you feel like the dough has gotten warm during this process, put the whole galette in the fridge or freezer for a few minutes to make sure it's really cold when it goes in the oven. This creates a flaky, crisp crust!
Bake for about 45 minutes, until crust is bronzed and filling is bubbling. You may have some filling leak out, and that's ok.
Drizzle with salted caramel sauce and serve with vanilla ice cream and chopped nuts, if desired.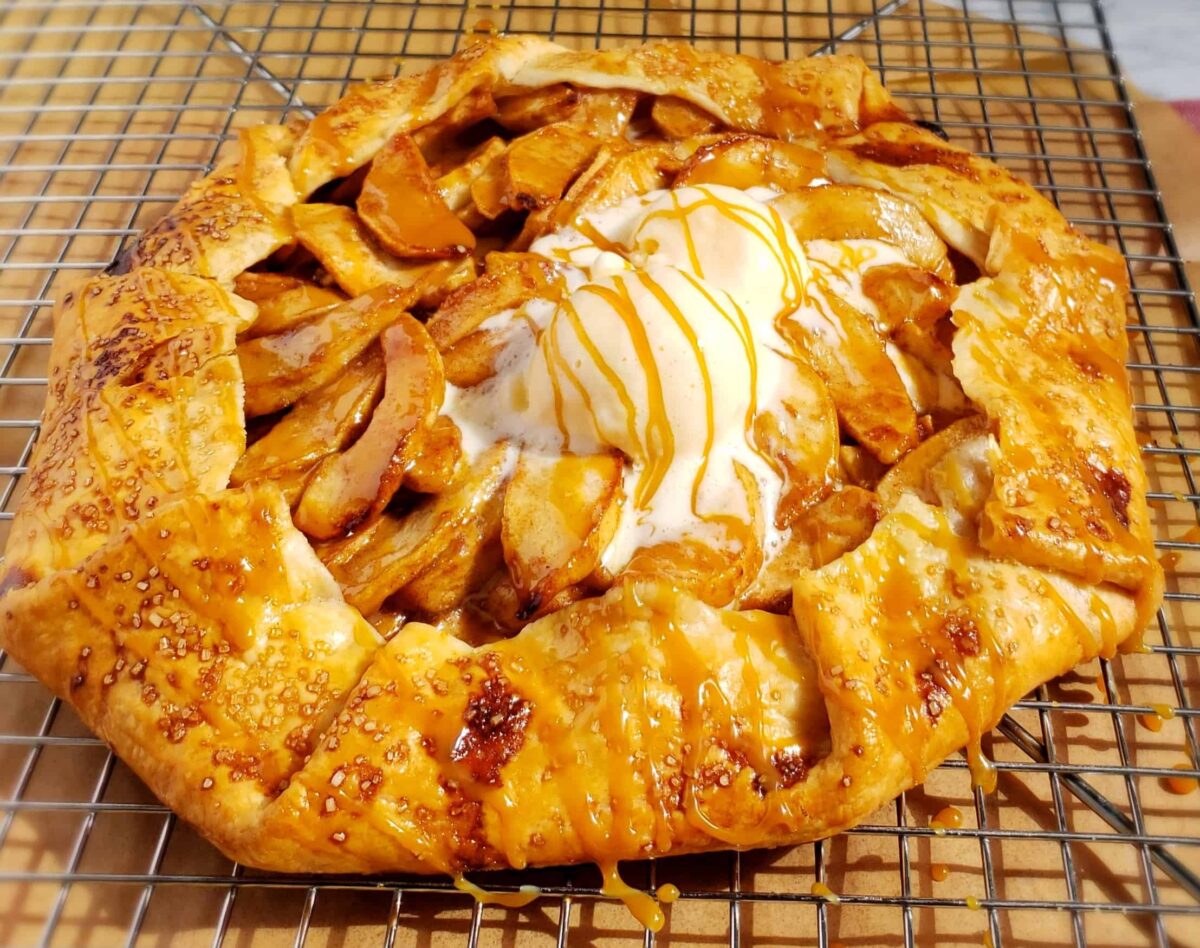 Step 4: Making the salted caramel sauce
In a medium saucepan (I recommend a stainless steel saucepan so you can see what's happening) stir together the sugar and water, then heat over medium heat.
DO NOT STIR. You can swirl it a little from time to time, but don't stir or whisk it. The mixture will come to a boil and be very bubbly.
Continue to cook the sugar until it has turned a dark amber hue, about 8-10 minutes.
While it's cooking, measure out your heavy cream, butter, and salt, and grab a whisk. Things need to happen fast once you reach the right color or else the sugar will burn.
As soon as a dark amber hue is reached, remove pan from the heat and whisk in the heavy cream – whisk vigorously. It will crackle loudly and seem like it's curdling but keep whisking!!
After 10-15 seconds or so of whisking, a glorious caramel sauce will emerge in your pan.
Whisk in the butter and salt.
Serve warm sauce with the galette.