My mother and my long-time next door neighbor's mother had the same MO (Method of Operation) one early summer morning in the 1950s. Maybe it was because these two women ended up living next door to each other for fifty-something years. They were in sync this morning both creating Burned Caramel Cakes.
My friend, Jane, three years older, is my surrogate big sister. That morning when I was around six, we both awoke to the smell of cakes in the oven, checked out our own kitchens, found out this morning they were both baking the same flavor of cake, and connected before the second round of cake batter was placed in pans and then in Jane's mother's oven. You know what we wanted: to lick the batter off the spatulas and beaters this time around.
This was a ritual for both of us while the women were baking, so there we stood, still in our pajamas, near the mixer staring like puppies waiting for someone to drop a morsel from the dinner table. When the mixing ended, we saw her scrape just about every bit of batter into her pans and then slid them into the oven. What was left to lick? Not much.
Barefooted, we ran across both yards to see if we were going to have better luck at my house. And sure enough, we always did. There stood my mother in her cream colored cotton apron with red piping. It was cross-stitched with chickens pecking corn, a red barn, and ducks waddling. Tied at the waist, it held deep pockets to hold utensils or such. She not only let us share the spatula, but also gave us each a beater, (which we licked clean), and a spoon to gobble up the remaining cake batter in the bowl.
But it's all about the icing, too, right? And we were able to get a taste of it also.
I miss my mother.
INGREDIENTS
Burnt Sugar Syrup
3/4 cup (180ml) boiling water
1 cup (200g) granulated sugar
Cake
2 teaspoons baking powder
1/2 cup (120g) sour cream, at room temperature
2 teaspoons pure vanilla extract
4 egg whites, at room temperature
3/4 cup (1.5 sticks; 170g) unsalted butter, softened to room temperature
1/2 cup (120ml) cooled burnt sugar syrup
1/2 teaspoon baking soda
1/2 cup (120ml) whole milk, at room temperature
1 cup (200g) granulated sugar
1 teaspoon salt
2 and 1/2 cups (285g) cake flour (spoon & leveled)
Burnt Sugar Frosting
1 teaspoon pure vanilla extract
4 cups (480g) confectioners' sugar
1/4 teaspoon salt
2 Tablespoons (30ml) whole milk or heavy cream
1 cup (2 sticks; 230g) unsalted butter, softened to room temperature
1/2 cup (120ml) cooled burnt sugar syrup
For Assembly
1/2 cup (50g) chopped pecans
Homemade Salted Caramel, cooled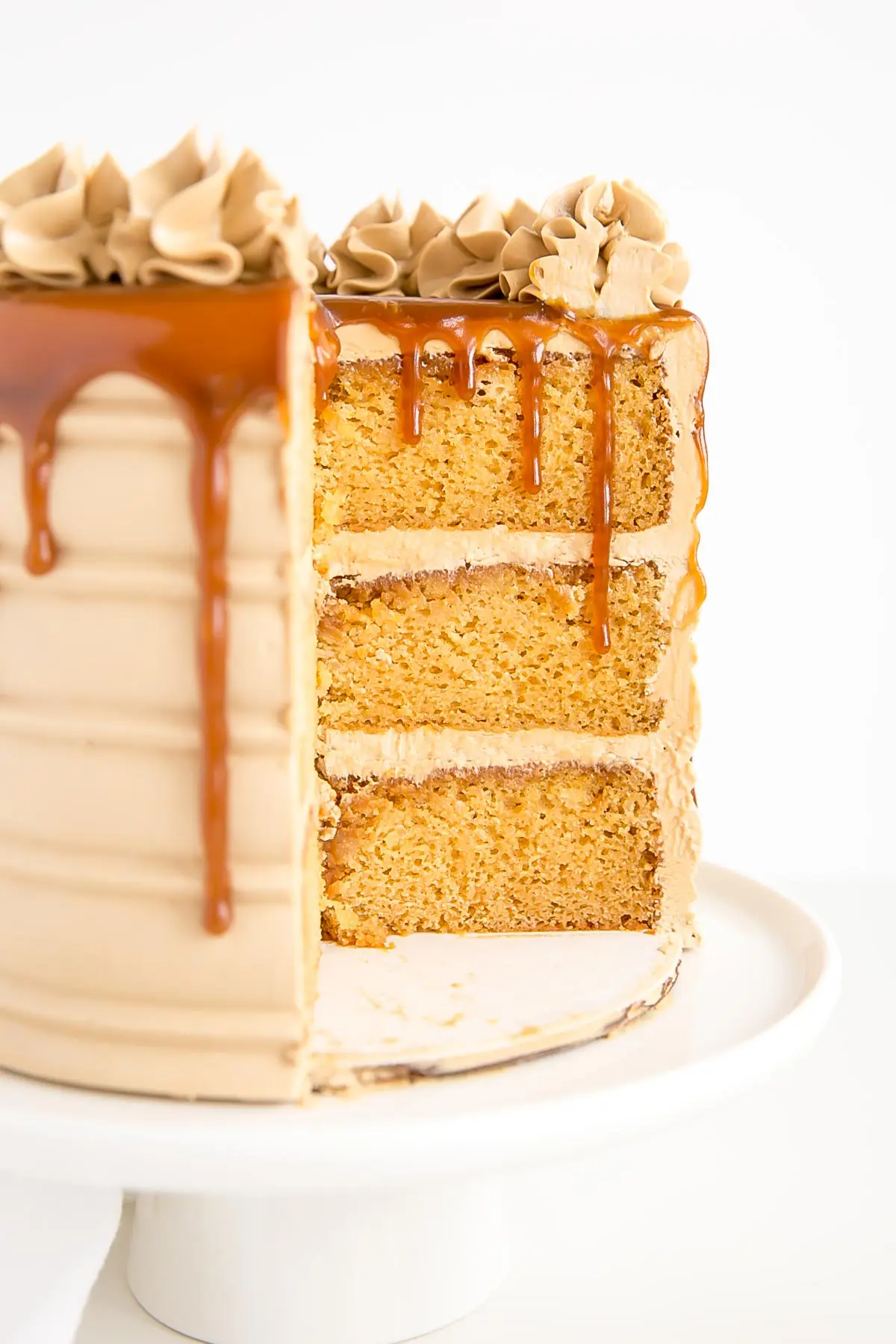 INSTRUCTIONS
Read the instructions before starting with the cake
PREPARE THE SUGAR SYRUP
Prepare the burnt sugar syrup first so it has time to cool. Make sure you have boiling water at the ready.
For the burnt sugar syrup, place sugar in a medium saucepan over medium heat. Best to use a 3 quart heavy-bottomed quality saucepan.
Stirring constantly with a wooden spoon, cook until the sugar has completely melted and is amber brown, about 8-10 minutes. If the sugar is clumpy, break up the lumps with your wooden spoon. A candy thermometer is not necessary, but if you're using one, the sugar temperature should reach about 300°F (149°C) when it's ready.
Turn the heat to low and very carefully and slowly drizzle in the boiling water, a little at a time.
Stir after each addition and stand back, as the mixture will rapidly sizzle and bubble.
After all of the boiling water is stirred in, stir and cook the sugar syrup for 3 more minutes on low.
Turn off the heat and let it cool completely, overnight preferred. It's imperative that the sugar syrup is completely cool. You will have about 1 cup of syrup.
Preheat oven to 350°F (177°C). Grease two 9-inch cake pans, line with parchment paper, then grease the parchment paper. Parchment paper helps the cakes seamlessly release from the pans.
Whisk the cake flour, baking powder, baking soda, and salt together. Set aside.
FOR THE CAKE
Using a handheld or stand mixer fitted with a whisk attachment, beat the butter and sugar together on high speed until creamed, about 2 minutes.
Scrape down the sides and up the bottom of the bowl with a rubber spatula as needed.
With the mixer running on medium speed, pour in 1/2 cup of the cooled burnt sugar syrup. Beat until combined.
Scrape down the sides and up the bottom of the bowl as needed.
Beat in the egg whites, sour cream, and vanilla extract.
With the mixer on low speed, add the dry ingredients just until combined. With the mixer still running on low, slowly pour in the milk until combined. Do not over-mix. The batter will be slightly thick.
Pour batter evenly into prepared cake pans.
Bake for 23-25 minutes or until the cakes are baked through.
As a result of the burnt sugar syrup cooking inside the cake batter, the cakes brown nicely on top and on the sides.
To test for doneness, insert a toothpick into the center of the cake.
If it comes out clean, it is done.
Allow cakes to cool completely in the pans set on a wire rack.
MAKING THE SALTED CARAMEL
The salted caramel adds necessary flavor. We'll use it as a filling and garnish. When ready to use, make sure the salted caramel isn't too hot anymore. If it's too hot, it will melt the frosting. If it's too cool, it won't drizzle.
Let it cool for at least 30 minutes before using.
If you prepared the salted caramel ahead of time and it became too cool or too thick, microwave it for 5-10 seconds or JUST until it's drizzle-able again. (It won't be too hot at this point.) You can also toast the pecans during this time, too. See recipe note.
MAKING THE FROSTING
In a large bowl using a hand-held mixer or stand mixer fitted with a paddle attachment, beat the butter on medium speed until creamy, about 1-2 minutes.
Add confectioners' sugar, remaining 1/2 cup of cooled burnt sugar syrup, vanilla extract, milk/cream, and salt.
Beat on low speed for 30 seconds, then increase to high speed and beat until completely combined, about 2 minutes.
Add more confectioners' sugar if frosting is too thin or more milk/cream if frosting is too thick. Taste.
Add more salt if desired. (I usually use 1/2 teaspoon of salt total. I like this frosting salty/sweet.)
ASSEMBLE THE CAKE
Using a large serrated knife or cake leveler, slice a thin layer off the tops of the cakes to create a flat surface. Discard (or crumble over ice cream!).
If you have any leftover burnt sugar syrup, drizzle over leveled cakes.
Place 1 cake layer on your cake stand or serving plate.
Using a large icing spatula, evenly cover the top with frosting.
Drizzle 1/4 cup of salted caramel on top of the frosting. Top with 2nd cake layer.
Refrigerate the cake for at least 30-45 minutes before finishing the frosting and garnish. The caramel inside the cake must "set."
After chilling in the refrigerator, spread the remaining frosting all over the top and sides. Run a bench scraper around the cake to smooth out the sides, if desired.
Garnish with toasted pecans and more salted caramel. Slice and serve.