Chocolate lovers, get ready. This simple dessert packs so much chocolate in each little bite. It starts off with a decadent chocolate cake which is moist and rich in chocolate. Once baked, it's filled with a chocolate sauce and then topped with silky smooth chocolate frosting. Told you it was simple! And the best thing is, it's a crowd pleaser! I guess you're taking it to your next gathering now right?
I absolutely adore how simple this cake is to make but how delicious it is. It's no secret that I have a deep adoration for all things chocolate. This cake celebrates that but in such a simple and delicious way. I love the addition of coffee in it too because it helps elevate the chocolate flavor in such a spectacular way.
The salt on top, coupled with the coffee helps elevate chocolate in a really interesting way. The coffee intensifies the chocolate, but the salt makes it tastier and almost contrasts the sweetness making the cake even more delicious!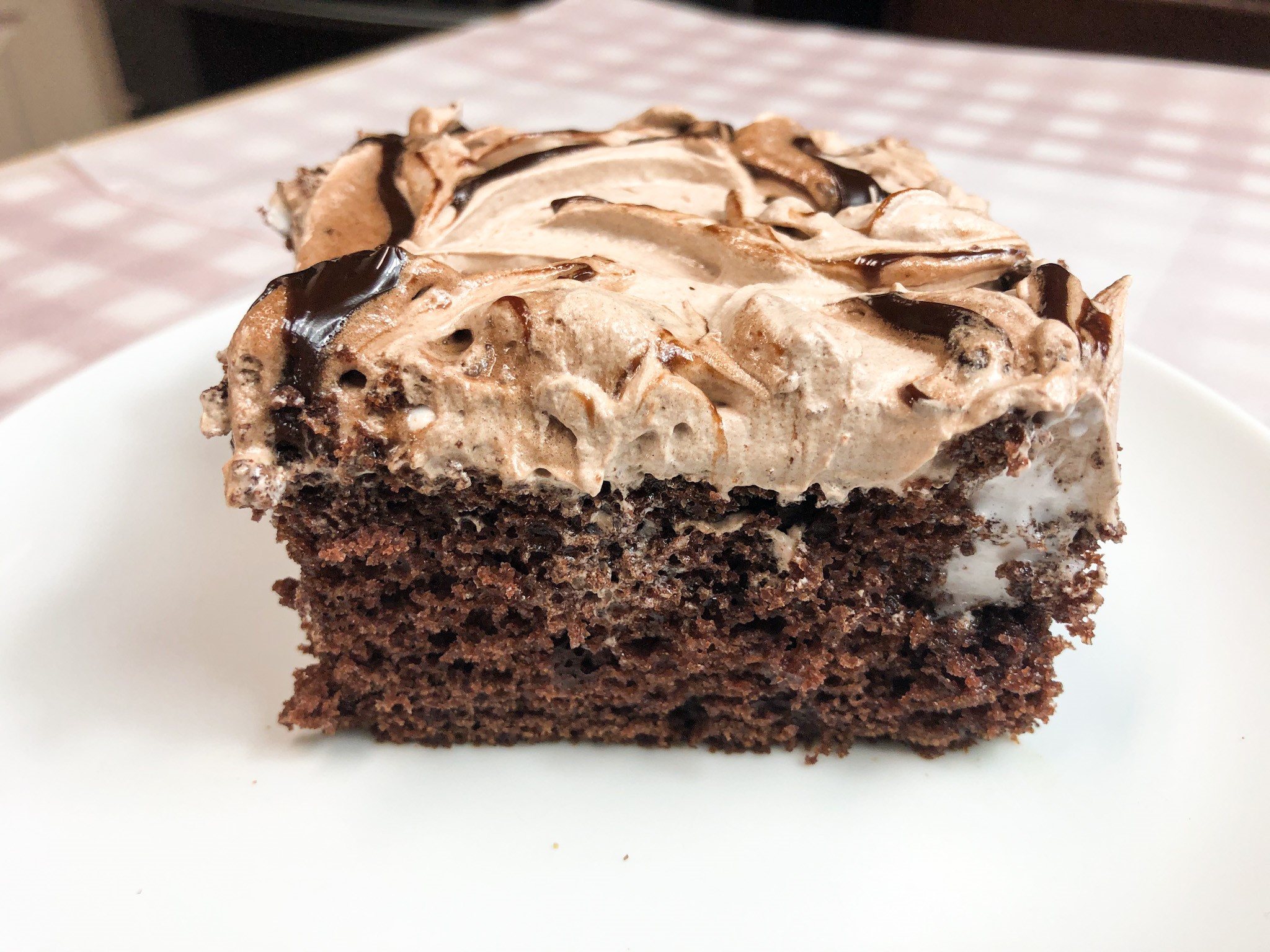 INGREDIENTS
CHOCOLATE CAKE
14 oz sweetened condensed milk
1 cup semi sweet chocolate chips
15.25 oz box Devils Food Chocolate Cake Mix
Ingredients listed on the Devils Food Chocolate Cake Mix box
CHOCOLATE WHIPPED CREAM TOPPING
1/2 cup powdered sugar
chocolate sauce
1/4 cup + 2 tbsp cocoa
2 cups heavy whipping cream
mini chocolate chips
1/2 tsp vanilla extract
INSTRUCTIONS
Bake cake in a square 9×13 cake pan (according to steps and instructions on the cake box).
Once baked, poke holes all over the top of the cake.
In a microwave safe bowl, pour sweetened condensed milk and chocolate chips in. Microwave for about 30 seconds to 1 minute.
Whisk chocolate and milk until you have smooth mixture, microwaving for some more, if needed to melt the chocolate.
Pour chocolate mixture over the cake and spread so that it fill in holes.
Set cake aside and let it cool for about an hour, then refrigerate until it completely cooled.
For the whipped topping, whip heavy cream until it begins to thicken.
Add powdered sugar, cocoa and vanilla extract and whip until stiff peaks form.
Spread whipped topping evenly over cooled cake. Remember not to spread topping when the cake is still warm.
Sprinkle mini chocolate chips over cake and drizzle with chocolate sauce. Refrigerate until ready to serve.